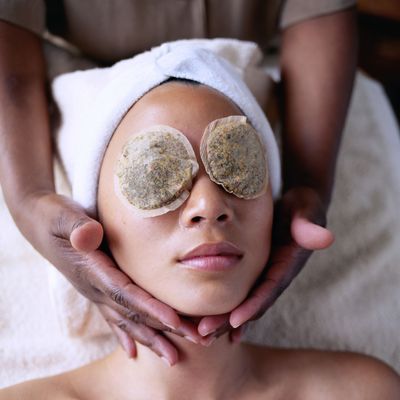 Photo: Steve Mason/Getty Images
What kind of eye cream does a sleep-deprived, puffy-eyed college student prefer? Easy: a cheap one. I discovered how to get rid of bags under my eyes without spending a lot of money as an undergrad over a decade ago, and it's such a useful method that I continue to recommend it today.
The best under-eye bag treatment is, in fact, not a cream at all. It's caffeinated black tea, and it's better than any fancy, beautifully packaged cream that I have ever tried, especially if your eye bags only pop up once in a while. Here's the method I follow, which I found on a skin-care forum long ago: I steep two bags in warm water and then allow them to cool for 5 to 15 minutes in the refrigerator. When the bags are nice and cold, I plop them over my eyes and lie down for ten minutes or so. When I remove the tea bags, my eye bags are totally gone. It's that easy.
The caffeine in black tea is considered a "vasoconstrictor," meaning that it's capable of temporarily shrinking the size of blood vessels. Studies also indicate that the topical application of caffeine smooths skin, which is why caffeine is often found in cellulite creams. These two factors work in tandem to help your eyes look a lot less puffy.
There are other ways to get rid of under-eye bags that don't involve creams, as well. For one, watch your salt intake. Consuming sodium encourages your body to retain fluids, thereby making you look more puffy all over. (This phenomenon even has a name: "sushi face"). Light massage, either with your fingers or a jade roller, could help as well. Not only does massage stimulate blood circulation, but a refrigerated jade roller incorporates a "cooling effect" that clinical trials suggest could help with under-eye bags. Dr. Y. Claire Chang, a dermatologist at Union Square Dermatology, recommends cold packs, which she says "help constrict the blood vessels and reduce inflammation that may be contributing to swelling." And if you have allergies, over-the-counter histamines can help reduce eye bags, too.
If your eye bags are more permanent, they're called malar mounds, says Lisa Goodman, owner of GoodSkin Clinics, and are often caused by genetics. Dermatological solutions such as filler, while more expensive, tend to be most effective.Chang explains, "Filler around the eyes and cheeks help to lift and volumize areas of fat loss and create a smoother contour around the eyes." She prefers hyaluronic acid fillers, as they are reversible, in case you don't end up liking the effect.
Of course, eye creams and patches are a heck of a lot easier to use, and less time-consuming. Since it's impractical to tea-bag your eyes every day and dermatological solutions are pricey, here are a few great creams to reach for when you're pressed for time.
The No-Frills Solution
This solution has a high concentration of caffeine and EGCG, a plant compound that helps with inflammation. It also has to close to 1,000 five-star reviews on Amazon.
The One That's Like Black Tea, But a Cream
Incredibly moisturizing and made with caffeine, this eye cream is a Sephora best seller.
The French Favorite
This bouncy gel is a refreshing, no-fuss way to shrink bags. It dries fast so you can quickly layer a concealer on top.
The One That Fights Lines and Bags
Outfitted with a cooling metal tip, this caffeine- and hyaluronic-acid-laced cream works to smooth fine lines as well.
The One That's an Eye Mask
Goodman recommends these patches from cult French brand Biologique Recherche. They combine caffeine and moisturizing ingredients like hyaluronic acid to help smooth and de-puff.
This article was originally published May 29, 2018. It has been updated throughout. If you buy something through our links, New York may earn an affiliate commission.