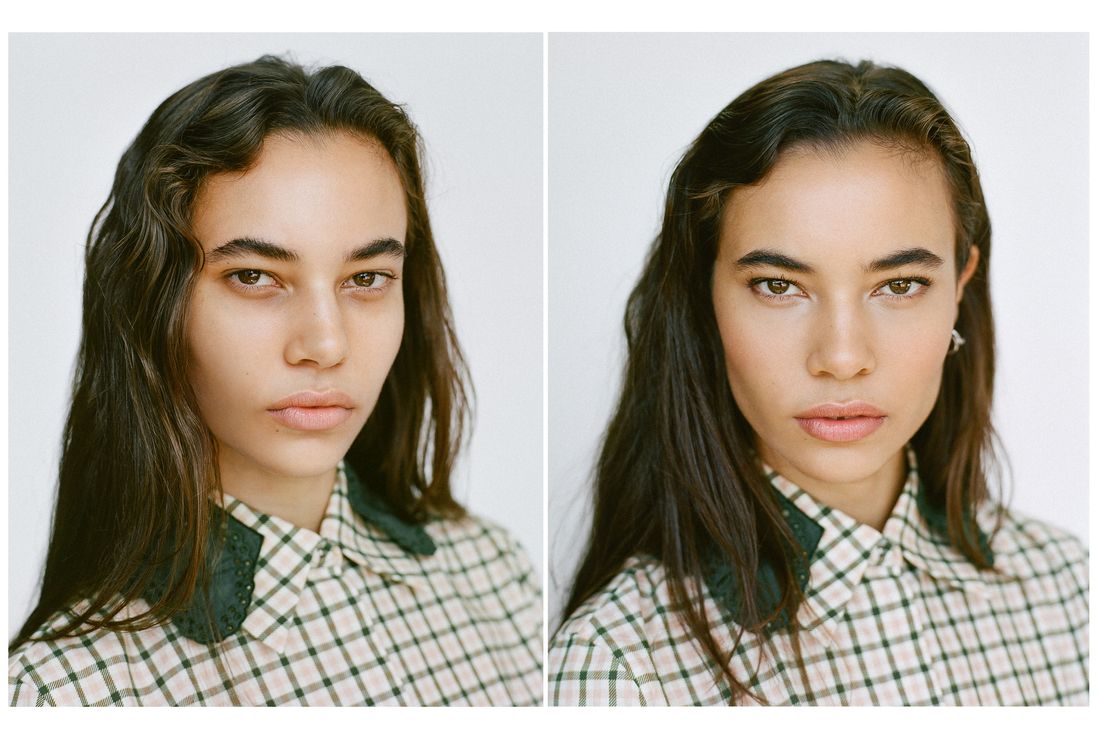 Cartier
earrings, $2,800 at Cartier boutiques.
Fendi
top, $1,290 at
fendi.com
.
Photo: Heather Hazzan
If you're looking for a zombie makeup tutorial, click away. For our next installment of Pretty Simple, the Cut's series on makeup 101, celebrity makeup artist Nick Barose is teaching us how to look not just undead, but downright well-rested. Maybe you've heard about green under-eye concealers, baking, or using the triangle method to cover up your dark eye circles — Barose is here to debunk all that with classic makeup techniques.
Read on for his tips and tricks on how to de-Jigglypuff eyes and cover up dark eye circles naturally.
Watch the Video
Step One: Moisturize.
Pretty much all makeup tutorials start with moisturizer, but your under-eye skin is especially thin, so this step is extra important here. Apply some eye cream (or any moisturizer) to hydrate the under-eye area. Start at the inner corner and work outward.
If the area is a little puffy, now's the time to try to deflate it a bit. According to Barose, the old beauty myth about using a cold teaspoon to de-puff the eyes is, in fact, very real. Put a spoon in the freezer for a few minutes and then lay it under your eyes to make the bagginess constrict. Some eye creams also come with a built-in de-puffer application, like Lancôme Advanced Génifique Eye Illuminator, the one Barose is using here.
Step Two: Apply Foundation.
Before you reach for the concealer, apply a light layer of foundation all over the under eye. Why foundation? Because it will even out any discoloration, and it lets you use a lighter touch with concealer. "If you apply a concealer that's too thick or too thickly, it just sits in your wrinkles," Barose explains. Choose a light-reflecting foundation to deflect from the darkness under your eyes, like NARS Radiant Longwear Foundation.
Step Three: Apply Concealer.
First, let's talk about what not to do with concealer. Baking is a drag makeup technique that makes your under eye look super matte by "setting" extra-heavy concealer using your body temperature. It's popular on Instagram and YouTube, but Barose advises against it. He's also opposed to applying your under-eye coverage in a triangle shape, dismissing it as an old theater trick that works for heavy lighting but doesn't work in real life. "It's for people who wear a lot of makeup, but not people who want to show their skin." (Even Kim Kardashian West is over it.)
Instead, Barose suggests picking a concealer about one to two shades lighter than your skin and going over any darkness that remains with a fluffy brush. (Don't use your finger, he explains, "Pressure from your finger is heavier." You want a barely there touch to make it look natural). Skip the color corrector also, since it can get cakey and most people don't need it.
You want to pat and blend the concealer in. Patting deposits coverage — it's more like a dabbing, up-and-down motion. When you're blending, your hand is doing more of a whisking motion. You'll want to do that at the edge of where your under-eye circle meets the rest of your cheek so that it looks seamless. Barose uses Clé de Peau Beauté Concealer.
Step Four: Smooth Everything With a Q-tip
If you notice any creases forming while you're concealing, Barose's trick is to lightly smooth them down with a Q-tip.
Step Five: Set It.
Concealers and foundations contain oil so that they can lie smoothly and beautifully on your face. You have to "set" your work so it doesn't break down over the course of the day. Dip a fluffy brush into a little pressed powder and sweep it over the eye. Try something like Laura Mercier Translucent Loose Setting Powder.
The Finished Look
If you buy something through our links, New York may earn an affiliate commission.