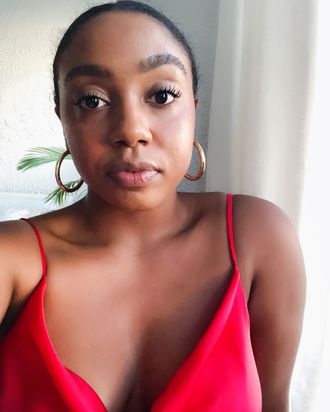 Photo: Courtesy of Lindsay Peoples Wagner
A few years ago, I needed my eyebrows done in a hurry, so I went to a salon that wasn't my regular spot. You know how this horror story ends: They waxed off half my eyebrow. I wasn't ready to go through life with only 1.5 brows, so I started researching ways to make the hair grow back.
The truth is that you can't really rush hair growth — but you can make the hairs that are already there look thick and luscious with a few tricks. Now that my whole eyebrow is back (thank goodness), I've developed a regular routine to keep my brows full and healthy. Scroll down to see how I whipped them into shape.
Okay, so I know castor oil is controversial. People like to claim that it stimulates hair growth, but the Cut's former senior beauty editor Ashley Weatherford interviewed dermatologists who said that's a myth. Personally, though, I've tried different castor oils and biotin pills and this formula has worked best for me. It's possible that all it's doing is coating my brow hairs to give them the illusion of fullness, but either way, I can testify that it's definitely making a difference. This one comes with a droplet cap, so I just dip a Q-tip in and spread on my eyebrows at night.
Say it with me: Trim, don't tweeze. I get my eyebrows threaded four times a year, and any upkeep I do aside from that involves just a simple brush and scissors. When you tweeze the bottom of your eyebrows trying to get the perfect arch, you often take off more hairs than you need to. With scissors, all you need to do is brush your hairs upward at an angle and trim sparingly.
Everytime I'm feeling like my brows won't cooperate, I'm reminded that I need just need to pull out this brow gel. It's a clear and a thin liquid that will layer on top of any pencil or powder without clumping or residue, and it holds brows in place all day long. Stroke it upward as your last step to give give your eyebrows a nice arch, even if you're in that awkward in-between stage of growing them out.
I love this pencil because you don't ever have to sharpen the triangular tip. To shape your brows, you only need a little. Trace the pencil along the bottom edge of brows and blend the color aggressively upward for a natural look.
This powder is great for filling in your brows with a soft, realistic look. The lighter-to-darker shade duo makes it easy to create the gradient look of real brows (as opposed to all-one-color Instagram brows).
If you buy something through our links, New York may earn an affiliate commission.