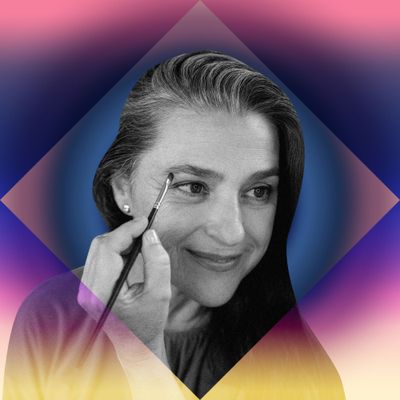 Photo-Illustration: by The Cut; Photo: Getty Images
This column first ran in Valerie Monroe's newsletter, How Not to F*ck Up Your Face, which you can subscribe to on Substack.
Q: I belong to a Facebook support group for women transitioning to their natural hair color (some shade of silver/gray/white). Finding the right eyebrow color seems to be a common challenge for all of us. Can you help?
A: Why don't makeup questions have easy answers? I want to offer a simple solution, but there are so many variables with makeup: your facial features; your skin, hair, and eye color; your personal taste and preferences. I think maybe that's why I've avoided tackling questions like this one. In any case, I'm going to try to simplify as much as possible and direct you to a video that, if you have the patience for it, should help you figure out a solution.
Once again, I turned to my favorite makeup artist (and ceramicist), Barbara Stone, whose down-to-earth and straightforward advice I always find useful.
"This question can be challenging since the shade of your brows is usually different from the shade of the new gray growth on your scalp," she said. "But here's the key: You want to focus on coordinating rather than matching the colors."
"When choosing your shade, there's going to be a lot of back-of-the-hand swatching and comparing going on," said Barbara. "Colors can morph once they're on skin, especially if your skin is dry, so dab on a bit of hand cream before testing." She offers guidelines about where to start. If you were originally a blonde or redhead, try a "cool blonde" tone; not golden but ashy — a soft, warm gray. If you used to be a brunette, try a medium gray with no blue tones or a grayish brown, depending on how dark your natural brows are.
There are so many brow pencil choices available now that you could spend a whole afternoon in Sephora sleuthing to find your favorite, said Barbara. Hers is the Shu Uemura Hard Formula Eyebrow Pencil in Seal Brown because it's not too brown and not too gray. (I personally like a softer pencil, like this one or this one.)
Is expedience your thing? Then head directly to Anastasia, which Barbara said is the best place to start because you'll find an extensive range of shades and a choice of either angled or fine-tipped pencils. (She's not a fan of eyebrow pens because she believes the shades haven't been perfected yet.)
When brow thickness isn't an issue, a tinted brow gel can also work well. Barbara said Kosas' Air Brow has a terrific selection of shades. For former brunettes, Kosas' Gray shade will help complement your new hair color. Former natural blondes might do well with Taupe. Sparse brows? Use a brow powder first, applied with a flat, angled brush, or use a pencil; then, tint the brows with coordinating gel.
Finally, I found this video full of good information. More questions? I hope I answered them in this previous post.
Shop These Brow Products