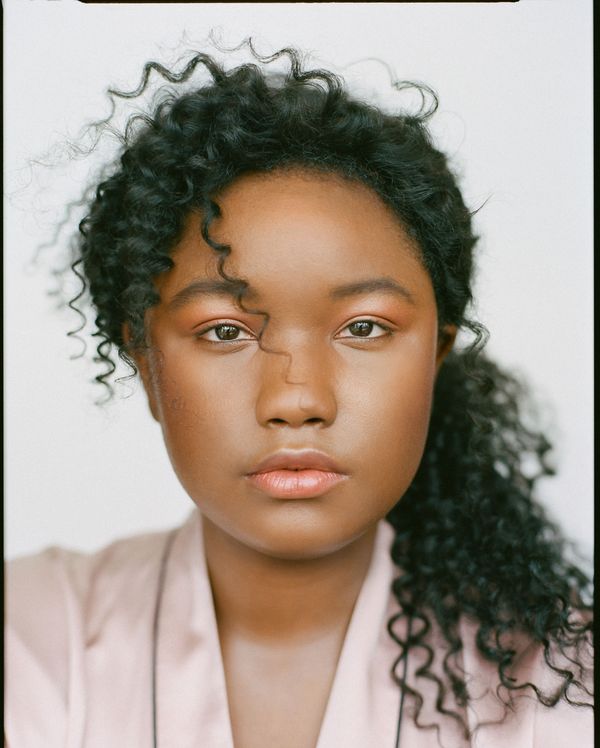 Low ponytails help.
Photo: Heather Hazzan
Really long hair is beautiful and all, but it takes a lot of effort. Either you shell out for removable fake hair, or you undertake the painstaking process of growing your own out. The latter is more cost-effective, but requires a lot of willpower and patience — both of which are often in short supply.
If you want to finally be rid of your bowl cut or grow an all-natural ponytail that skims your butt while in self-isolation, there are a few things you can do to help the process along. First, mentally prepare yourself do a lot of waiting; even more than you already are. Seriously — hair grows up to half-an-inch a month max, and that's if it's in prime condition. It's gonna take a while. Next, follow these 15 hair-growth tricks to nudge those leisurely hair follicles in the right direction.
1. Stop Demonizing Scissors
Let's get this one out of the way first: Yes, trims sound counterintuitive and eating a spoonful of Jif every day seems like it'd be more effective, but you should continue to trim your hair sometimes. Trims get rid of accruing damage and the split ends that end up screwing you over in the long run.
Every eight weeks or so is the general benchmark, but it doesn't need to be a strict, recurring appointment. Just keep an eye on your ends, especially if you have a coarse texture, or heat-style or color often, and make sure your stylist is only taking off what's necessary when you see them — ask for a dusting (a baby trim)!
2. Study Your Shampoo Bottle
3. And Maybe Spend Less Time With It
After you're done squinting at labels, consider spending some time apart from cleansing products if you tend to shampoo a lot. That squeaky-clean feeling may mean you're stripping your scalp and hair of its natural oils, which can lead to brittle hair and breakage, and leave you frustrated that your hair has been the same length for months.
4. But Keep Conditioning
5. Stop Doing That Towel Thing
6. Brush Up on How to Brush
7. Then Give Your Hair Some Space
Beyond the gentle brushing, try to leave your hair alone as much as humanly possible. That means cutting down on hair-drying, flat-ironing, curling, chemically straightening, dyeing, teasing, baking it in the sun, and yes, even crimping. The less you alter it and mess with it, the more it can truly thrive.
8. Learn to Love Low Ponytails
You can still style your hair, but avoid high-tension styles like these ponytails. Instead, stick to something relatively innocuous, like the low pony. Here are some low ponytails to put on your vision board and discuss with your hair later.
9. Sleep on Silk
10. Chill Out
Burg admits this is probably the hardest tip to follow, but if you want your hair to grow, you need to calm the eff down. "Your body knows that your hair isn't essential to maintaining your life, like your heart, lungs, and brain are, so when your body is under stress, it will move any available nutrients and energy to those essential organs and away from your hair." If you're freaking out, you risk prematurely sending your hair follicles into the resting phase, which means any growth will proceed at a glacial pace while your body focuses on more important things.
11. Try Massaging Your Scalp
12. And Treat Your Scalp Like Your Face
13. Eat Some Gummies If You Want
14. But Eat Regular Food, Too
If you're already maintaining a balanced diet with plenty of iron, B vitamins, vitamin E, protein (which, fun fact, is what hair is made out of), and zinc, then good for you. If you want to further optimize your grocery list for hair growth, you can find biotin in stuff besides vitamins, like nuts, eggs, leafy greens, avocado, salmon, and cauliflower. An iron deficiency is often responsible for hair falling out before it reaches its maximum length, so consider upping your intake via red meat (if you eat meat), dark leafy greens, and beetroot.
15. Consider Outside Forces
If you feel like you've done all the above but your hair only ever gets to a certain length, hair loss may be sabotaging you. Look at your part (is it wider?), your brush (is there way more hair in it?), and your low pony (is it way thinner?) If so, Burg says signs point to a build-up of a protein called FGF5. "The only job of FGF5 is to tell hair to stop growing and start resting, so too much of it means slower hair growth." In that case, you may need something more targeted to hair loss and possibly professional guidance.
Kingsley also flagged other suspects, including crash dieting, shock, and hormonal imbalances or changes that come with hypo- and hyperthyroid, menopause, pregnancy, and PCOS, for example. "Due to the nature of the hair-growth cycle, hair shedding usually occurs 6 to 12 weeks after the event that caused it," she warns, so reflect a bit on what's been going on in your life, consult a professional where needed, and re-strategize from there.
This article was originally published March 13, 2019 and has been updated throughout. If you buy something through our links, New York may earn an affiliate commission.