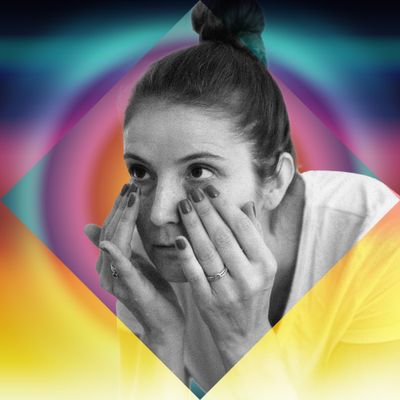 Photo-Illustration: by The Cut; Photo: Getty Images
This column first ran in Valerie Monroe's newsletter, How Not to F*ck Up Your Face, which you can subscribe to on Substack.
Two readers struggling with under-eye hollows want to know what they can do about them without resorting to facial filler. Under certain circumstances — best determined by a physician — filler can help. But if you don't want to go that route, a couple of expert makeup artists have some excellent suggestions.
Q: The loss of volume under my eyes is not a pretty sight. I am not interested in fillers. If you have suggestions about how to minimize this look, please share!
And
Q: … under-eye hollows. No matter what I do, I always look tired. They're sunken (I'm not at the scary skeleton stage yet) and have a blue/gray tinge. Concealer kind of works. When I asked a dermatologist about fixing them, they suggested filler there and in my cheeks. Eeks, no thanks. So do I live with this? Or is there something less onerous to be done?
A: I spoke to two makeup artists about this issue because I was looking for an easy answer. Unfortunately, I don't think there is one.
But if you're willing to spend a little time (and a little but not too much money) on finding the right products and learning how to apply them, you can diminish the hollow-eyed look. I hasten to add that following these directions probably won't bring you joy — but will likely make you happier, temporarily, with what you see in the mirror.
First, veteran makeup artist Barbara Stone, who did my makeup for many beauty events, offers support: "Under-eye darkness paired with loss of volume is the bane of so many women's appearance issues!" she said. "When you try to hide the situation with a regular under-eye concealer that matches the rest of your skin, the effect often looks grayish. But a color corrector can help." Did you know this? I didn't. And it might be how you're unwittingly exacerbating the issue. Barbara notes you might have to shop around to find a corrector/concealer texture/shade combination that does the job without being obvious. It's a bit of a mix-and-match, so you may end up with a corrector from one brand and a concealer from another.
Fortunately, many brands offer under-eye correctors that enable you to be more precise with your concealing, said Barbara. Correctors typically have peachy/coral/melon tones (some even leaning toward orange) depending on your skin tone, which is terrific if you have very dark circles because those shades counteract purply-blue and reddish-brownish under-eye darkness without turning gray.
As for technique, apply eye cream if you use one. Barbara loves Natura Bissé Essential Shock Intense Eye and Lip Cream under concealer because it's rich but not oily or heavy. (I just use a regular moisturizer around my eyes.) Then, with a concealer brush (Barbara's favorite: Bobbi Brown Concealer Blending Brush), apply the corrector to the darkest areas only and pat it with your fingertips to blend. Don't worry about using the perfect amount; it's better to start with more than you need and blend it in.
For correcting, if you prefer something lightweight, Barbara recommends YSL Touche Éclat All-Over Brightening Concealer Pen, great for quick and easy coverage. Her personal favorite is the Nars Radiant Creamy Color Corrector. Then, add the concealer on top, blending it past where the corrector is to blur the edges.
Makeup artist Rose-Marie Swift adds, "Don't apply concealer across the whole under-eye area, which just makes it a different color rather than camouflaging the shadows." For concealing: Resist the urge to use a light shade, since it's likely to look gray, Barbara advises. Your best shade may actually be a bit darker than your foundation or your skin color. Barbara recommends the Nars Soft Matte Complete Concealer because of its workable texture or its Radiant Creamy Concealer for a lighter texture. You may want to add a bit of translucent powder on top to set it. It will stay put longer, but concealer usually needs to be touched up during the day.
Barbara emphasizes that these are not products to buy online. You'll have more success if you work with a product specialist from a brand who can guide you on choosing the right color for your undertones. (She sends a shoutout to the Nars and Makeup Forever folks.) If your best option is a department store, try to go when it's quiet so you have a specialist's complete attention. (And if they compliment you on your shoes, compliment theirs right back. Keeping the mood positive!)
After these somewhat complicated instructions, it might be a strain to remember that playing with makeup should be fun. When it's not, I say it's spinach, and I say the hell with it. You might want to save your makeup days only for when you feel like doing something special.
On those other days, either focus on the miracle that you can see, or invest, as I have, in a pair of handsome shades, like these or these.
Your Shopping List, Below