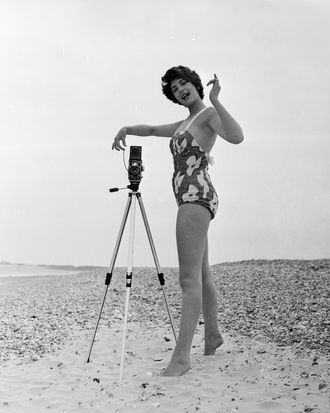 Photo: Harry Kerr/Getty Images
In 2013, when Sarah Tripp, the founder of San Francisco–based style blog Sassy Red Lipstick, first learned how to make money on Instagram, she charged sponsors $50 per post. "I laugh at this now," she says. "Of course, my following was much, much smaller at the time, but I was still undervaluing myself." A year later, when she learned that other bloggers with fewer followers were charging much steeper fees, she immediately multiplied hers by ten — and got zero pushback. "Every time we upped my rate for a sponsored post, brands agreed to it," Tripp says.
Now, Tripp commands up to $10,000 to $20,000 per campaign, and is pickier about her partners. "If a brand only has a budget of $1,500 for two Instagram posts, it just doesn't make sense to work with them, considering my posts are my livelihood," she says. "Once you've established yourself as a legitimate influencer and you know your worth in this game, you can make well beyond six figures annually, solely off of Instagram."
There are three main ways to make money on Instagram. The first method is Tripp's bread and butter: Sponsored content, which usually entails a flat fee that you (or your agent, if you're in the big leagues) have negotiated with a brand. While sponsorships are widely considered to be the most lucrative strategy, one survey of 5,000 influencers showed that the majority of them — 42 percent — charge between $200 and $400 per post; not exactly quit-your-day-job cash. Most influencers supplement that income with the second tactic: commissions from selling other brands' products. And the third, most direct approach is to use Instagram to market your own products for sale, if you have them. Exhibit A: The wild success of Flour Shop, a New York–based bakery famous for its rainbow cakes stuffed with colorful sprinkles that cascade onto the plate when you cut a slice.
"Without the opportunity created through Instagram, my company might not have existed," explains Amirah Kassem, Flour Shop's founder. Even after she opened a highly trafficked store in Soho last fall, she still attributes "100 percent" of her revenue to Instagram, which drives the bulk of their orders. Whenever a new item debuts on their feed — say, unicorn cakes — customers come running.
Both Flour Shop's and Tripp's Instagram follower count (126,000 and 335,000, respectively) place them well within the "mid-tier influencer" range, according to Lesley Parks, a senior social strategist at creative agency POSSIBLE. "Most brands don't partner with with anyone who has a follower count under 5,000," Parks explains. There are roughly three tiers of Instagram influencers: "micro," classified as having under 30,000 to 50,000 followers, followed by "mid-tier" or "macro" influencers, who have up to 500,000 or 600,000. Above that are the "mega" or celebrity influencers — the Kylies and Gwyneths and Beyoncés — with follower counts into the millions and campaign paychecks to match.
Of course, Instagram followers can be bought (and often are), so brands also consider your engagement rate, which is measured by the percentage of followers who "like," comment, or save your photos and videos (in short, humans who are genuinely and actively interested in what you're posting). "Brands usually want an engagement rate of at least 5 percent, but there's no exact science to it," says Parks. It all depends on what kind of audience the brand is going for; for instance, plenty prefer niche influencers with a higher engagement rate (say, 12 percent) over a megastar with a lower one (say, 3 percent).
Another reason to cultivate a higher engagement rate is Instagram's own algorithm, which is designed to keep influencers on the platform as much as possible by pushing certain content to the top of users' feeds. "The more users engage with an influencer on Instagram, the more the algorithm favors the influencer's content and shows that content to their own audience," says Jessi Afshin, who runs the Austin-based style blog The Darling Detail and has 278,000 Instagram followers. "You get out what you put in, but it's never-ending."
So, say you've built a loyal Instagram following. What's the next step? Profiting off your influence is a balance of understanding what your audience wants to see, finding the brands that want to reach them, and then knitting it all together to create value for all parties (your audience finds cool stuff, brands get new customers, and you get paid). Obviously, hitting this sweet spot takes time, trial and error, and beating out stiff competition for marketing dollars — brands won't just hand you a big campaign because they think your photos are pretty and you have a couple thousand followers. You have to prove yourself first.
Which brings us to the next and most common method of monetizing Instagram: commissions. Earning a small sum for every customer they herd toward a brand is most micro-influencers' entree into larger partnerships. However, this can be tricky from a technical perspective, because Instagram is a "closed" platform, meaning it doesn't offer a simple way to link out to retail sites. Instead, influencers have to name products in their captions and paste links in their profiles, which adds tedious steps to the shopping process and causes potential customers to lose interest along the way.
It can also be tough for retailers to track a purchase back to a specific influencer. When I see an Instagram of someone wearing cool earrings — and then, later that day, look up those earrings and purchase them — does the earring brand know what a stalker I am? More importantly, how does the object of my stalking get a cut of what she's prompted me to spend?
This is where affiliate platforms — third parties that help connect influencers, brands, and consumers — enter the picture. Some of the most popular ones are Skimlinks, Shopstyle Collective, Shopify, Clickbank, and Amazon's affiliate program. Although their commission models differ (some pay for clicks, others for sales), they all provide ways to trace an affiliated brand's business back to the influencer who boosted it.
A leading force in this arena is LIKEtoKNOW.it, a tool that allows consumers to shop an influencer's post just by "liking" it, which then triggers an email with direct links to all the products featured in that post (dangerous stuff, I'm telling you). The feature is part of rewardStyle, a members-only affiliate network that influencers have to apply to join; the acceptance rate is around 10 percent, according to co-founder Amber Venz Box. "There are millions of influencers looking to professionalize their content, and we only accept ones that we can help monetize and grow in a significant way."
RewardStyle was born out of Venz Box's own financial frustrations with her fashion blog, VenzEdits, which she created it in 2010 to promote her Dallas-based personal shopping service. Her website became more popular than she anticipated, but as readers poured in, her clients stopped calling. Why would they pay for her good taste when they could just look at her blog for free? "I would get texts from people saying, 'Hey, I bought that PS1 bag you posted about. I love it.' Or, 'You're right, those skinny jeans were the best,'" Benz Box recalls. "And I was like, 'Well, that would have been a hundred-dollar commission.' It started to add up, and it sucked."
Venz Box wanted her old business back. "I wished I could tell retailers like Neiman Marcus or Forty Five Ten that this shopper bought that bag and those skinny jeans because I wrote about it on my website," she says. And so, with the help of her then-boyfriend (and now husband and business partner) Baxter Box, she engineered a platform to close this loop, making blogger-driven purchases trackable so that they could nurture relationships with the brands they liked — and get a portion of the profits they reeled in.
Today, rewardStyle has amassed over $1.6 billion in sales to retail partners, boasts a 78 percent annual growth rate, and negotiates commissions with thousands of brands (including Net-a-Porter, Sephora, Gucci, and West Elm) on behalf of the 11,000 influencers they represent. The commission fees vary, but they're higher than most other affiliate programs — around 15 percent, on average, according to Venz Box. For some influencers, that can be a primary source of revenue.
However, like Afshin and Tripp, most influencers use Instagram to make money from an amalgamation of the above — sponsorships, campaigns, commissions, and/or sales of their own products (books, T-shirts, cakes). But when it comes to drumming up business, there are no rules. "For a budding influencer, it's key to really engage with the social platforms of the brands you'd like to work with — let them know you exist," says Parks. "Some of those partnerships come around very organically, because the brand is already aware of you." Then there's the slippery element of maintaining "authenticity." As Afshin puts it, "Our goal is to convert sales, but trust plays a huge role in between. You can't just sell any blouse, shoe, or handbag. Your followers have to trust you, believe in you, and come back for more."
"It's just like any other business," says Venz Box. "You need to learn about your customer. I think the best influencers know how to relate to people — they're inspirational, but not perfect." And then there's consistency: "You need to get up every morning, publish three to five times a day about things that your audience cares about, and then spend time engaging with your community," she adds.
After all, that "community" is your paycheck. "The more eyes you can get on your content, the more money you can make," says Tripp, who devotes a chunk of time every day answering her direct messages on Instagram, usually regarding fashion advice and body positivity. "Answering that many messages can take hours and hours, but I always do everything I can to respond to each one." And it's paying off — this past January alone (usually a slower month, coming out of the holidays), she signed $50,000 worth of campaigns. "I was so pleased to see the momentum continuing," she says. "Despite saturation in the industry, influencer marketing is not slowing down."
Email your money conundrums, from the technical to the psychological, to mytwocents@nymag.com