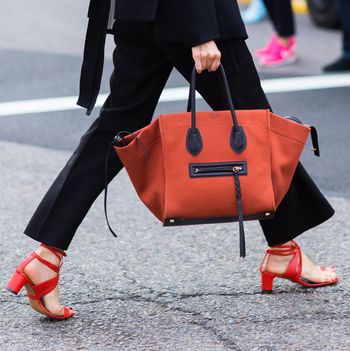 A big Céline bag can turn into a bottomless pit quickly.
Photo: Nabile Quenum/Nabile Quenum
Get It Together is your weekly guide to organizing your entire life.
As fun and cute as tiny handbags might be, they're not exactly practical during the workweek. If you need to lug around everything from your wallet to that book you're trying to finish, plus a water bottle, lip balm, sunglasses, tampons and more, you're going to use a big tote. But wait! What happens when you're at your doorstep at the end of the night? Can you find your keys, or are they languishing under a tumbleweed of receipts and headphones?
If your answer is "It's okay, my roommate thinks it's cute when I ring the buzzer every single day," then it's time to get your life together and organize your bottomless pit of a bag. The easiest way is to buy a premade organizer, be it nylon or felt. But if you find those unwieldy, pouches are the way to go. Scroll ahead to see all the ways to get a neatly arranged handbag.
The Best Cheap Bag Organizer
With over 3,000 positive reviews, this is the one to buy if you something cheap and lightweight with a ton of pockets.
The Structured Bag Organizer
Fear a floppy bag? The ladies of Purse Forum swear by felt organizers inside their Louis Vuitton Speedys, Céline Luggage Totes, and Goyard bags.
Our friends at Strategist rave about using Baggu pouches to neatly organize their tote bags. You can see inside these colorful nylon bags, and you can toss them in the wash when they get grimy.
If You Like to Blindly Fumble for Things
Slip a finger through the hook and you can grab the item of choice without having to rifle through your bag.
Photo: Tsui, Diana
Slip your ID, subway pass, and most used credit card into this cardholder so you can grab it quickly.
If Your Wallet Is Stuffed With Receipts
Use the removable pouch to stash them until you finally file your expenses.
If You Can Never Find Your Phone
Stash your iPad, phone, and other important tech items in this folio. It also comes in handy if you have an interview.
If You Want a Fancy Pouch
Much like their wallets, Comme des Garçons pouches have a fashion-y cult following. They can also double as a clutch.
A Cheaper Japanese Alternative
The Tokyo based brand makes stationery as well as faux leather pouches that have a similar vibe to Comme des Garçons.
Photo: 17-09-20 Accessories PM1 B9 benbrubaker W
Made from sporty neoprene, it's a handy way to stash your makeup and is another pouch that would make for a handy clutch.
But if you prefer something more traditional, this silver and leather number is good classic option.
If you buy something through our links, New York may earn an affiliate commission.