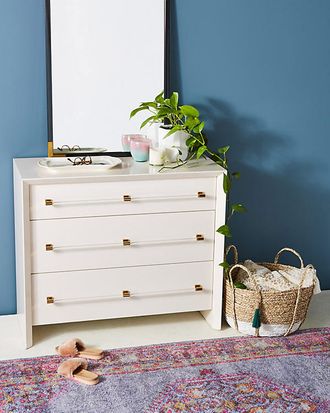 Look how neat and clean this is.
Get It Together is your weekly guide to organizing your entire life.
Your desk is spotless, your closet is tidy, your bathroom is perfectly neat, and your bag is no longer a black hole. Doesn't it feel good when everything in your life is nice and orderly? But wait! What's that mess over there? Could it be the top of your dresser cluttered with all of your accessories? Instead of wasting 20 minutes futilely untangling a necklace or rummaging for a missing earring back, take a moment and get it together. Whether you have just a few special pieces or a massive collection of jewelry, all you need is the right organizer or tray to transform the disarray into a beautiful display. Scroll ahead to shop our favorites.
If You Only Have a Few Special Pieces
Don't have enough jewelry to warrant an elaborate storage setup? This has enough space for your everyday necklace, rings and earrings.
If You Want to Neatly Show It Off
Rows upon rows will turn your dresser top into a boutique display.
If You're Paranoid About Dust
Not in the mood to give your favorites periodic cleanings? Store them in a pretty box to keep the grime off.
If You Do It for the 'Gram
Lay down a few rings, bracelets, and earrings. Then place this next to a green plant or candle for the perfect shot.
An unobtrusive black-lidded box will keep everything neatly hidden away.
Instead of a unsightly cone or overly whimsical animal, this iridescent jack looks like a sleek paperweight.
If You'd Rather Just Toss Things Blindly
Aim straight for a tiny, colorful tray.
When You Want to Add Texture
Pink suede adds warmth to a wooden surface.
If Your Aesthetic Is Light and Bright
Clean white marble with just a few pieces on display is the way to go.
If Your Aesthetic Is Light With a Hint of Color
Because pale pink is one of the few colors a minimalist will permit into her life.
When Coordination Is Very Important
A set of three will make it satisfying easily to align them just so.
When You Need a Little of Everything
A covered bowl will protect your most important pieces, while the matching trays are good for tossing your everyday stuff.
If You Want Just One Item
This is technically a soup bowl, so it's deeper than your average catch-all. Toss just a few things in there, but don't go overboard — you want to show off the enamel interior.
Because You Have Too Many Sunglasses
And they need a home, too.
If you buy something through our links, New York may earn an affiliate commission.