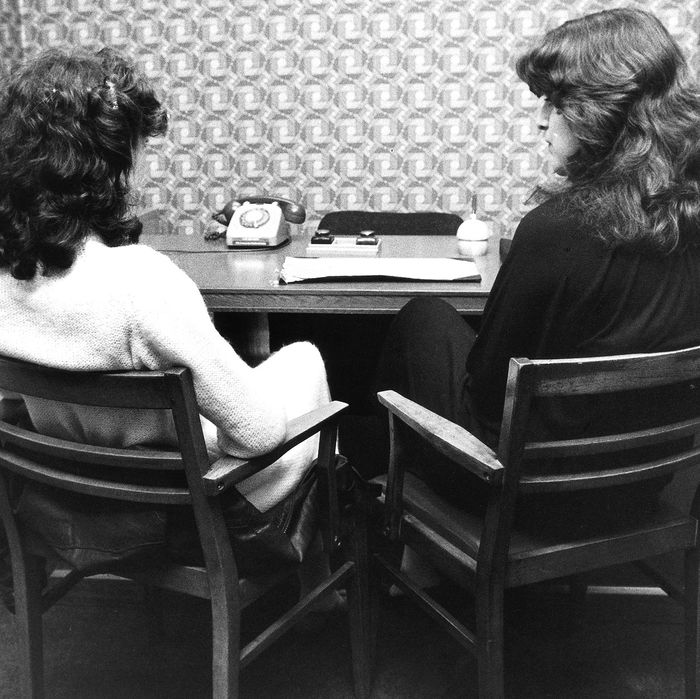 Photo: SSPL via Getty Images
Get Ask a Boss delivered every week
In my experience writing a workplace advice column, people agonize almost as much about how to quit your job as they do about whether or not to resign in the first place. The logistics seem to really trip people up: When and how do you tell your boss? What if she's upset or angry? Do you have to write a resignation letter? How much notice do you really need to give? Should you be honest in your exit interview?
Let's take the mystery out of resigning by walking through the whole process.
First, exactly how do you announce you're quitting?
If you work in the same location as your boss, sit down with her and explain you have some news. Say something like: "I've really enjoyed working here, but I was recently offered another job that I couldn't pass up. After a lot of thought I've decided to accept it, and so my last day here will by July 27." (If you can't credibly say you've enjoyed working there, you can leave that part out.)
If you don't work in the same location, you can do this by phone. But do have a face-to-face or voice-to-voice conversation; this isn't something to announce via email unless you're in unusual circumstances and there's truly no other way to reach your boss.
What if your boss is hard to pin down for a meeting or a call?
If your boss is normally difficult to reach, especially on relatively short notice, you'll need to change your normal approach. You shouldn't wait days and days before you talk, since that will either cut into the amount of notice you're able to give or delay your start date at your new job. Instead, leave your boss a voicemail or send an email explaining that you have something important and time-sensitive to discuss and ask to talk with her for a few minutes today. (Yes, this may sound ominous. Yes, she may suspect you're about to resign. That's okay. That's just what you have to do in this situation, and most bosses will understand that — especially since it's in their best interests to hear the news as soon as possible.)
If your boss is completely unreachable — like if she's on vacation for the next two weeks — it's okay to give your resignation to HR or to your boss's boss.
Do you need to write a resignation letter?
In the movies, you often see people resigning via a printed letter left on the boss's desk. In real life, a letter isn't the way you'd deliver the news (and generally, that would be an odd thing to do). But your employer might ask you to write a letter after you talk with your boss, so that they have your resignation documented for their records.
If you're asked to write a letter, keep it short and sweet. This isn't the place to get into why you're leaving or what would have convinced you to stay. This is just a formality, and it only needs to say something like "After four years at X Corps, I've decided to move on, and this letter is to confirm my resignation, effective July 27. I wish the organization all the best."
Should you tell your boss the real reasons you're leaving?
In most cases, you're better off not getting into negative reasons for leaving, like that you hated the culture or felt treated unfairly. Those things may be true, but you risk leaving things on a sour note, and changing the type of reference you get from your manager in the future. (An ethical employer won't give you a bad reference simply for being candid, but you do risk changing their recommendation from highly enthusiastic to more tepid, even if it's only unconsciously done.)
Generally, you're better off attributing your decision to an opportunity that you couldn't pass up, wanting more challenges ("as you know, I've really been wanting to move into web design"), or better pay or benefits (it's hard to argue with "they offered me a 30 percent raise").
What if your boss reacts badly?
Your boss may be disappointed or even frustrated to hear the news — resignations can be inconvenient even under the best of circumstances. But if your boss is at all reasonable or professional, she'll quickly pull it together and recognize that it's perfectly normal for people to move on, even if it's not ideal for her. However, occasionally some bosses do handle resignations really poorly and take them as personal betrayals. For the record, this is ridiculous. But if it happens to you, the best thing to do is to stay professional and stay focused on the logistics of the transition, like what to prioritize during your remaining time and who to hand things off to.
If your boss's behavior is really over-the-top and she's being openly hostile (which is rare, but it happens!), you always have the option to say something like, "I'd like to stay and help with the transition, but it's clear that you're upset with me. Would it be better if I left now?" (Obviously don't offer that if you're not willing to forego being paid for the days remaining in your notice period — but it's an option if you just want to get out of there.)
What if your boss makes a counteroffer?
If your boss offers you more money to stay, you might be tempted to take it. Think carefully before doing that, because there's a reason you started job-searching in the first place, and those factors will remain once the high from the raise wears off. Plus, the fact that you needed to be walking out the door in order to get paid what you're worth isn't a great sign, and it's possible that it'll be harder to get raises in the future. In fact, the next time you're seeking a raise, you might be told, "We just gave you that big increase when you were thinking of leaving."
When and how do you tell your co-workers?
Usually you should wait and tell your boss first, so that she doesn't hear it through office gossip. But once you've done that, you're generally free to tell your co-workers. Depending on the norms of your office, you could let people know individually or you could send out an email announcing the news. You don't need to get into all the details about why you're leaving; it's generally enough just to explain you've accepted another job and when your last day will be. (You can of course share more with people you're especially close to if you want to.)
How much notice should you give?
In most jobs, you're expected to give two weeks notice. In some jobs, you may be expected to give three or four weeks. In the U.S., it's very unusual to be expected to give more than that. Some people choose to give more notice than that, if they particularly like their employer, want to help with the transition, and trust the employer to handle the notice period well (as opposed to, say, pushing them out earlier). But most people give two weeks.
How should you spend the time during your notice period?
Notice periods are designed to let you transfer your work or leave it in good enough shape that someone else will be able to eventually take it over. So it's smart to write up documentation of your key processes and contacts and where key projects stand, organize your files, and generally do what you can to ensure that whoever replaces you won't inherit total chaos.
Should you be honest in an exit interview with HR or otherwise speak up about problems on your way out?
I wish I could advise everyone to be honest in exit interviews because it's important for employers to hear about problems and be able to fix them. But the reality is, while that might be in your employer's best interests, it's not always in yours. It's usually fine to give honest feedback about things like salary and benefits. But candor about management isn't always welcomed and may be passed along to your manager rather than held in confidence. It's not your job to risk your relationships and future references to provide that input. And if your company truly wants to hear employees' input, the time for them to solicit it (and listen to it!) was before you were already leaving.
That said, this is a situation where you should take into account what you know about how your company operates. If you know them to handle feedback well and with discretion, it might make sense to provide some. But if you've seen evidence that they don't, it's not a risk you need to take.
Get Ask a Boss delivered every week
Order Alison Green's book, Ask a Manager: Clueless Colleagues, Lunch-Stealing Bosses, and the Rest of Your Life at Work, here. Got a question for her? Email askaboss@nymag.com. Her advice column appears here every Tuesday.