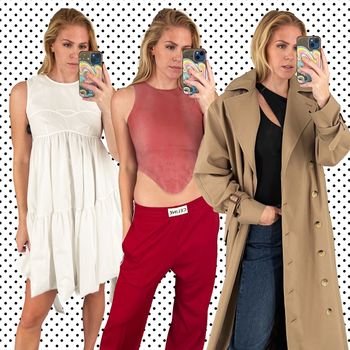 Photo-Illustration: by The Cut; Photos: Hanna Flanagan
For more of the Cut's favorite fashion, beauty, and home finds, sign up for the weekly Cut Shop Newsletter.
Even though my literal nine-to-five job is shopping, department stores and luxury e-commerce platforms still can feel overwhelming to me — whether I'm scrolling through hundreds of product pages online or perusing the racks in person. My hack for finding wish-list items, discovering new designers, and scoring major discounts in a timely and efficient manner is simple: Learn the ins and outs of how each company operates and organizes inventory.
For example, my first stop when I shop at Net-a-Porter is always the "New In" section because I know that's where the retailer drops the latest launches five days a week. But when I shop at Ssense, I browse the sale section before looking anywhere else because it's stocked with the best designer clothing, accessories, and shoes for a fraction of the price.
At Nordstrom? My go-to is SPACE, an expertly curated boutique that spotlights new and advanced designers both in stores and online. Introduced at select locations back in 2015, SPACE at Nordstrom is all about creating a place "where the directional collections or up-and-comers have a place to live and grow," Nordstrom senior vice-president Olivia Kim explained at the time. Today, it's a playground for fashion lovers who want to discover emerging designers and shop internet-famous "It" girl brands like Sandy Liang, Simone Rocha, Tôteme, Acne Studios, and Bode.
SPACE at Nordstrom is something you should absolutely be taking advantage of. So to help you shop the collection like a pro, I took myself on a date to the Nordstrom New York flagship store and checked out the section in real life. Read on for my full breakdown of every designer aesthetic and the brands that piqued my interest the most, plus how to style my favorite SPACE items (which are available to shop in person and online right now).
If you ask me, the most exciting thing about SPACE at Nordstrom is the collection of Tôteme. The label's modern, minimalist designs are the epitome of understated elegance. If you appreciate simple, clean wardrobe staples and meticulous attention to detail, the Tôteme racks (or landing page, if you're shopping online) should be your first stop. This structured, double-breasted trench is simply to die for … sure, it's an investment, but it matches everything and will never go out of style.
I love the tapered shape of these, and the stiff, non-stretch material is my idea of denim heaven. Not to mention there are few things I love more than a baggy jean. So when my regular size wasn't available in the store, I had no problem sizing up. These, however, are a lot higher-waisted than they look on the rack and online. The oversize look was not as flattering here as it would be with a low-waist style. I recommend choosing your true size (or sizing down if you want them to be more fitted).
It wasn't the look of this Cecilie Bahnsen frock that caught my attention so much as the feel of it. Made from lustrous recycled faille, it has a soft, distinctive texture that has weight to it and feels so high quality. I fell even more in love with this bubble dress once I tried it on — the flouncy skirt is incredibly twirlable, and the empire waistline is so romantic. The real highlight, though, is the set of ribbons that drape down the back and feel so true to Cecilie Bahnsen's signature aesthetic. As for styling this dream dress, you could lean into the ultrafeminine design by pairing it with ballet flats or offset it with chunky boots.
While the in-store collection of Simone Rocha is sparse, the online one is quite robust. From wool cardigans and ruffled blouses to metallic ballet flats with a sporty twist and all things bow embellished, SPACE at Nordstrom carries so many pieces that are modern and conceptual yet feminine and quintessential to the brand identity of Simone Rocha.
For intricate, ethereal pieces and playful basics, check out Paloma Wool. I chose this stretchy and super-soft ribbed tee while shopping in store, but after browsing the Spanish brand's online selection, I'm gravitating toward this sheer knit dress and these on-trend boyshorts.
As a Sandy Liang stan through and through, I had to call out the fact that SPACE at Nordstrom carries a few pieces from the whimsical and eclectic label that seamlessly merge femininity with a grunge aesthetic. The selection is pretty limited (both in store and online), but this flowy gingham skirt definitely caught my eye.
Airy and lightweight is the name of the fashion game right now in New York as temperatures climb to the high 90s. So naturally I beelined for this pale blue plissé set. Both the top and the pants have fluttery side panels that create a flattering and forgiving shape. Plus, they're made from Miyake's signature wrinkle-resistant material, which is available to shop in a wide variety of styles and colorways via SPACE at Nordstrom.
Miaou has never been my go-to for tops, as the brand specializes in baby tees, sheer mesh pieces, and scoop-neck tanks with thin straps — all things I tend to avoid as someone with broad shoulders and a muscular build. However, I couldn't resist trying on this viral latex top I've been curious about ever since I saw fashion influencer @lizzipoopi unbox it last year. Much to my surprise, it's the most flattering thing I've put on my body in months. If you want a cinched effect that's comparable to shapewear, this latex piece won't disappoint. Or, if you want to steer clear of internet-famous fashion, other highlights from Miaou include this nylon-and-spandex-blend tank that has a similar silhouette, this printed halter-neck dress, and this denim midi skirt.
I'm experiencing major cutout fatigue right now (and I know I can't be the only one). I wasn't completely obsessed with the first few iterations of the trend, and I definitely haven't been in love with the millions that followed. So imagine my surprise when I gravitated toward this top from K.NGSLEY! It's understated yet sexy and a fun play on the basic ribbed tank.
The 57th Street SPACE selection also included several shirt dresses from Japanese streetwear label Sacai. While this mixed-media situation that features a built-in belt and a cropped bodice is not for me, it's interesting and inventive and special, so it's definitely for someone. If it's speaking to you, 10/10 would recommend! If not, check out the brand's landing page for other unexpected silhouettes, hybrid designs, and elevated sportswear that might pique your curiosity.
When I asked Lani, a Nordstrom sales associate, about her favorite pieces in the SPACE section, she pulled these wide-leg jeans off the rack without any hesitation. They fit true to size and are surprisingly flattering, thanks to the non-stretch material and the fact that the removable overlay has several different buttonholes so the fit is customizable. I would style these extra-long jeans with sneakers for a casual, slouchy silhouette or with my highest heels (sans the overlay) for a sleeker look.
It's no secret that we're big fans of Bode, the New York City–based menswear brand inspired by heritage textiles like tablecloths and old quilts. The old-school fabrics and quirky prints are some of the most unique and instantly recognizable designs under the SPACE at Nordstrom umbrella. But if you prefer something more subtle, I recommend this lingerie-like silk tunic from the brand. It's perfectly oversize and so comfortable.
The Acne Studios section was filled with colorful knits and outerwear (that I could not bring myself to try on due to the extreme heat). This cardigan is a personal favorite; it's classic and preppy, but the extra-long sleeves add a relaxed cool factor. The accessories portion of the Acne section was also swoonworthy. Of course, Nordstrom carries the Stockholm-based label's beloved scarves — which are plush, oversize, and sustainably sourced — but you'll also find beanies, gloves, and faux patent-leather tote bags.