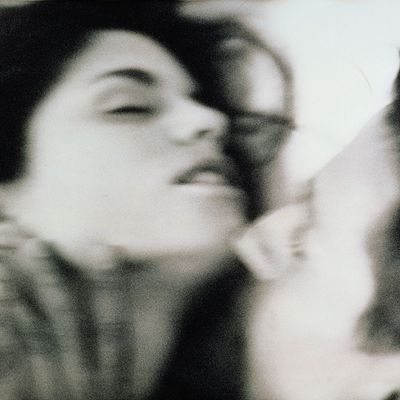 Photo: Bruce Ayres/Getty Images
Sexual lulls are normal even for the most passionate couples — and they can actually be a good thing. One psychologist related an aspect of the issue to ennui: "The emotional experience of boredom is impossible to ignore, and in this way it indirectly helps people engage." Researching the science of boredom helped one of our writers prepare for marriage.
For advice on how to spice up your sex life, we turned to Emily Morse, a sexologist and host of the podcast Sex With Emily. "The problem isn't the fact that passion fades, it's that we're so unprepared when it happens," she said. "Hot sex is effortless" during the honeymoon phase of a relationship, she explained, and then things inevitably start to cool off. "The bottom line is that we're hardwired to crave surprise, variety, and adventure — and long-term relationships are the exact opposite. Stability is the enemy of the surprise. Routine cancels out variety."
Her advice: "Prioritize sex as much as any part of the relationship, and work to bring back the variety and surprise." Below, she and other sex experts share ideas on how to have more (and better) sex with your partner.
1. Never stop sharing your desires. 
"As time goes on, passion fades," Morse says. "Expect it, and expect to work if you want to keep things hot." When you feel the fire starting to burn out, "take control and communicate with your partner. If you're bored, chances are they are, too. The only way to make it work is to do it together."
Kait Scalisi MPH, a sex educator and the founder of the award-winning sex education platform Passion by Kait, uses an example from her own relationship to echo the importance of regular communication about sexual desires. "Every new year and anniversary, we each share one new thing we'd like to try in the bedroom," she says. "Sometimes we decide to try it, and sometimes we keep it for fantasizing and sharing via dirty talk. Either way, it's sexy and fun way to stay connected and keep our sex life intimate, exciting, and fulfilling."
2. Send a spontaneous sext.
"Instead of 'what's for dinner?' try adding some sex to your texts by sending a message about you want to do when they get home," Morse says. "Don't be afraid to get specific. Recall details about one of your hottest experiences, describe an outfit you'll be wearing — or maybe send a pic of yourself in it. An unexpected sexy message to your partner is a great way to build that tension throughout the day, so as soon as they get home, you both know it's go time."
3. Role-play outside the bedroom.
Role-play doesn't just have to be limited to inside of the bedroom. Courtney Watson, a licensed marriage and family therapist who specializes in sex therapy in her private practice, suggests the two of you can dress up, go out, and arrange a "one-night stand." During the one-night stand, "act like strangers the whole night: different names and backstories, and flirt as if you just met. At the end of the night go home together."
If the exercise worked for you and your partner, she suggests keeping it up by using "the same alternate identities once a month [where you can] date as if you're starting a whole new fling with one another." (Think of April and Andy in Parks and Recreation, when they would pretend to be Burt Macklin and Janet Snakehole, or Phil and Claire in Modern Family with their annual Valentine's Day "Clyde and Julianna" role-play.)
4. Watch porn together.
"Porn doesn't need to be something you keep to yourself," Morse says. "Try finding something you both like. It'll get you in the mood and give some ideas for role-play or positions that you'd like to try." If porn isn't your thing, she suggests playing a sexy game using erotic literature. "Find an erotic story or novel and take turns reading to each other. See how many pages you can get through before you can't keep your hands to yourself."
5. Create your own erotica.
"Get a journal to pass between the two of you," Watson says. "One person starts the erotic story and the other picks up where they left off. If you want to make it really explosive, agree to no sex for a week while you're writing your steamy story. By the end of the week you will be bursting to get your hands on one another."
6. Send your partner a "special delivery."
While getting ready in the morning, Watson says to "make sure your partner takes note of you putting on lingerie." Then, as the day goes on, send a surprise by dropping off the lingerie in an envelope at their office.
7. Schedule sex.
"As busy as we all tend to be these days, prioritizing sex may mean you need to add it to your calendar," Morse says. "While that may seem like the least sexy thing on the planet, knowing there's time designated for intimacy can really help build arousal all day." Rather than letting it be another boring plan in your Gcal, Morse suggests using it as an opportunity to get creative. "Don't just set the time — plan for different rooms, positions, outfits, etc."
Watson says this has worked in her own marriage. "Even though I'm a sex therapist, my long-term relationship is not immune to lulls. We just had a baby and haven't been able to connect as much as we'd like." She and her partner take a shower together every Sunday morning.  "We have two kids under 3 and interruptions happen, but we definitely feel more sexually connected from it."
8. Create a sexual bucket list.
"If you're in a long-term relationship, chances are good that one of you has mentioned a fantasy or two. It's time to make some of those a reality," Morse says. "Next time you're out to dinner or hanging out at home, lay down the challenge to write down five things you'd each want to try sexually. Then, swap lists, see what you had in common, and pick some things you're both willing to try."
9. Plan a sexy scavenger hunt.
"Start with a photo of yourself in lingerie," Watson says. Next, "leave pieces of clothing or sexy items (i.e. handcuffs) around the house, along with a clue to where the next item is. At the end of the scavenger hunt, use all the items for the rest of the night."
10. Switch your birth control.
See your OB/GYN before considering this option. "I didn't even realize how low my desire had gotten until after I stopped using the Pill," Scalisi says. "While this won't work for everyone, it did wonders for me."
11. Add some kink to your routine.
"Talk about ways you each would feel comfortable including pleasurable pain, bondage, new gadgets, or role-plays into your relationship," Watson says. "Go to a sex store and pick out some items to try."
12. Shop for sex toys together.
Just the activity of going to a sex-toy store and shopping for them together could be a fun activity for a couple to try, according to Watson. (Read about the 30,000-year history of the sex toy here.)
13. Try new things together both inside and outside the bedroom.
"Our sex lives get stale because we fall into routines, that includes the everyday things we do together," says Morse. "Create new shared experiences by making an effort to try new things together. Whether it's taking a cooking class, going snowboarding for the first time, or taking a walk around a part of your town you've never been, breaking the routine can lead to renewed intimacy."
14. Create the optimal sexual environment for yourself.
Scalisi says creating "the right context for the most intimate, exciting, and fulfilling sex" for her was the key to spicing up her sex life. "Reflecting on past sexual experiences that were oh-so-pleasurable taught me what works and doesn't. For example, I have the best sex when my stress is low, after a long luxurious back rub, and when I'm feeling in love with my body — to name a few things."
15. Try mutual masturbation.
Scalisi calls mutual masturbation her "secret sexy weapon." "It is so damn hot to watch each other self-pleasure, plus it takes less time than other forms of partner sex."
16. See a sex therapist.
Watson says if a sexual lull persists, sex therapy is always an option for you and your partner to discover deeper reasons behind sexual issues and, in turn, find ways to address them.