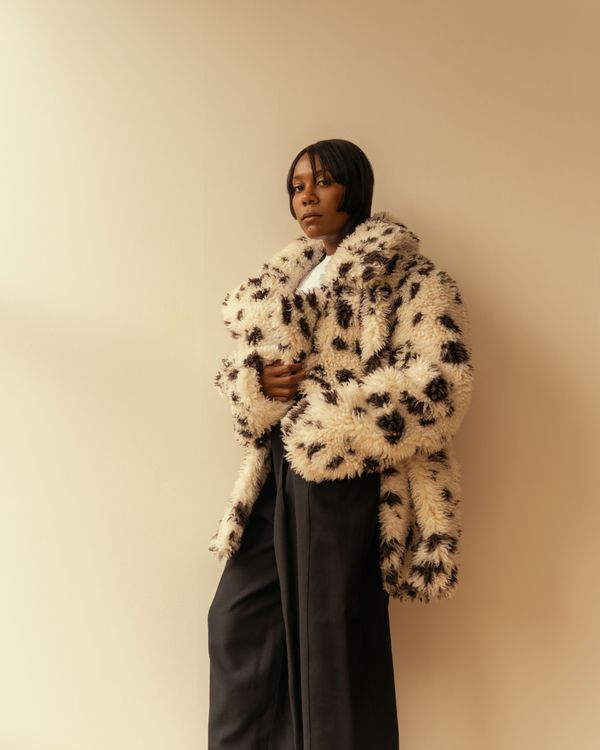 For more of the Cut's favorite fashion, beauty, and home finds, sign up for the weekly Cut Shop Newsletter.
Why let your old-but-reliable puffer coat ruin your cute outfits? The Cut's fashion director, Jessica Willis, suggests you try something new: faux fur. Instead of throwing on faux fur occasionally for a party or night out, wear it every day. Don't know how? We break down the outfit for you.
.

The Hero Piece: The Everyday Faux Fur
This cruelty-free alternative comes courtesy of Stella McCartney, the animal advocate who has made it a lifelong mission to use vegan and ecofriendly materials. This plush, spotted fur is made of a blend of recycled wool and polyester and looks very chic.
"Don't think it has to be saved for special occasions," Willis says. It's versatile enough to be a wardrobe staple but still makes the rest of your outfit look a little more dressed up.
.

Let the jacket speak for itself
Pare down the rest of your look. Underneath the coat, just add a classic white T-shirt. Willis's T-shirt of choice is from Good American, where you'll find various size options and colors.
.

Emphasize the waist
One key component of any look is your proportions, especially when working with oversize silhouettes. You don't want the coat to overwhelm, Willis explains; if you're shorter and want to look taller, opt for shorter coats that hit just below the waist. To look taller and keep the focus on her waist, Willis chose high-waisted trousers that are tighter on the waist and looser on the leg. Willis wore this look with loafers but suggested a boot or heels for elongating the leg.
.

Accessorize with "forever" jewelry
Your classic go-to pieces will work for this look — what Willis considers your "forever jewelry," which you usually grab on the way out or you're always wearing. For this look Willis opted for Cartier's Clash de Cartier hoops.
.

Next, skip the bag
We've featured roomy totes in the past that are always good for fitting your laptop and everything else if you decide to make this a work look. But if you aren't going to work, we allow you to skip the clutch and stash your essentials in the spacious pockets. Willis assures the faux fur can easily fit your lipgloss, wallet, and keys.
Get the look
Here are four faux furs to add to your coat rotation.
With a relaxed fit, this slightly shorter coat will make you look taller. It also has a zipper for colder days.
Add a little drama with a high-volume collar on this all-black faux fur from the Frankie Shop.
Another option with a high-volume collar and lapels, this coat hits just at the thigh, so you can feel free to add on minidresses and miniskirts to show more of the leg.
If you want something longer, this warm white coat hits just below the knee.