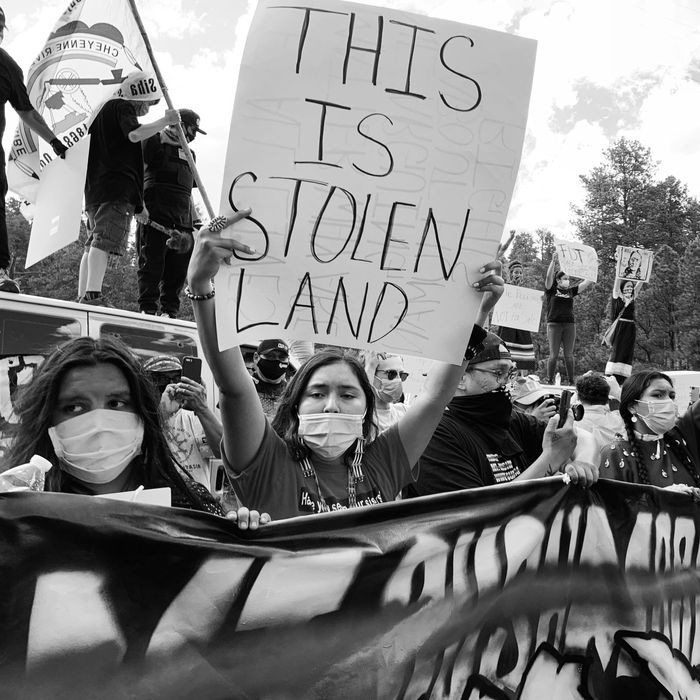 Photo: Micah Garen/Getty Images
The fourth Thursday in November has long marked a day of Thanksgiving in the U.S. From childhood, many of us are taught that the holiday was modeled on a peaceful harvest feast between colonial settlers and the Wampanoag tribe — a myth that's both inaccurate and damaging. To many Native Americans, it's a day of mourning. "The Thanksgiving that we know as a holiday is rooted in a history of violence against Indigenous Peoples," says Charlie Amáyá Scott, a citizen of the Navajo Nation and scholar, educator, and advocate who shares Indigenous stories on their blog, Diné Aesthetics.
"The erasure of the true and real history of Native peoples through false narratives and myths like Thanksgiving promotes a continued lack of awareness and understanding by … the American public, denying the brutal history of what was done to Native peoples over the last 400+ years," says Crystal Echo Hawk, a citizen of the Pawnee Nation and the founder and executive director of IllumiNative, a nonprofit that aims to counter the stereotypical and damaging mainstream narratives about Native people by increasing visibility of actual Native Nations and peoples.
"'Thanksgiving' celebrations and myths perpetuate ideas of Indigenous Peoples as belonging in the past," says a 26-year-old Tigua Pueblo representative from Seeding Sovereignty, an Indigenous-led collective working to build community and advocate for Indigenous liberation. "We are still here, and we are fighting the same battles against colonization as we were when the first 'feast' occurred in 1622."
You can — and should — support Native/Indigenous communities year-round, but Thanksgiving in particular is a day to listen, learn, and offer material support, especially in 2020, when Native/Indigenous communities have been among the hardest hit by the COVID-19 pandemic.
Here are some suggestions for specific actions.
Find out whose lands you are on
Native Land is a great starting resource for this purpose. It's an interactive map that you can use to search your home address and find out which Indigenous tribe and/or nation originally lived on that land. This is good knowledge to have in general; you can start incorporating land acknowledgements into your life.
Land acknowledgments are a simple but important way to honor the indigenous communities that were forcibly displaced and killed by colonizers. At an event — a family dinner, for example — you might begin by saying something along the lines of, "Before we start, I'd like to acknowledge that we're living on stolen land," and name which tribe it was stolen from. It's a simple act, but it's one of the fundamental ways we can honor our country's Indigenous history in daily life and center that history over the mythical Thanksgiving narrative. It might even start a much-needed conversation with family or friends and an opportunity to educate your loved ones.
Get involved with issues that affect Indigenous Peoples
• Contact your reps
On a local level, your calls and emails can really make a difference. That means calling your city councilmembers, your state representatives and senators, the mayor's office, et cetera. It's important to look into the specific local issues in your area — the Land Defenders' actions to reclaim the Black Hills in South Dakota, for example, or the ongoing legal battle against the Dakota Access Pipeline in Standing Rock — but there are also nationwide issues that specifically affect Indigenous communities.
This past summer, IllumiNative conducted an Indigenous Futures survey in partnership with the Native Organizers Alliance, Center for Native American Youth, the University of Michigan and the University of California at Berkeley. The survey includes responses from more than 6,400 Native people in all 50 states, with 401 tribes representing. Participants identified, among other things, critical priorities for Native peoples.
Hawk, from IllumiNative, shared the top five issues the survey identified: The COVID-19 pandemic, access to quality health care and mental-health care, caring for Elders, protecting Native women and girls from violence, and environmental issues. We know that climate change affects the most vulnerable communities first, and Indigenous communities in particular have a long history of environmental stewardship. "Climate justice needs to center Black and Indigenous Peoples, locally and globally," says Scott, of Diné Aesthetics.
You can also advocate for Representative Deb Haaland of New Mexico to be nominated as the next secretary of Interior. It's ultimately Joe Biden's decision, but you can call and email his campaign office, and sign Lakota Law's petition to nominate her. She would be the first Native American to serve in the role, says Hawk. "This appointment would not only make history but be a significant step forward for this country to reset the relationship between the U.S. federal government and Native peoples."
• Get involved with the #LandBack movement
One issue deeply tied to climate justice is the #LandBack movement. The idea is relatively simple: Restore land back to the Indigenous communities whom it was stolen from. "#LandBack is rooted in this idea of restoring Indigenous stewardship and ancestral relationships to land," says Scott, "and letting Black and Native Peoples lead that conversation with the movement."
You can join NDN Collective's national #LandBack campaign by donating your time, money, and/or skills. In the San Francisco Bay Area — the ancestral home of the Lisjan Ohlone people — you can pay a land tax to Sogorea Te' Land Trust, which returns land directly to Indigenous communities. Resource Generation also has a comprehensive Landback toolkit.
• Show up to protests or other direct actions
Direct action is also an important way to stand up for Indigenous communities on issues like climate change, tribal sovereignty, and land protection, especially given the federal government's refusal to act on many of these. "[Show] up on the frontlines of pipelines, sacred sites, and police brutality protests and take lead from Black and Indigenous people," says the Seeding Sovereignty representative. "Share grassroots efforts led by and for BIPOC (Black, Indigenous, and People of Color) on your platforms."
Support and amplify the work of Indigenous creatives
Indigenous people are underrepresented and often misrepresented across the media landscape: In books, music, movies, and TV, we see very few Indigenous people. A lot of the existing representations of Indigenous Americans rely on harmful stereotypes and tired clichés, and there aren't many mainstream examples of Indigenous people controlling their own narratives. "Nearly 90 percent of the schools in this country don't teach about Native Americans past 1900," says Hawk, "and what little they do teach is largely inaccurate and not inclusive of Native perspectives on history and colonization." That's why it's important to seek out work created by Indigenous people.
"I am always an advocate for supporting Native-owned businesses and artists," says Scott, "because there are so many talented individuals who are revitalizing traditions and blending them with contemporary cultural references." According to Hawk, 72 percent of Americans rarely or never encounter information about Native peoples. Across the media spectrum, the representation of Native/Indigenous peoples is less than .04 percent.
To get started, you can look into the Reclaiming Native Truth project, which aims to dispel the myths and misconceptions about Indigenous Americans in the dominant narratives of our culture. IllumiNative has shared history, literature, and music lists, and Scott also curates a regularly updated list of Indigenous LGBTQ2S+ artists.
Spend time learning about Indigenous issues
"The best way that people can step up to undo the ongoing damage of colonization is to educate themselves about the true history of 'Thanksgiving' and the true history of colonization," says the Seeding Sovereignty representative.
The information is out there and takes so many forms. Here are some starting points.
Watch: Ȟesápa, a film about the Indigenous Land Back movement produced by NDN Collective and Oglala Lakota filmmaker Will White. It's streaming for free on YouTube and Facebook.
Read: Braiding Sweetgrass by Robin Wall Kimmerer, a gorgeous book that brings together scientific knowledge and Indigenous knowledge to expand our understanding of ecology and the human relationship to the environment.
Listen: This Land, a podcast hosted by Cherokee Nation journalist Rebecca Nagle about how a homicide case turned into an investigation into the treaty rights of five Native American tribes.
Donate directly to communities, and to organizations that support Indigenous liberation
There are many organizations working to achieve liberation and a better quality of life for Indigenous people. Here are a few:
NDN Collective — an Indigenous-led organization working on the ground to protect Native land. It also provides resources to Indigenous artists, activists, and communities.
Climate Justice Alliance —  an environmental organization that unites some of the communities most affected by the climate crisis to advocate for real solutions to it. They are campaigning for and implementing a nurturing way of working and living in harmony with the planet.
Center for World Indigenous Studies — a nonprofit dedicated to wider understanding and appreciation of the ideas and knowledge of Indigenous peoples and the social, economic, and political realities of Indigenous nations.
International Indigenous Youth Council — an organization founded in during the Standing Rock Indigenous uprising in 2016. It focuses on land protection and preservation, and centers and connects young activists.
The American Indian College Fund — an organization that helps Indigenous students go to — and stay in — college.
Tiny House Warriors — A collective of Land Defenders who have built strategic tiny houses to protect the land against the Trans Mountain Pipeline Project.
Stop Line 3 — A campaign to oppose the Line 3 pipeline, which is a proposed expansion from Alberta, Canada to Superior, Wisconsin.
Kumeyaay Defense Against the Wall — Kumeyaay activists protesting the destruction of their sacred land with Trump's border wall.
O'odham Anti Border Collective — A group of O'odham activists and their allies protesting to protect their land from Trump's border wall.
Pueblo Action Alliance — An alliance of Pueblo activists fighting white settler colonial power.
Lakota Law — An organization working to reclaim Indigenous lands and protect Lakota communities and culture.
IllumiNative — A nonprofit aiming to counter the stereotypical and damaging mainstream narratives about Native people by increasing visibility of actual Native Nations and peoples, and supporting research and storytelling by and about Native/Indigenous peoples.
Seeding Sovereignty — An Indigenous-led collective working to build community, disrupt colonization, and ultimately achieve liberation for Indigenous communities.
You can also donate to funds for specific tribes or nations and smaller communities within them, as well as funds that support the well-being of Native/Indigenous communities during this time. Some examples:
Orenda Tribe is fundraising to support the the Trans Gender Resource Center of New Mexico. Donate here.
Adopt-A-Native-Elder is an organization that serves to help reduce extreme poverty and hardship facing traditional elders living on the Navajo Reservation. Donate here.
The Navajo Nation COVID-19 Response Donation Fund was established during the pandemic to help the Navajo Nation respond to the COVID-19 pandemic and address immediate medical and community needs. Donate here.
Utah Diné Bikéyah is an organization that protects the Bears Ears cultural landscape, supports the Navajo, Hopi, Zuni, Ute Mountain Ute, & Uintah Ouray Ute tribes, and is supporting these communities during the COVID-19 pandemic. Donate here.
Donate to support the Lipan Apache Tribe of Texas here.
Donate to support the Cherokee Nation here.
Donate to the Lenape Nation of Pennsylvania here.
Donate to the Manna-hatta fund, which directly supports the American Indian Community House in New York City, here.
Donate to the Navajo & Hopi Families COVID-19 Relief Fund here.
Donate to Protect Native Elders, a fund being distributed to take care of elders in tribes and nations across the country, here.