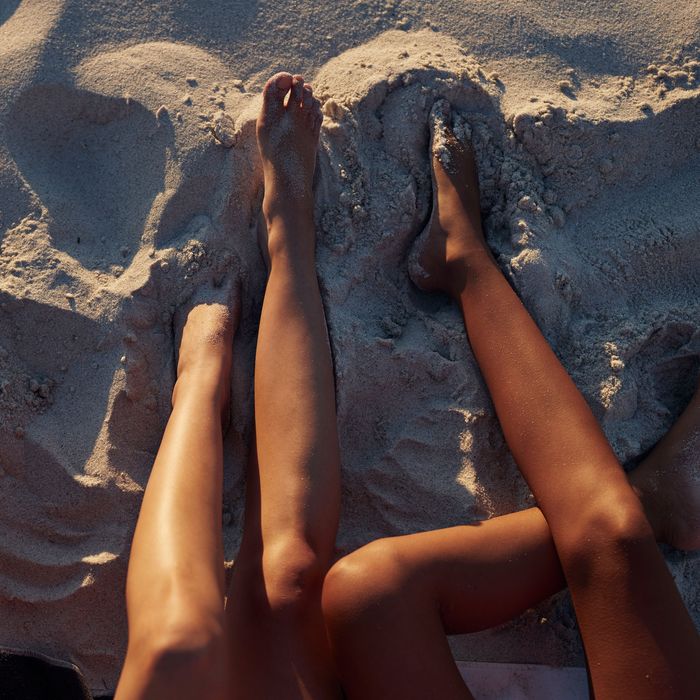 Photo: Klaus Vedfelt/Getty Images
Nobody's perfect. We all know we should put on SPF in the morning and reapply it like a maniac all day, but sometimes stuff happens and you wind up with a sunburn. If walking around looking like you got burnt rather than turnt isn't bad enough, there's also the residual itchiness, peeling, and irritation.
Plus, the pain — of letting down your dermatologist, your mom, the Coppertone baby, not to mention the actual pain of scorched skin. The Cut talked to several dermatologists and a celebrity aesthician to find out the best way to redeem yourself after a bad sunburn. Here are the eight tips we gleaned.
1. Don't Pick or Exfoliate
If your skin is already peeling, then guess what, you're already exfoliated. It may be tempting to pick at your skin like it's chipped nail polish, but don't do it. Dermatologists agree that this is a bad idea. Your skin needs to shed on its own timeline — you can't help it along. And especially do not pick the blisters; they're there for a reason. "They form a natural Band-Aid to allow the skin underneath to heal," explains Dr. Macrene-Alexiades.
Your skin also does not need tough love from any active serums at this moment. "Stay away from active, exfoliating skin-care products while you're allowing your skin time to heal," says celebrity aesthician Shani Darden. Skip the P-50, do not pick up the retinoid, and for Pete's sake avoid anything that has the word "acid" in it.
2. Do Continue to Cover Up
Just because you have a sunburn doesn't mean you can't get more sunburned. Your skin has been compromised, it's weak, and it can get worse. Use sunscreen, but don't assume that's enough, says Dr. Paul Jarrod Frank. Stay out of direct sunlight and wear a hat.
3. Take an Aspirin
If your skin feels as bad as it looks, you have a doctor's permission to take something for it. Take your pain reliever of choice, whether it be aspirin, ibuprofen, or Aleve. Dr. Paul Jarrod Frank and Dr. Macrene-Alexiades suggest taking it a few times a day in the early stages of sunburn can decrease pain, redness, and the carcinogenic effect of the burn.
4. Don't Shower With Hot Water
Your skin doesn't need any more heat. Take cool or cold showers.
5. Wear Loose Clothing
Avoid anything abrasive or too uncomfortable. Look for loose cotton only. Basically, if it looks like something Justin Bieber would wear, it will work.
6. Use Aloe
It's not a myth: aloe is very good for sunburns (it's also just good for your skin in general). Dr. Macrene-Alexiades recommends the gel form, explaining that it "will cool the skin and has soothing properties." It also helps with itching, skin irritation, and inflammation. "I get pure aloe from health food stores and use it in my facials as well!" says Darden. (Amazon also has it).
7. Or Use Special Moisturizer
If the aloe isn't enough, try cortisone cream. Also, look specifically for moisturizers with green tea and coffee seed extract agents. Dr. Macrene-Alexiades explains that these are great because they have anti-inflammatory effects and also "shrink vessels to reduce redness and fluid loss."
8. Be Extra Careful With Your Scalp
Your hairline can be particularly prone to burns, which is why it's important to wear a hat. (In theory you should apply sunscreen too, but unless you have a shaved head or are bald, that's pretty difficult.) If you do get a scalp sunburn, air dry your hair, suggests Dr. Macrene-Alexiades. Do not use a hair dryer,
Also, wash your hair with mild, non-sulfate shampoos only (why are you using a sulfate shampoo, anyway?). Most importantly, drink that legendary eight glasses of water a day. Dr. Alexiades says that studies have shown that you lose heat and fluids when you're sunburned, so you need to be extra-hydrated.
The Most Soothing Sunburn Products
This jelly-like lotion costs under $20 and has over 4,000 five-star reviews on Amazon, all praising it for its refreshing feel. You can put it in the fridge to make it feel even better.
Hydrocortisone helps to reduce swelling, itchiness, and redness. You can use it on insect bites, sunburn, and most irritation.
A K-beauty moisturizer containing aloe vera, this doesn't feel sticky or tacky on the skin. It's a good pick for a mild sunburn, says Strategist writer Rio Viera-Newton. Plus, you can use it all throughout the summer.
Doesn't an aloe vera sheet mask sound incredibly soothing?
This cooling sun after-care lotion contains aloe and Vitamin E to treat peeling skin. It's a bit of a newer product but still has five-star reviews on Amazon. Fans report that it also works great for minor kitchen burns.
This is a pricier option recommended by Dr. Macrene Alexiades because it contains active green tea polyphenols and "works well for a burn." The good news is that it's also an effective moisturizer, so you don't have to reserve it only for sunburns. It contains hyaluronic acid, peptides, caffeine, and Vitamin E.
If you buy something through our links, New York may earn an affiliate commission.