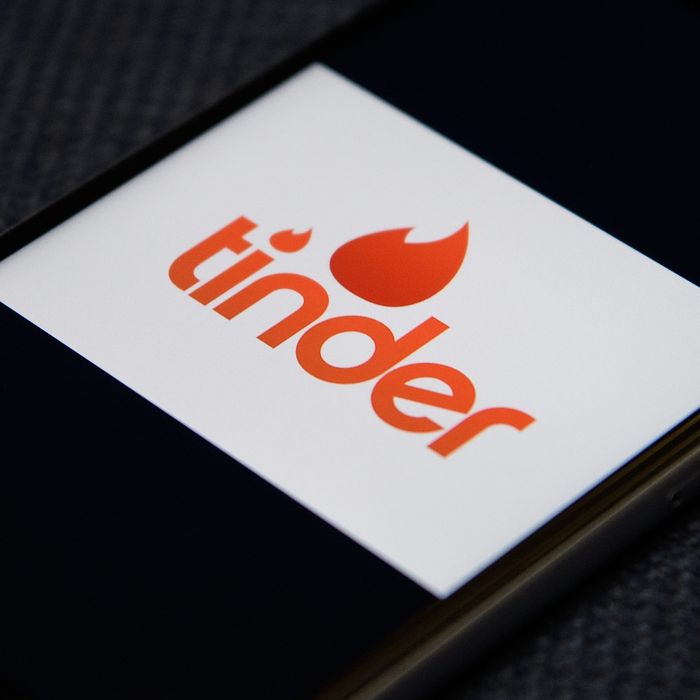 Photo: Leon Neal/Getty Images
One November day in 2013, in a suburb outside Los Angeles, Mark Vidal decided to download Tinder. He set up his profile, and then made a choice: He'd only ever dated women — including a seven-year relationship with his high school sweetheart — but in a moment of honesty and curiosity, he set his preferences to show him both men and women. Then he started swiping.
"I was only matching with guys," he recalls. "It felt like the universe was trying to tell me something."
Across the city, in an apartment next to Disneyland, Max Landwirth was swiping through matches on Tinder, too. It had only been a month or so since he had come out as gay to his family and friends. Landwirth had been single for two years after breaking up with his college girlfriend, a woman whom he loved but knew, deep down, that he couldn't spend the rest of his life with.
"My biggest fear was that I was going to get married, have a family, have kids, and have this huge secret that would blow up and either end up destroying my entire family or destroying me," he said. Landwirth had known he was gay for a while; he'd felt himself eyeing guys when he'd go out to bars in college. But nothing ever happened.
When he was finally ready to start meeting men, though, Landwirth had no idea where to start. "I was way too scared to talk to anybody — I didn't know who was gay or not gay, or what to say to them," he says. "I didn't know how to flirt with a guy."
But on Tinder, Landwirth says, he could finally just relax, because the app took some of the guesswork out of things. There was no fear he'd be hitting on a straight guy — which meant he could finally focus on figuring out who he was attracted to, and whether they were interested in him.
"It took away that unknowingness. I was able to let loose," he says, "to try the lamest pickup lines or do some serious flirting." Plus, having these exchanges on the internet felt less intimidating than interacting with someone face-to-face.
Landwirth and Vidal matched on the same day Vidal downloaded the app. After three and a half years together, the couple got engaged this past April. Both are now completely "out." Tinder, they say, helped them get there.
***
In many ways, Landwirth and Vidal's story is my story, too.
I first started using Tinder three years ago. Up until that point, I had only ever dated men. And as far as most people were concerned, I was a straight woman. But when I downloaded the app, I took a step I'd been wanting to take for a long time: I set my preferences to show me both men and women.
I'd known I was attracted to women since I was a teenager, but growing up in a religious, sometimes conservative environment, it was easier to push the feelings away than it was to pursue them. The idea of being queer felt scary. By the time I was in my mid-to-late 20s, I was lucky enough to have actually met some out queer people, and to be in a relationship with a supportive man who knew I identified as bisexual. I'd even hooked up with a few women, and had a brief love affair with one. For the most part, though, I still had no idea at that point in my life where to find other women who were like me. I didn't yet know about "girls' nights" at bars yet, or all-girl parties. I was terrified of walking into a bar, hitting on a woman who was straight, and being rejected or making her feel uncomfortable.

What's more, I still didn't know enough to really understand the type of woman I was attracted to. But when I downloaded Tinder, I, too, was finally able to relax and flirt. Unlike the other dating apps I'd tried years earlier, like Match or OkCupid, I didn't have to scroll through paragraphs-long, superfluous autobiographies. They rarely told me much that mattered about a person, anyway (if you aren't attracted to someone, for instance, who cares if you are both into the same fan fiction?). On Tinder, bios were often brief, sometimes just a few lines and a bunch of emoji — and I was fine with that. Everyone got a quick glance, and my only criteria was whom I felt attracted to.

Which — as you probably know if you've ever used Tinder — is fairly typical. For me, though, it was educational.
"The 'shopping' factor of hookup apps … Tinder etc. encourages us to play 'hot or not' and consider how attracted we are to someone's profile," says Allison Moon, a queer sex educator and the author of Girl Sex 101. Do enough swiping, and sooner or later you start to develop a sense of what you like.
"The stakes can feel lower, too," Moon added: "You can text and flirt, but there's no commitment to choose a label. You're not going to a lesbian bar, or joining a queer rugby team. You're just dipping your toe into the queer pond, which can feel much safer … It's much harder to sit your parents down for a heart-to-heart than it is to click a box that says 'I'm looking for women.'"
***
These days, there are dozens of mobile dating apps — Bumble, Happn, Hinge, and Coffee Meets Bagel are just a few. But Tinder has a handful of advantages that, in my opinion, make it a better for people who are questioning if they're queer, or want to "dip their toe," to borrow Moon's phrasing. For one thing, the gamey design lets your first instinct take over: You might think you like girls, for instance, but if you're not "liking" any of them at first glance, the app may be revealing something about who you're really attracted to. Tinder's reputation as a frivolous hookup app is also a plus — it's a lot easier to look for a hookup and learn about yourself in the process than it is to approach self-discovery with the loaded pressure of finding a long-term partner. (Even though that sometimes happens along the way, like it did for Landwirth and Vidal.)
Tinder's lighthearted brand of sexual consumerism also means that it can make for a fun group activity (how often have you seen groups of people Tindering together on someone's phone at a bar or a party?). And this, in turn, can make it easier for people to come out to their friends.
In fact, that's exactly what happened to a U.K. teen named Ian, who came out as gay a few months ago. Ian, who wanted to use only his first name, had already told a couple of people by late 2016, but the majority of his friends still didn't know until this past New Year's Eve, when he opened Tinder on his phone while at a party.
"I was swiping through the app when some of my friends asked to help out, which — encouraged by a couple of beers — I agreed to," Ian told me in an email. "When they started seeing other guys appearing on it, it was pretty obvious I wasn't straight. After confirming this, it was a lot easier to just be blunt about who I was interested in."
For Ian, this way of coming out mercifully lacked the drama of making a formal announcement. "It's a lot easier when it comes up in conversation or there is a reason to show your orientation," he wrote.
Which is why Tinder can be so valuable for people trying to step into their true identities. Sure, it may encourage shallowness and sexual objectification, but it also reconnects queer folks like me with reality. After years of listening to all the reasons why it's not okay to be gay, it feels freeing to be in a virtual space that encourages you to just listen to what's happening in your pants. Once people get real about that, then they can find true love. As far as I'm concerned, that's not bad for a free app.