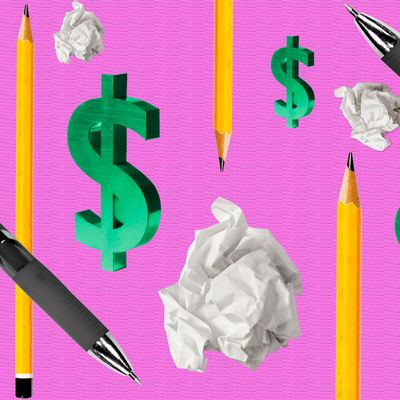 Photo-Illustration: by Preeti Kinha; Photos: Getty Images
It probably won't shock you to hear that it can be difficult, if not downright impossible, to make a living as an author. Successfully selling a book doesn't often lead to financial security, and the publishing industry hasn't been known for its transparency on these subjects (which recent conversations like #PublishingPaidMe have worked to correct, specifically when it comes to racial inequities). In practice, making any kind of money as a writer can mean a million different things: holding down a full-time job and writing on the side, steadily applying for grants, cobbling together some combination of teaching and freelance writing gigs.
Below, six writers talk about how they make writing work financially.
Samantha Irby
I gave my writing away for a decade-plus before I started making any money with it. Any time I talk to anyone and they're like, "I want to be a writer," I'm like, "Get a regular job." Try not to depend on your writing to fund your life because it, uh, won't.
When Meaty came out the first time, I did it on an indie press, and there was no advance. I just wrote it and worked my regular job and eventually got a few bucks here and there from the publisher in royalties. But I mean, that cost me money. I still had a job when a publisher bought We Are Never Meeting in Real Life for $75,000. So my agent gets 15 percent of that. You get one-third when you sell it, the next third, when you turn in the fully edited, copyedited manuscript. So like a year later, two years later, however long it takes you. And then you get the final installment on publication. These things can be like a year apart. So divide an advance into thirds, and off the top of each third, take 15 percent that my agent gets for doing his job of selling it. Then, depending on your taxes, you take like 30 percent for the government. So what you have left, if you don't have another job, that's what you have to live on until your next installment.
Because my writing is basically, like, I do what I want and hopefully people will pay for it, I've never had to compromise and write things purely for money. If I had to make the pivot to competing with people to get $50 for a celebrity clickbait listicle or something, I just wouldn't. I would just go to work instead.
Rachel Khong
I had a full-time job until my book came out. And then about a year after that I started a small business. So I kind of always am not only writing. I think I've been trained a little bit by my parents and my upbringing, but to me, only writing is … maybe not the best idea. I've always had some paying thing on the side, or done freelance. And most recently I had some writing that was optioned for film and TV, and that's actually … a lot better than book money. I keep a very low overhead, and anytime I get one of those surprise deals, I hoard it for a long time. I don't think I've bought clothes this year. And now maybe I won't ever have to buy them again?
R.O. Kwon
Right after college, of all of the nightmare jobs, I worked for seven months in management consulting. I majored in economics, and I think a large part of that had to do with my parents having a lot of problems with money throughout my childhood. I was so terrified of what kind of economic precarity would result from being a writer that it seemed like I had to do anything else. But then I was so miserable not being a writer after college that it seemed to me that no matter what, I had to go into writing, and not doing so would be its own kind of death.
For most of the time before I sold The Incendiaries, I favored freelance jobs that I could do from home. I very quickly realized that I'm very introverted and it's hard on me to engage with people every day except with the one person I'm living with. So that is something I often try to tell people, especially students. It can help to figure out what kinds of jobs will leave you more energy at the end or start of the day, whenever it is you can write. And once you figure that out, it helps a great deal.
I also love applying for things — well, it's a pain, but that's one of the ways I deal with my abiding insomnia. I wander around looking for more things to apply for. I also always point people to the backs of books in the acknowledgments — especially in people's first or second books — in which most people will list everyone who's ever given them money or a space to write. That helps a lot.
Sigrid Nunez
It's hard to get a good teaching job if you're not published. I didn't even think of applying for teaching jobs until after I published my first book. So I just did all kinds of jobs to make ends meet and to support my writing habit. I worked at the New York Review of Books as an editorial assistant. I also did a certain amount of freelance proofreading and copyediting. I did all kinds of things like that. Basically, they were jobs to keep me going while I was trying to write and get published, and then once I published my first book, that's when I started teaching, but even then I didn't do a lot of it. I never sought a full-time teaching job or a permanent connection with any institution. I've always been either a visiting writer or an adjunct teacher.
Most writers I know, they prefer to have the security of a job. If it's a tenured position or a full-time position, it comes with retirement benefits and the big thing: health insurance. But I chose to go my own way and pay for my own health insurance, which was, you know, very costly, in order to have my freedom. Unlike so many other writers, I wasn't trying to support a family, so it wasn't absolutely necessary for me to have a certain kind of job security.
Akwaeke Emezi
I gave up my day job in May of 2014, and I've never had another job since then, other than writing. One thing that I want to make clear is that I've been able to learn how to finish books because I had the time and resources — through MFA funding and a scholarship — to do it.
Things started to get a little choppy in 2017. It was weird because Freshwater came out in February 2018, but for most of the year leading up to publication, I didn't have a place to live. I was couch surfing in Brooklyn. I was bouncing between Airbnbs. I lived out of two suitcases for several months. Even in January 2018, there was a point where I was like, Wow, my book is coming out next month and I don't have rent money.
I had finally gotten an apartment in Bed-Stuy that was affordable, through a friend of a friend. It was this building owned by Black artists, and they had been looking for a Black artist to live there. So I stayed there for the rest of the time I was in New York, but the money stuff was really stressful for a good chunk of time. Even as my book was debuting, it was very much like paycheck to paycheck. When I came back to New York in 2017, before the book came out, I was so determined that I wasn't going to get a job, like a side gig. At some point after leaving my last workplace back in 2014, I had tattooed my knuckles specifically to make sure I couldn't get a corporate job again. Absolutely not.
In the summer of 2018, once we could see how Freshwater was doing, I already had another manuscript to sell, a third book [The Death of Vivek Oji]. I actually also had an additional fourth book, another novel that I had started working on. So the way I've been dealing with finances is pretty much by front-loading my work. Because I had a complete manuscript so soon after Freshwater was out, we could take advantage of that momentum and shop it around pretty fast. And then that book, The Death of Vivek Oji, went to auction, and Riverhead acquired it in a two-book deal that was in the mid–six figures. That was really the changing point for me because it was literally more money than I had ever seen in my entire life.
Ingrid Rojas Contreras
When I sold my book, I was working three jobs: translating, teaching, and proofreading. The advance I was offered sounded like a lot of money to me. But of course, when you see what advances are for other people, especially along racial lines, you see how unequal they can be. We're not always in a place to be able to really examine those numbers. And I think that when you are a person of color, there's this idea that's kind of in the air that you should be grateful to be there. So I think that pressure to be grateful, that pressure to just get a foot in the door, and then the background of how hard you've worked up until that point makes it so that we don't look at that number or ask if it's fair or try to negotiate. I know that I trusted in my agent a lot for those moments, because I didn't really know how to navigate them at all. And I was happy with how he handled it. We had a couple of offers, so that also made it possible to negotiate.
Interviews by Kelly Conaboy, Amanda Arnold, Sangeeta Singh-Kurtz, and Claire Lampen.
These interviews have been lightly edited and condensed for clarity.
If you buy something through our links, New York may earn an affiliate commission.