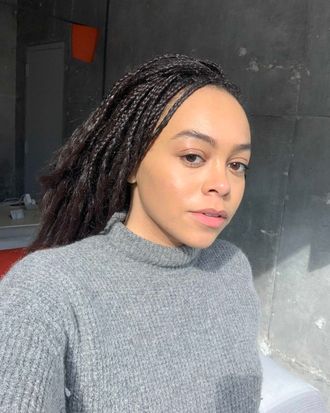 Photo: Courtesy of Hunter Harris
Want more skin care? Join our Facebook Group, the Beauty of It All.
"There's a line in When Harry Met Sally that perfectly describes how I feel about my skin," says writer Hunter Harris. "'Do you ever think about death?' Harry asks Sally, as they're driving cross-country from Chicago to New York City. Sally says yes. 'Sure you do,' Harry replies, rolling his eyes. 'A fleeting thought that drifts in and out of the transom of your mind. I spend hours, I spend days … ' Replace 'death' with 'skin care,' and there I am." The Vulture staff writer isn't alone. In 2019, our collective skin-care obsession is only growing with no signs of slowing down.
Harris's focus on skin care started long before documenting it on Instagram became a hobby. She says, "I care about skin care a lot because I am vain, but also because the rituals of it all are very grounding." The writer grew up watching her mom and aunts perform their own beauty routines, and through them, learned the importance of consistency — a key for someone already struggling with acne.
Accutane was an on-and-off part of her high-school experience, one that wasn't all that helpful after college. "When I was 21, my skin went on the fritz. I traveled abroad, graduated from college, moved to New York City, and started my first job all within a month, and broke out like crazy. I'm now making my way back," Harris shares. These days, she relies on spironolactone (a medication primarily used to treat high blood pressure), Atralin gel (a topical tretinoin cream), and azelaic acid (a treatment typically used for rosacea). Exfoliation is the main key to her current routine. She deadpans, "I know that I use too many exfoliants. My dermatologist definitely knows I over-exfoliate. God — and Dr. Leo — are still working on me." Below, a look at the drugstore cleanser she swears by, the "deranged" device she uses, and why she deleted a boy's number over sunscreen.
The Face Wash
"I'm humiliated to announce that I don't use some kind of trendy cleanser in a glass bottle, because this is my girl! I've been using this cleanser for almost ten years. Every time I try something fancy-schmancy, I always come back to her: She's cheap, and there's usually a just-as-good drugstore dupe right next to her at CVS. The Cut's beauty director Kathleen Hou wrote a column about double cleansing and unless my skin is feeling super-dry, I always double cleanse with this, too."
The Exfoliating Pads
"On Twitter, where I unfortunately spend an embarrassing amount of time, people love to choose (and make fun of) a 'White Boy of the Month.' My white boy of the month is, and has always been, DDG (Dr. Dennis Gross)! I swear by these wipes: They instantly brighten, tone, exfoliate, curb new pimples, and have made a huge difference in my hyperpigmentation. Depending on how my skin is feeling, I'll use them once every other morning."
The Exfoliating Toner
"Listen: Like I said above, I know I use too many exfoliants. When I'm not careful my skin will flake like I've just gotten a chemical peel. I rotate AHAs pretty regularly. Right now I'm using this Cosrx, but I've also used and liked the Paula's Choice AHA and Good Genes. This stuff keeps my skin soooo smooth, which helps makeup wear really nicely."
The Moisturizer
"Because I over-exfoliate, I'll rub this bio-peptide creme into my skin on nights when I'm feeling particularly dry. It always feels like it's hydrating my skin from the inside, especially in winter months with really harsh wind."
The SPF
"I don't use a lot of serums, so my skin responds to this sunscreen-moisturizer. It's creamy, and a little bit goes a long way. One time I deleted a boy's number because he spent a lot of time outside for work and basically bragged about not using sunscreen. There were other things wrong with the situation too. But the sunscreen part really irritated me. In the warmer months, I think I'll go back to Supergoop's mineral sunscreen."
The Device
"This is something totally deranged that I do very sparingly and very carefully. It makes a huge difference with my hyperpigmentation. (I do not tell Dr. Leo that I do this, so please assume this is a lie and stop reading right now.) Every other week I'll use the Cosrx AHA or some kind of toner and go over my dark spots in a few different directions with this disinfected dermal roller. All told, it takes about a minute per cheek, but it really helps my creams absorb better. I saw Michelle Lee do it on Instagram once so it's gotta be legit right?"
The Treatments
"This is a strong azelaic acid that I use every single night. It goes on white, which is kind of annoying, but it usually dries clear by the time I wake up. Hyperpigmentation is my main skin concern. I'll layer on a zit (over a retinoid) and I swear it helps me avoid getting new dark spots."
"Let me tell you something: spironolactone really is that bitch! This is a high blood pressure pill my derm prescribed because a random side effect is that it helps with hormonal acne in women. I was skeptical at first, but now I consider it a miracle pill. I've been taking it for about a year now (it took three months to really see results) but my breakouts are much more manageable, if they flare up at all."
"I really cannot overstate this: I know that I use too many exfoliants. I use this prescription tretinoin (a type of retinoid) gel nightly, too. (To keep everything in balance, I just mix it up a little bit: using the DDG pads some days, the liquid AHA at night, doubling up when I'm about to break out because of my period, etc. Do I get super peel-y every few weeks? Yes, but I have done more for less!)"