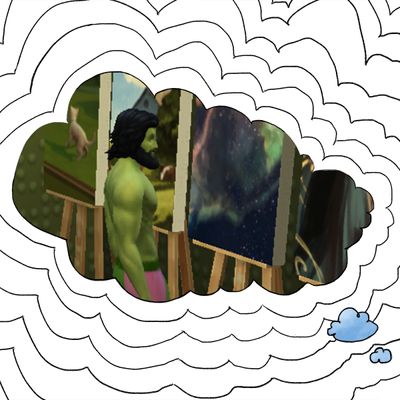 I Think About This a Lot is a series dedicated to private memes: images, videos, and other random trivia we are doomed to play forever on loop in our minds.
In the first few weeks of quarantine, with my workplace shuttered, my friends scattered to various isolated apartments within the five boroughs, and fresh off a breakup, I returned to a comfort from my youth: the joy of the classic simulation game, The Sims. But what began as a distraction soon led me to my one true quarantine love: the secret and sought-after painting goblin.
The Sims has been near and dear to my heart since I was a teenager. At 13, it helped me discover bisexuality, hone a love of storytelling, and learn my way around the early internet via custom content downloads. This time around, I played the game a bit differently.
Normally, while playing The Sims without cheat codes, you have to spend a significant amount of your time focusing your Sims on menial careers and slogging away at predetermined "skills," so that they eventually make enough money to build beautiful homes and pursue their whims. During this round of diving into The Sims K-hole, a friend sent me a link to a viral meme among "Simmers": the painting goblin. This character is a secret sixth or seventh family member, a green man who lives in a basement room in your Sim house with the bare necessities. When you create Mr. Goblin, you make sure his traits are a love of solitude, a hatred of the outdoors, and a love of art.
Thus, in the words of the anonymous original poster, he "paints and paints and paints and paints." Soon, the painting goblin is able to sell his paintings for 1,683 or 2,301 Simoleons a piece, which goes directly into the family account. He makes them rich, and they no longer have to worry about trivial notions of Sim survival.
As I exploited my family goblin to support my Sims, I was able to concentrate on other facets of their lifestyles: Lourdes de Vigan achieved top-tier gardening skills while building a home jungle for his toddlers and puppies to play in. My beloved Original Sim, doe-eyed and blonde-haired Fauve, seduced the richest woman in town (Nancy Landgraab), and they got married and moved into a mansion wherein they adopted three daughters: Leigh, Malabar, and Thessaly. (When my roommate Instagram-stalked a stranger, I'd mumble: "What a great name for my Sims." Less than an hour later, I'd have a new family, Honor and Finn, ready to buy a starter home, begin careers as a villain and a lifeguard, and eventually have children named, I don't know, Stassi and Jax and Lala.)
As my Sims' lives flourished, I was able to dive deeper into my mind palace of Simology: drawing charts to decide which teens would get married when they became young adults, letting parents have four or five children, creating giant families of identical freaks, adding rooftop playgrounds to my houses with hot tubs and hookahs and gigantic dance floors. I threw the elaborate birthday parties that were now only a figment of my memory and thought about Fauve's mansion-sized aspirations instead of wondering whether I could afford to pay my own rent.
Meanwhile, my world was shrinking. For most of the time I've lived in New York, I went out five nights a week, to bars and happy hours and parties. I used my extra tips from the bar where I worked to fund trips back to California and reunions with my college friends. The last thing I did before quarantine was spend a week in Paris. With my decadent opulence gone, I concentrated my wishes into my Sims. They were happy, and the painting goblin let them live free of the financial woes that I faced down as an unemployed writer in one of the most expensive cities in America.
Some players say they feel too guilty to create a painting goblin, feeling bad for his sad, pathetic life. But I've never found his life to be sad. I don't see the painting goblin as a tragic figure; rather, he represents a mindset that I've found lacking in myself as I languish mid-pandemic. The painting goblin is the version of me who doesn't have a pathological resistance to labor, who loves painting enough to let it occupy his life rather than sit around in lingerie and whine about how much he hates the world.
The painting goblin is the dark, secret wellspring that lives in all of us, our capacity to make a life amid capitalist ruins, the one who speaks in corporate jargon when interviewing for a job, the vermin who eats ramen and day-old pizza instead of buying a fresh vegetable, the smiling robot waitress that I've been for six years who enabled me to make hundreds of dollars by smiling and chatting about the difference between a pilsner and an IPA.
During these months of feverishly playing The Sims, the boundaries between simulated life and life lived have grown ever blurrier. A friend of mine, a fellow Simmer, just moved to Brooklyn and asked if we could complete the "City Living" Challenges, which, in that particular expansion pack, include attending street festivals, eating from food carts, and giving a friend the keys to your apartment. Sometimes, when I play The Sims for a particularly unhinged number of hours, I look at the time in Simland, then at the clock in my bedroom, then at my cellphone, then back and forth until I realize I have lost my grasp on reality. Is it 9 a.m. Sim time, or 1:49 a.m. Becca time? Wait, calm down, I remember. It doesn't matter. You don't have a job. Play Sims or sleep, sleep or play Sims. No one is waiting.
The painting goblin lives within this simultaneous dream and nightmare. He is eternal optimization, he is living outside of time, he is pure survival. My love for him is rooted in my desire for a real-life equivalent: What if get-rich-quick schemes were real, what if I could sell my novel for a million dollars, what if I could sit in a dark room and paint my way to three masterpieces a day that I could sell for $1,498 a piece? I can work to make my productivity less interrupted by anxiety, we can all strive to get more tasks done within a day, I guess I could theoretically "learn to code," but the painting goblin is where the simulation and the reality diverge: we have to live every aspect of our lives; we can't live the autopilot life of a Sim.
In March, when the bar where I worked for three years closed, I lost the majority of my income. If I contained a painting goblin, my livelihood would not depend on the whims of the federal government to decide if I deserve $600 a week to live or not. It would only depend on my willingness to paint. As a goblin.