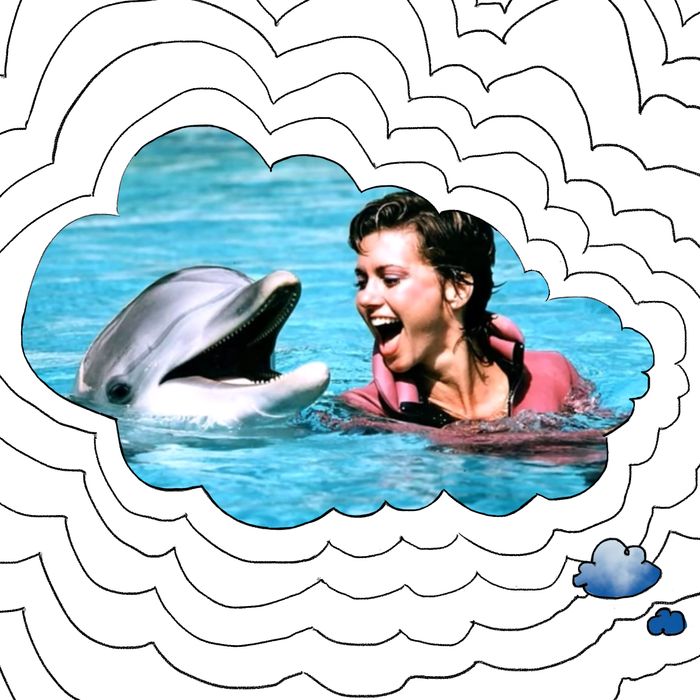 I Think About This a Lot is a series dedicated to private memes: images, videos, and other random trivia we are doomed to play forever on loop in our minds.
What if the secret to happiness has nothing to do with love or success or eternal youth, and has everything to do with a nearly five-minute-long song about dolphins? Imagine a ballad with simple lyrics, a dreamy underwater music video, and vocals by none other than pop goddess Olivia Newton-John. The song is twee, its message is straightforward. It's called "The Dolphin Song" and I've been thinking about it for the last 40 years.
Physical, the 1981 album on which it appears, was a massive success and major departure for the sun-kissed Aussie superstar, whose squeaky clean image had been bolstered by roles like good-girl Sandy in Grease, and the rollerskating daughter of Zeus in Xanadu. The album also caused a bit of a scandal, and was considered so risqué that it was banned from some conservative radio stations and censored by MTV. But I didn't know about any of this until I got older. As a child under Olivia's spell, all I knew was that buried deep in her provocative album was the most sincere song known to humankind.
Unlike the video for "Physical" — in which a leotard-clad Olivia seductively works out at a gym with a bunch of ripped hunks bulging out of their bikini briefs — the video for her dolphin song is stunningly chaste. The most titillating thing that happens is that she kisses a cetacean on the mouth. It's just four-and-a-half minutes of dolphins swimming and flipping around with smiles on their faces as Olivia sings about their magical beauty. She doesn't even appear on screen until about a minute in, wearing a modest purple wetsuit. There's no grand entrance, no drama. It's just a woman, who also happens to be a pop star, swimming with dolphins.
In interviews from the time, a soft-spoken Olivia says that she wrote the lyrics to "The Promise (The Dolphin Song)" one day in Hawaii after feeling inspired by the beauty of the creatures she saw frolicking in the surf. "See them play in the moonlight/ Watch them dance in the sun/ They're the children of freedom — everyone," she croons. As an animal lover and environmentalist, she wrote the song to speak out against the killing of dolphins for commercial gain: "If I can only help to right a wrong/ With my dolphin song/ Then I'll have done what I set out to do." And that's that. There's no larger metaphor, no innuendo, no irony. It's just a song about dolphins.
Olivia's dolphin song might not sound revolutionary, but imagine Taylor Swift or Cardi B suddenly releasing a video where they un-ironically splash around with dolphins and sing their heart out about the sins of humanity. They would be dragged so hard their egos and careers might never recover. But not Olivia.
As much as I adored her as a child, when I got older, I shifted my admiration to women who felt fascinating and dangerous to a suburban teenager who craved rebellion: Courtney Love, Björk, Kim Gordon, and Sid Vicious's girlfriend, Nancy Spungen. As a teenager, admitting that I liked something as New Age pop-lite as Olivia's dolphin song would have been mortifying. The song was too wholesome, too soothing, too much of an "aural milkshake," as one Rolling Stone critic described Physical. I wanted primal screams, not dolphin sounds and sunlight.
I became a serious young adult who believed that challenging philosophical discussions, moody poetry, and brooding about the state of humanity were what my soul needed to thrive. Now I have all the challenge I need — work, bills, a toddler, a pandemic — and escapist rom-coms have taken the place of esoteric black-and-white Swedish films. I read books by comedians instead of books by Proust. Olivia's sunshiny demeanor has regained its appeal. Now, it's her earnestness that keeps me going. What you see is what you get with her. There is nothing to decode.
Even during my angsty teen years, Olivia was always there, doing her thing and living a wholesome life. She reunited with John Travolta in 2019 for a Grease singalong, and recently celebrated the fortieth anniversary of Xanadu by singing a few lines from the song "Magic" on Instagram. She's put time and money into causes she cares about, like environmental conservation and cancer research. The most controversial thing about her is the disappearance of her ex-boyfriend, who was allegedly found years later in Mexico. It's tough to even find a harsh word about Olivia online, which is a modern miracle. The most hateful YouTube comment I found about the dolphin song was: "I went swimming with a dolphin and it attacked me." It's not even about her!
Falling back in love with "The Dolphin Song" has given me moments of pure, mindless pleasure over the last few months. No offense to Courtney Love and Kim Gordon, but it's a different world and I'm in a different stage of life. As talk-show host Leeza Gibbons recently put it in a comment on Olivia's Instagram, "The very sight of you makes the world seem more sane!" I admit it: I don't want challenging, innovative art right now. I really just want to listen to Olivia Newton-John sing about how much she loves dolphins.