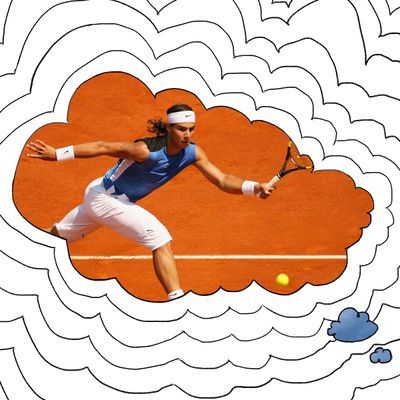 I Think About This a Lot is a series dedicated to private memes: images, videos, and other random trivia we are doomed to play forever on loop in our minds.
I write a lot about being horny for hot men on the internet but, truth be told, only one man's image has ever been suitable to grace my walls, and it belongs to Rafael Nadal. In my freshman dorm room in Chicago, I mounted a poster of him clenching a lefty backhand with all his might — his face fixed in an expression of seething focus and naïveté. When I became a sophomore, I moved it upstairs and hung it over what was (for all intents and purposes) the same long twin bed. "Vamos Rafa!" said the poster. He was all tank tops and brawn, traveling with me like a thoughtless charm on a chain. A pretty face, but decoration only. It wasn't until I learned of his many beguiling phobias and tastes that I began to experience Rafa as something more dynamic and not quite attainable: a crush.
Over the summer, back in New York City, that intrigue continued to simmer. I dragged some guy I barely remember away from whatever it was we were doing at the time to Madison Square Park to watch an outdoor screening of Nadal playing Novak Djokovic in the U.S. Open finals. He won. I've never been one to stan certain athletes or athletics, but watching Nadal's unwaveringly serious expression — as deadly serious as a hopeless middle schooler playing dodgeball — rearrange itself into a parade of jawline, cheeks, and twinkling eyes … it was my victory too. Not long after, when Nadal released his memoir, I took two buses and a train just to buy it at the Borders in hardcover.
The book turned out to be ideal for a fan, since it's really only half memoir —the rest is juicy third-person biography. It was there that I learned that Rafa is a man of outsized fears and innocent pleasures. Most notable among his quirks is his intense, abiding fear of storms. "He is not comfortable with thunder and lightning," says Nadal's mother, Ana María Parera. Rafa is also afraid of the dark and of the sea, despite hailing from Mallorca, a member of the tight-knit Balearic Island archipelago off the eastern coast of Spain. "He loves fishing and Jet Skiing, but he won't Jet Ski, nor will he swim, unless he can see the sand at the bottom," says Parera. Rafa's sister Maribel agrees that Rafa is "a bit of a scaredy cat."
I also learned in these pages that Nadal finds cheese, tomato, and ham disgusting, especially in combination. "I'm not as mad about ham myself as most people seem to be," Parera says. "But cheese?" By his own admission, his favorite food is "bread sprinkled with salt and olive oil." Still, Nadal insists he eats "as normal people do." He's "especially mad about olives." He writes, "my mother often reminds me of the time when, as a small child, I hid inside a cupboard and devoured a huge jar of olives, so many I vomited and was sick for days." He also gets candid about his habit of nervous peeing: "I find myself taking a lot of pees — nervous pees — just before a game; sometimes five or six in that final hour." (This example spans the fear-pleasure divide.) Nor does he shy away from displays of emotion and sadness. Of his unsuccessful encounter with Federer at the 2007 Wimbledon finals he writes, "I wept after that loss. I cried incessantly for half an hour in the dressing room. Tears of disappointment and self-recrimination." As I read these words, my crush — newly bolstered by his endearing affectations — became invincible.
This Rafa — who weeps bitter tears of recrimination, rejects ham as too flavorful, and becomes panicked by fulsome weather — clashed pleasantly with his persona as a sexy, grunting warrior. This is a man who fans run out onto the court to kiss, who can't cover up his erotically bulging upper-arms with a T-shirt for a single match without getting a salacious interview question about it, who kept his hair long and lustrous for years at the height of his fame. He can even raise his expressive left eyebrow independently, and often does so in interviews when asked how the tennis is going — lifting and lowering it mechanically like a flexing bicep. Off the court but still in front of a camera, Nadal often looks as if he's warming up for a game of indomitable bafflement.
Yet, there's also a way in which Nadal's many masks express a man in harmony: Whether strong, tender, or bemused in his comportment, he comes across as profoundly sincere and vulnerable. There's something a little dopey about him, too. Even today, he can seem like something of an ingenue when he chokes back tears after his wins (at 34 he now enjoys the second-place ranking in men's singles). Several people interviewed for his book describe him as "straightforward." He's the essence of tennis as I've understood it through literature — an innocent act that prefaces some fall from grace. I'm thinking of Brenda Patimkin in Philip Roth's Goodbye, Columbus whose "passion for winning a point seemed outmatched by an even stronger passion for maintaining her beauty." Or the boarding school students of Donna Tartt's The Secret History, nobly dressed in their tennis sweaters, passing a court en route to commit a murder; Humbert Humbert's brief flirtation with "an old gray tennis ball" a few lines before his first encounter with the mother of Dolores Haze.
On the International Tennis Federation circuit, players can lose their game, their temper, their self-regard, and their standing in a single match. Each time a player steps onto the immaculately sheered or dusted court they are prepared to enact this drama for all the world to see. It's easy to forget this when watching slick superstars like Djokovic and Federer, but Rafa stands out as a passionate player visibly fighting for every point, summoning all the crackling nerves of a first foray. It's as if he discovers his feeling for the game anew each time he faces the net, like a student staring down a deadline in a darkened library.
Which brings me back to the college quadrangle. It's not really like a tennis court, but it's edenic enough. My image of Rafa does not match up with the kinds of guys I developed crushes on at my alma mater — which has a reputation for being competitive, antisocial, and cold. I went in thinking men who took on triple majors were irresistibly clever and left not having learned much in that department. My crushes were mostly assistant professors, because they lectured, or students possessed of an intense, mysterious intellect, because they didn't talk. Anything in between — just a person who says stuff, some of it alright — ripped me out of the fantasy. There were exceptions, but this was the rule. Like Rafa lording over his clay court, my natural state on the quad was to be serious, exacting, counting the points in my favor and the points against me. At least that's what it felt like to be in my head, and I couldn't imagine others didn't see it too.
I could say that deep down I wanted to be with a guy like Rafa: beautiful, devoted, open, true, who doesn't try to make himself seem smart. But, looking back, what I wanted from men at the time was not really that deep. More often than not they acted as proxies, suggesting ways of moving through the world that I wished to inhabit myself. And so it was with Rafa, too. Beneath my withering judgment, I too wanted to be dumb sometimes without immediately needing to crawl out of my skin, to tame my embarrassment and indulge in a few careless moments of salt and bread. And, yes, I wanted to be adored for it. I longed to grunt when I concentrated hard, and live off bowls of Lucky Charms, and miss all my shots, and still return home a champion.