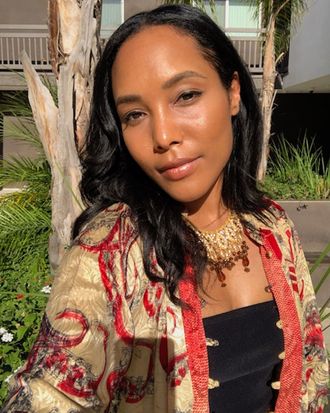 Photo: Courtesy of India Shawn
"The journey to 'good' skin can be tedious and stressful, especially for transients like myself — always on the go, from airplane to tour bus," says singer India Shawn. "I'm often exposed to different climates and environments, and it can be hard to get a handle on what consistently works." Just this year, before the COVID-19 pandemic upended life as we knew it, Shawn traveled from Japan to Indonesia to Canada and throughout the United States while touring with the Free Nationals. And while her goal is to follow in Alicia Keys's footsteps and wear less makeup, it's ultimately unavoidable for performances and photo shoots. So her skin deals with a lot.
Shawn, who released her new single, "Movin' On," with Anderson .Paak last Friday, learned how to take care of her sensitive combination skin when it was at its worst. "I was bidding adieu to my 20s, approaching 30," she remembers, "and working a demanding job as a personal assistant while also trying to advance in my music career, and the stress manifested as uncontrollable outbreaks. It turns out adult acne is a real thing!" Plus, she admits she has a habit of picking at her skin and is often left to deal with post-inflammatory hyperpigmentation: "I'm so tempted to pop a pimple if it's just sitting on my face, especially before an event or show. It takes forever for my scars to fade." She perfected a routine that suits her to a tee with the help of a dermatologist, frequent facials, and the Acne Expert Instagram account.
In April, she was forced to alter her routine yet again as the coronavirus shuttered every last physical Sephora store and slowed down shipments from the overload of online orders. Shawn turned to Trader Joe's in a moment of "urgency and desperation." "I was by no means looking to permanently replace my usual Sephora faves — including Belif's True Cream Aqua Bomb and Glamglow's Supermud Charcoal Instant Treatment Mask — with these grocery-store products, but desperate times call for desperate measures and I've always trusted TJ's simple and affordable beauty collection," she says. Three of the products she picked up soon became favorites.
Read on her full skin-care routine, including the serum she discovered through a previous boss, the $13 scrub she picks up on her grocery runs, and the travel set she packs while on tour.
The Cleansers
"This gel cleanser is only six dollars in store! It's a basic cleanser, but it gets the job done. It's been amazing for my sensitive skin. Gentle and fragrance-free, antioxidant-infused, and super-lightweight, it removes makeup and oil without drying my skin. The Tatcha Deep Cleanse [below] is a Sephora favorite of mine, but now I switch between Tatcha and this cleanser. "
"The Tatcha brand is a little on the pricier side, but I feel like I'm really doing something when I use this product. It's a deep cleanser made from the luffa fruit that gently exfoliates while hydrating and soothing skin. It also has Japanese wild rose, a great antioxidant that helps reduce the appearance of your pores. My skin always feels soft and refreshed after using it."
The Face Mask
"This scrub looks like a thick smoothie with its whipped texture, and it smells so good you'll be tempted to taste it, but don't — it's bitter. I use it twice a week. It lightly exfoliates but never leaves my skin feeling stripped or tight at all, just soft."
The Toner
"I walked around raving about and mispronouncing this product for years!! I was absolutely obsessed at one point, and I still love to spray it on during the day. It's a toning mist that can be used to hydrate skin or set makeup. It feels so soothing, and it's an instant refresher during days when I have a lot on my work-from-home schedule. The minty smell is also a nice midday energy booster that puts a smile on my face."
The Serum
"This is on the pricier side, but it's well worth it. I discovered this product when I was working as a personal assistant. I would make bimonthly trips to Sephora to pick up my beauty-guru employer's secret skin-care weapon. I knew it had to be good, as she herself was the creator of her own natural skin-care line. I incorporate the lactic-acid cream treatment at night to help combat dark spots and brighten my skin. It can also be applied before moisturizing or as a mask. I really enjoy the lemongrass scent!"
The Moisturizer
"When I was growing up, my Trinidadian family swore by aloe straight from the plant. I was taught at a young age that it has amazing benefits for hair and beauty, so I naturally gravitate to any product that lists it as an ingredient. This fragrance-free, water-based gel moisturizer is only nine dollars at Trader Joe's. I like purchasing beauty from TJ's because, aside from getting more for your dollar, I appreciate that they're formulated with organic ingredients.
"This moisturizer is lightweight but saturates the skin. It's super-hydrating, and it definitely lives up to its name! I prefer this product to other high-end options because of its great price point. Plus, a little goes a long way. Even after Sephora reopened, I've continued using it."
The Eye Cream
"A lightweight eye cream. I love all Belif products because they are dermatologist tested and great for sensitive skin. I haven't noticed much of a difference with dark under-eye circles, but it is soothing and reduces the look of fine lines, which makes it a great anti-aging solution. The cooling texture feels great when you put it on, and it always leaves my under-eye area looking hydrated."
The Face Mask
"The Sephora Collection aloe-vera sheet face mask: You can buy three face masks at six dollars each and get one for free. I love applying these after I've washed and exfoliated. I feel like I can see an immediate difference in tone and texture. Sometimes after exfoliating, your skin can be irritated, but this mask adds the moisture right back in and soothes my skin. Sometimes I leave the masks in the fridge to really get the most out of the experience."
The Travel Go-tos
"This little bundle includes a vitamin C and collagen-boosted Truth Serum, a Perfecting Moisturizer, and an Invigorating Night Transformation Gel. They're perfect for travel when I'm on tour. I add them into my routine after long days when I need to reboot overnight and wake up looking recharged.
"I apply the Truth Serum right after washing my face in the morning, and the results are truly remarkable. This stuff brightens my skin, minimizes dark spots, and ultimately reduces pore visibility within just a few weeks. Consistent use has given me my best skin yet!
"The moisturizer is great in all climates, which is important as we travel from state to state. It also doesn't leave my face oily, which is perfect for when I have to apply heavier makeup onstage.
"After I cleanse my face before going to bed, I like to use the gel to ensure I wake up with a beautiful glow reminiscent of eight hours of sleep, which may or may not happen when I am on the road."
If you buy something through our links, New York may earn an affiliate commission.