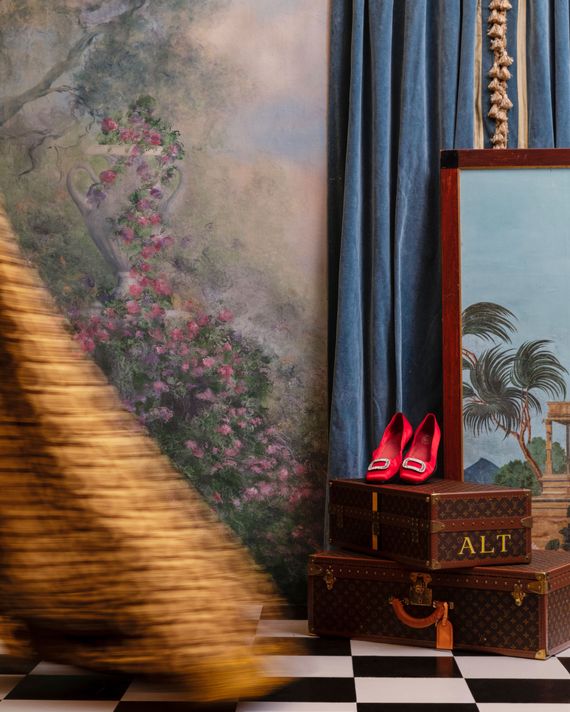 Photo: Elliott Jerome Brown Jr.
The title alone he would have loved: "The Collection of André Leon Talley." On January 27, just over a year after the legendary fashion editor died at the age of 73, Talley's worldly possessions went up for sale through the first of a series of online auctions at Christie's. A live auction will be held in New York on February 15. (Proceeds from both go to his former churches, Abyssinian Baptist in New York and Mt. Sinai Missionary Baptist in Durham, North Carolina.) The 460 lots tell of his tastes, his friendships, and maybe a few things that his two memoirs never divulged. There are caftans galore in couture silks and satins and multiple sets of monogrammed Louis Vuitton luggage — consistent, perhaps, with the imaginings of a young man from the South who saw himself dancing on the tables at Club Sept in Paris. There is a heart-shaped Valentine's box from Andy Warhol and an extraordinary number of photographs, notes, and drawings from friends, including Karl Lagerfeld, proof that even as that close relationship faltered, Talley still valued it. A dozen of his most intimate friends — a group that included Anna Wintour, Tom Ford, Marc Jacobs, and Pat Cleveland — each selected one item from the auction catalogue that stirred a memory or reflected his character.
Reality-TV star Patricia Altschul on a coat Talley wore to lunch
After one of the couture shows in Paris — Yves Saint Laurent, I think — I had lunch with André at the restaurant L'Avenue. We clients were all waiting for the house to get the samples back to the showroom so we could go and try them on; it was a mad dash to fit into any before Nan Kempner got them. That day, André was wearing this red alligator coat, and he was so proud of it; he kept talking to me about how "everything should be alligator!"
I was anxious to get over to the Saint Laurent showroom. We got up to leave, and it was pouring rain. I said, "You know, we're close by. We could make a run for it." And he said, "If you think I'm going outside with this brand-new alligator coat, you're crazy!"
To me, as a Southerner, alligators are in the same genus as cockroaches. They're pests. I said, "Alligators live in the water in the first place. What's going to happen if it gets wet?" Remember how André used to scream? Well, he let out that scream. And he took my hand and said, "We are having coffee and dessert. We're waiting this out."
It took two hours. Of course, by the time I got to the showroom, all the good samples had been snapped up. He was lovely and snarky and one of the most entertaining people I've ever met.
Editor Anna Wintour on the caftan Talley wore to her summerhouse
André was larger than life in everything he did, but as a houseguest he truly surpassed expectations. He'd visit us in the summers, dressed in one of his incredibly chic caftans, and instantly be a source of delight and the center of our transfixed attention. This was especially true of my young nieces and nephews: The children adored André and saw him as a master of ceremonies, ringleader, Pied Piper, and summer-house CEO. We had a tradition of making short films, and André took to this activity like Orson Welles, riding around in our golf cart, setting up shots, telling everyone what to do, and, of course, typically casting himself in a starring role. You could hear him wherever you were, and you always wanted to be part of whatever he was doing. This photograph, which has pride of place in our large gallery of family photographs (that's our dog Scout), takes me right back to those magical visits — and reminds me just how much I miss him.
Photographer Jonathan Becker on a portrait he made with Talley
In 1979, I got an assignment from W to photograph Diana Vreeland. I arrive at her apartment, 550 Park, knock on the door — and there's André. Vreeland was also there, but André was towering behind her and made the bigger impression. We were only acquaintances then: I had met him at Interview around 1974, when he was sitting at the front desk in his safari suit and shorts. But I got the full-on André at Vreeland's apartment because he was the editor of the story and the writer. I mean — he got bossy. He wasn't gratuitously grand; there was purpose to it. This was an important portrait, and he was trying to impress me with that.
Vreeland was beyond important to him. It had roots in his relationship with his grandmother. He took great care of Diana, and she appreciated him as probably no one else did. She went blind, and he would sit and read to her endlessly. It was probably the saving grace of her latter years.
Comedian Sandra Bernhard on a Garrett Rittenberg painting
There is an abandoned quality in this painting that I wish André had allowed himself to experience more of. There was a deep romantic inside of him that I don't think he ever fully realized except through unrequited friendships, but maybe for André that was enough. He was a caravan of dreams, but there were always pieces missing. Stories of his grandmother were renowned, yet I didn't know much about his mom and dad until his last book came out. He sat on emotions, brewing and stewing, and if you asked what was going on at the wrong moment, he would simply disconnect. Still, there isn't a day I don't long for the landline to ring: "Darling, where have you been!" And off to the races we would go.
Designer Marc Jacobs on a pair of limited-edition cases
I must have given these cases to André, because the hard cases with the graffiti were made for the runway only. And they didn't actually function because Vuitton didn't want the bags stolen. So they weren't functional; the locks didn't open. That's a very special collection to me, and I'm sure having them was exciting to André. When I noticed them in the catalogue, I thought, Oh, I might want to bid on those.
Model Pat Cleveland on a Warhol print of Diana Vreeland
I was at the train station in Paris on my way to spend the summer with Karl Lagerfeld in the south of France, and this very tall, slim young man came toward me. He had sparkling eyes. He was in love, it seemed, with something inside of himself. He said to me, "Oh my God, you're Pat Cleveland!" I was astonished. He had apparently written some letter to Vogue asking about me because I had done these shows for Fashion Fair with Mrs. Johnson from Ebony magazine. He grew up looking at those pictures. Anyway, I had to leave on the train.
I went back to New York. One day, I was visiting a friend, Peter Lester, and I go into his house, and sitting there is André. I was like, I recognize this young man! And he stood up and he gave me a hug. I said, "Oh my gosh, how are you doing?" And he said, "I'm looking for a job."
I was close friends with Andy Warhol; earlier, Peter had wanted to write, so I'd introduced him to Andy at Interview. So I turned to Peter and I said, "You're working at Interview. Why don't you introduce André to Andy?"
Later, when André had the job with Andy, we started talking about Mrs. Vreeland. And I said, "I think Mrs. Vreeland needs some help over at the museum. You have to meet her." And when I saw her again, I said, "If you want an assistant at the Met, I know one." And before you knew it, André was working with her.
I picked this print of Mrs. Vreeland because their love story is so intense. André stayed with her when she really needed someone near. He was able to give her the comfort and the friendship that she needed from someone as fancy and as dreamy as André.
Former editor Marian McEvoy on an Yves Saint Laurent collage
This collage brings back memories of the crazy, magical time André and I spent chronicling French fashion for WWD and W in Paris. This was way before André's caftan-clad years. He wore trim, tailored, bespoke Dior suits on our many visits to the inner sanctums of the best couturiers, and his thumbs-up on a collection was something French designers prized mightily. I enjoyed making "real home-cooked" dinners for him followed by dancing at Club Sept, during which he would toss me up in the air over and over. At that point in time — the late '70s to early '80s — André was the human embodiment of an exclamation point.
Designer Tom Ford on Talley's custom kimono
I made clothes for André until the end of his life, often just simple caftans — some in taffeta and some in plain cotton poplin for home. He was always very specific about the kind of taffeta that he wanted, and I would send him swatches in advance.
This coat is one of my favorites. Incredibly opulent and something that few men could pull off, but it suited André beautifully. It is regal, and so was André.
Princess Gloria von Thurn und Taxis on her portrait of Talley
André was one of the first people to encourage me to continue to paint portraits. When I lived in NYC on Fifth Avenue and 17th Street, he used to come by my loft and hang out. I was just interested in being with him and watching him. We got on like a house on fire.
Designer Ralph Rucci on Talley's Shogun Robe Imperial
Everything had to be larger than the very pinnacle of life for André. So it comes as no surprise that when I began to dress him, everything had to be heightened to a level above couture. He would sit back like a child choosing colored jelly beans and rip swatches from color cards in his merchandising madness.
This is the most majestic and commanding design that I ever made for him. We called it the Shogun Robe Imperial. He wanted it for his official portrait and to wear to "highly important events." The cloth was vanilla with wide black stripes that ran the length of it. I decided to "ground" it with the stripes running around the circumference at the bottom, and to achieve this, we had to create dozens of deep darts to curve the coat. We created sleeves folded up into each other and then long, trailing ties with a reference to the film The Blair Witch Project … Of course, at his fittings, he roared over the perverse reference.
More From the spring fashion issue
See All