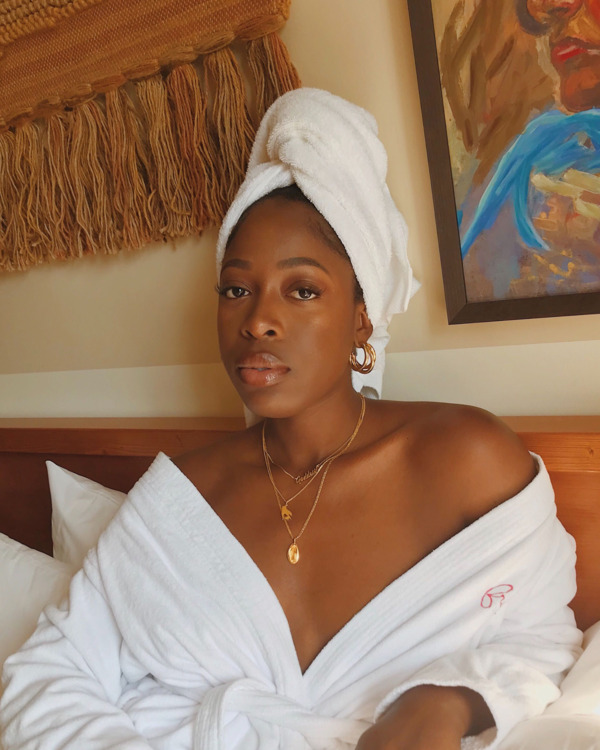 Photo: Courtesy of Nana Agyemang
Want more skin care? Join our Facebook Group, the Beauty of It All.
The Cut's Instagram editor Nana Agyemang wasn't always into skin care. "I was the type to occasionally fall asleep with makeup on and eat late at night, thinking all that harm would never catch up to me, and it did," she says. Fast forward four months into freshman year of college, and she was breaking out all over her forehead and cheeks.
It took a complete overhaul of her skin-care regimen and self-care habits to truly see a difference. Agyemang advises, "Put your health first, your skin will thank you later. I stopped eating Cheetos Puffs late at night and saw a noticeable difference in my skin." From there, the social media editor turned to acne-focused products like SheaMoisture's black soap. "It was a quick way to treat acne breakouts, but it stopped working on me. It was really drying to my skin, and I started getting flaky." These days, her mainstays include Ole Henriksen, Fresh, and Glossier. Below, a look at the "essential" face mask she recommends for acne-prone skin, the $6 vitamin C oil she purchases for a natural glow, and her homemade toner.
If you buy something through our links, New York may earn an affiliate commission.