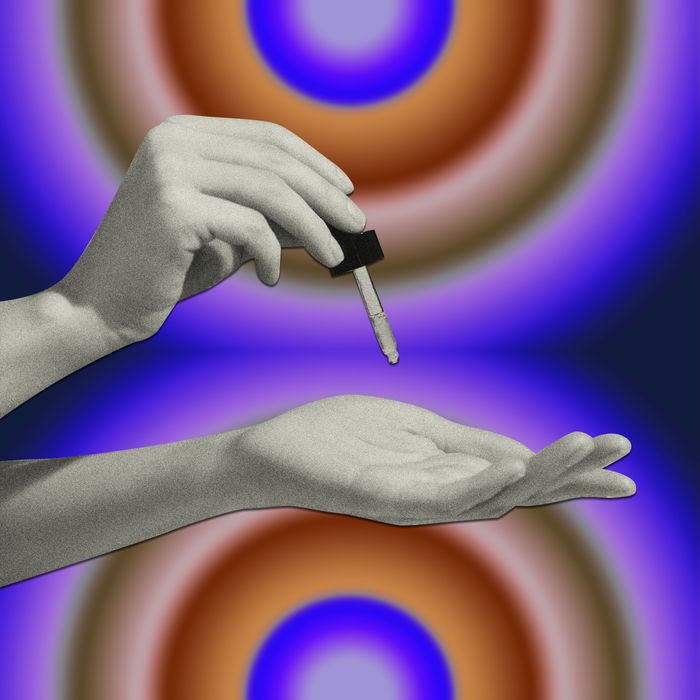 Photo-Illustration: by The Cut; Photo: Getty Images
In theory, no matter what hair texture you have or what race or ethnicity you are, you can use whatever hair products you like. In practice, the answer is more complicated, because there's historical context as well as issues of cultural sensitivity and cultural appropriation you should consider when purchasing products that were designed for communities other than your own. That may seem obvious, but after last week's Mielle Organics Rosemary Mint hair-oil drama, it's clear that some people — white women specifically — still need to hear that.
And you probably know this, but it's worth reiterating: You can't be offended if a brand's marketing doesn't speak to you directly. For decades, Black women were ignored by the beauty industry, and now that there are finally some products that cater to them and their needs, they are rightfully protective of those businesses — and don't want them to change their products or messaging in ways that are alienating. (P&G Beauty just acquired Mielle Organics, but founder Monique Rodriguez has promised that will not be a concern with her company.)
With that said, let's navigate the nuances of your question
First up, hairstylists don't typically think about hair in terms of a person's race or ethnicity; they think about texture and type. "For me, it's more about functionality than race," says celebrity hairstylist Lacy Redway who works with clients such as Tessa Thompson and Zazie Beetz. "I'm choosing products based on the look I'm trying to achieve." When you shop, follow that advice: Select products based on your hair type and desired style. If you have curls, coils, or multiple textures, it's possible the products that work best for you will come from a brand that is Black-owned and/or designed for natural or relaxed hair. "People with curly hair already struggle to find products, so that's understandable," says Redway. But if you have thin, fine hair, you may discover that an edge-control product helps you slick your hair into a bun, or maybe deep conditioners for natural hair are what work best for your dry, 2c waves. In all these situations, education is important.
Beauty reporter Darian Symoné Harvin, author of Black Icons in Herstory, points out that many products marketed to Black customers are inspired by rituals that got their start in the Black community. These brands aren't just "aiming at our hair texture," she says. They're "also signaling to the rituals and customs we have created around taking care of our hair, like greasing your scalp before bed or having your hair oiled once a week by your mother or grandmother." So be mindful of that history. If you apply a scalp oil like conditioner and it leaves your hair greasy, that's not the product's failure; it's a lack of education on your part.
Context is important with ingredients, too. I'm not saying you have to examine every oil or butter or plant extract in your products, but a little research might reveal some information that's helpful to your routine. And, at the very least, it shows respect. "I'm a big advocate for always doing the homework," says Brooke DeVard Ozaydinli, creator and host of the podcast Naked Beauty, who's spent time studying Ayurvedic beauty to learn more about plant-based, herbal remedies, for example.
If you find a product from a line that was created for the Black community and you're using it as intended, are you guilty of cultural appropriation? Not likely. "I speak to so many Black founders on my podcast, and white people ask them all the time, like, 'Can I use it?' And they're like, 'Yeah, absolutely,'" says DeVard Ozaydinli. But if you talk about a product or trend that originated in the Black community publicly — like on social media — it's important to give credit where it's due. Please don't "brag on the internet about this 'new product' you're using as if you're Christopher Columbus," says Harvin. Instances like that are when appropriation becomes an issue (see also: slugging, "clean girl" makeup, and cornrows).
Just slow down and think before you post — and before you buy a product recommended in someone else's post, for that matter. "It's the TikTok culture in general that I have an issue with," says Redway. "Anything goes viral and people are following advice blindly, but it takes time to find out what works for you."
Ultimately, discovering new beauty rituals and products is a way to learn about cultures other than your own, and I wouldn't want you to miss out on that because you're afraid of a misstep. So long as you do a little homework and remain respectful and receptive to feedback (hear that, TikTok?), you should be fine.
Jennifer Sullivan answers all your beauty-related questions with practical advice and zero judgment. Send your questions to AskABeautyEditor@nymag.com. (By emailing, you agree to the terms here.)