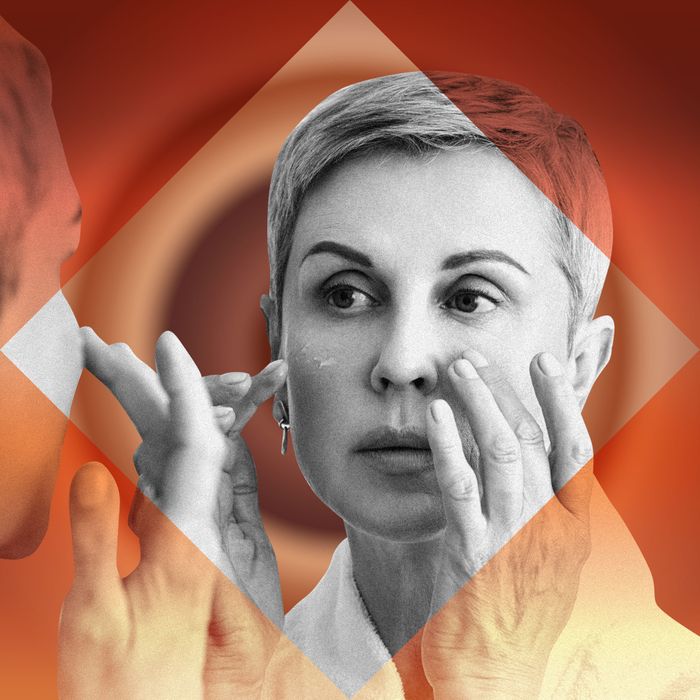 Photo-Illustration: by The Cut; Photo: Getty Images
This column first ran in Valerie Monroe's newsletter, How Not to F*ck Up Your Face, which you can subscribe to on Substack.
In a recent post about using silicone patches to prevent wrinkles (they don't), I neglected to mention what a couple of astute readers pointed out: Silicone-gel sheets can be a helpful adjunctive treatment for scar healing. The sheets are more effective than silicone gels or ointments, says dermatologist Jessica Weiser. Why? Because they can induce hydration and, through various mechanisms including something called "oxygen homeostasis" (and a few others I couldn't explain if my life depended on it), reduce the risk of keloid- or hypertrophic-scar formation.
And now for a reader's question about her encounter with a magic ingredient.
Q: About ten years ago, I started using a product containing Matrixyl — and what do you know? People began telling me I looked great. The company I originally ordered from was bought, and now the product doesn't seem to have the same effect. I've tried No7 Protect & Perfect Intense Advanced Serum, which contains the magical Matrixyl, but I didn't see any change in my skin. I've ordered it from The Ordinary, but I think I broke out from using it at full strength at 10 percent. I'd love to look 70 again! Maybe I've just gotten older and … I don't even know how to finish this sentence. Alas. 
A: Yes, dear reader, the likelihood is that in ten years, you have gotten older, as have we all. Lucky us.
You bring up two interesting points. First, why is it that as soon as we feel we've found the one product that seems to be doing something lovely for our skin, it's unceremoniously yanked from the shelves? Here's why: In general, beauty companies don't decide which skin-care products to market based on how happy we are with them. They base their choices on some kind of sorcery having to do with sales, which means that if they can come up with another product with fresh allure, capturing a larger supply of hopeful consumers, that's where their production and marketing money goes. We might feel duped by this strategy, though I want to point out that your affection for a skin-care product probably has less to do with its effect and more to do with a multitude of other possible reasons your skin happened to look good when you used it. For example, you applied the product consistently, therefore moisturizing your face well, temporarily plumping your skin, and eliciting flattering comments.
As for the magical Matrixyl, it's a synthetic peptide, says HNTFUYF DermDiva Heidi Waldorf. Peptides have been shown to help stimulate collagen production, which is why there are lots of skin-care products containing various kinds. Matrixyl, even at a high percentage, is unlikely to have caused your breakout. It was more likely from another ingredient in the product, says Waldorf. And she's not surprised that you think you saw more results a decade ago.
Which brings me to the second thing worth mentioning about your experience. Less is required to make younger skin look better, because the building blocks in the epidermis and dermis are more robust, says Waldorf. You could apply the same logic to skin-care products that the wise dermatologist Estee Williams has applied to in-office devices: The less they have to do, the better they work.
Valerie Monroe was beauty director at O, The Oprah Magazine, where she wrote the monthly "Ask Val" column for nearly 16 years. Now she writes the weekly newsletter How Not to F*ck Up Your Face. Her goal continues to be to shift our thinking in the beauty arena from self-criticism to self-compassion and to learn how to be loving witnesses to ourselves and one another as we age.