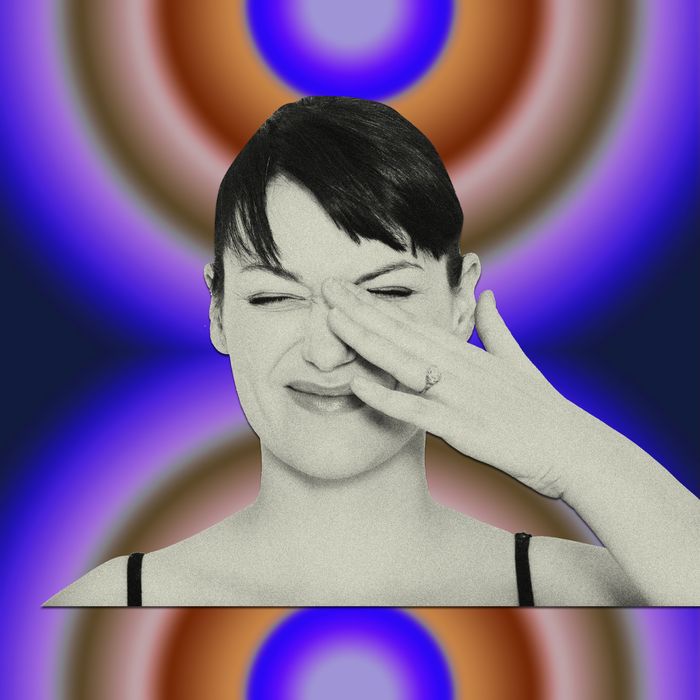 Photo-Illustration: by The Cut; Photo: Getty Images
Hi Jenn,
This has been the worst allergy season of my 35 years on Earth, and my itchy, watery eyes led to eyelid eczema, which I'm treating with a mild cortisone cream. But now I think I'm getting lines under my eyes because of all the dryness and rubbing. Is there anything I can do to help this? Great products for sensitive skin and eyes? 
—Pratima
You're not the only one experiencing a hellish allergy season: Climate change has made fall allergy season longer and more intense, according to experts. And the side effects of those allergies aren't pretty. I spoke to two dermatologists who explained that all the symptoms you're experiencing are interrelated — and that you could actually be making things worse if you've been applying that cortisone cream for longer than two weeks. ("Prolonged use of cortisone cream around the eyes may contribute to thinning of the skin and potentially more prominent lines," says dermatologist Ife Rodney, M.D.)
So, first things first: If the cortisone hasn't helped your eczema and/or you've been using it for a while, then stop and head to the dermatologist immediately. "We're extra cautious in recommending cortisone cream. Not only can it lead to thinning of the skin, but also glaucoma or cataracts in the eyes themselves," says dermatologist Joshua Zeichner, M.D. Like Rodney, he says that two weeks is the maximum amount of time you should use a cortisone cream, and if you didn't get any relief, you need to tackle the allergies and eczema with the help of a doctor before you worry about your dry skin or any lines you've noticed.
But let's say you're no longer using the cortisone and just trying to deal with the changes to your under-eye area. All that rubbing may have caused a thickening and darkening of the skin called lichenification, explains Zeichner. "Patients often complain that this makes them look older because it resembles wrinkles, but the good news is that these lines are temporary and improve when the eczema calms down." To speed your skin healing, avoid any potent anti-aging products that could set off a new round of inflammation. Instead, hydrate your eye area morning and night with a fragrance-free hydrating eye cream, such as La Roche-Posay Toleriane Dermallergo Cream. For eczema-prone skin, Rodney also suggests Vanicream Eczema Cream, Eucerin Aquaphor Soothing Skin Balm, and CeraVe Eczema Cream.
If you still have the urge to itch or rub, fight it! You can apply a cool compress or use artificial tears to soothe your eyes instead. When my eyes are irritated from allergies, I also try to skip the eye makeup and any cleansers that contain exfoliating ingredients or acids (instead, I'll use the BioPure Micellar Eye Wipes, which are great for cleansing and soothing itchy, allergy-prone eyes).
If you still notice some new lines after the inflammation and/or lichenification calms down, that's understandable. "Chronic, low-grade inflammation is known to lead to premature aging," says Zeichner. "It can be especially problematic around the eyes, where the skin is so thin to begin with." For people like you, who have eczema or other skin-barrier defects, traditional anti-aging ingredients such as retinol or glycolic acid are going to be way too harsh. Instead, use an eye cream with gentler anti-aging ingredients like peptides or bakuchiol. Skinfix Triple Lipid + Collagen Eye Treatment, a fragrance-free formula with peptides, is one of my favorites.
You might also want to bookmark the National Eczema Association's (NEA) Seal of Acceptance directory. All the personal-care products awarded the NEA seal have been reviewed by a panel of allergists, dermatologist, and eczema experts and undergone clinical testing to ensure they're non-irritating for a wide variety of skin tones and skin types. (FYI: Companies have to pay to apply for and use the NEA seal in their marketing, so just because a company's products are not listed on the website, that doesn't mean they're unsuitable for eczema-prone skin.)
Hopefully the strategies above will help you. But before the next allergy season rolls around, you should talk to your doctor about using an antihistamine preemptively. Spring allergy season can start as early as February in some areas of the United States, and, "it's better to take antihistamines before the allergies develop than to take them afterwards to try to get rid of the reaction," sys Zeichner.
Try These Products
Send your questions to AskABeautyEditor@nymag.com. (By emailing, you agree to the terms here.)