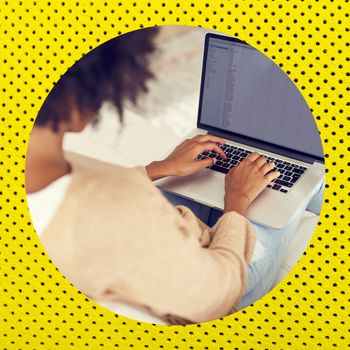 Hot Bod is a weekly exploration of fitness culture and its adjacent oddities.
A few weeks ago, not to brag, I went to an outdoor lawn party with my mom. Since childhood, I've noticed that the elders care a lot about the posture of the youth, so the only time I work on standing up straight is when I'm surrounded by the ancestor generations. Give the people what they want, that's my stance. So as I stood gorgeously (and at preordained distances) for a few hours, I was very aware: I am out of shape for this! I had become a creature of almost full-time slouch. I had put no effort or thought into my comportment because, while being at home in front of the four people in my germ pod, sadly, there was no reason to.
Bad posture is a self-perpetuating habit. In a diary entry from early 1912, novelist Franz Kafka, feeling down and droopy, wrote about isolating himself and his bad posture. He suffered "gentle pokes in the back" from his mother on Sunday walks to get him to stand up straight. "If I chose to, I could of course walk erect," he explained, "but it made me tired, nor could I see how a crooked back would hurt me in the future." He believed that good posture would involve "a confidence in a future in whose existence I did not believe." So in the moment, he went for subsistence exertion, walking "in a way that took the least effort and required the least spirit. If I went beyond that I could think only of ridiculous solutions."
Same, man. We're still slouching toward the abyss over here. If the future seems dubious at best, then swaggering into it with a tall back and proud shoulders does seem … delusional. Posture is posturing. However, in a real Kafkaesque knife twist, if you ignore your posture, it will transform into something painful and haunting. This, at least, according to modern experts.
"Posture is the theme right now," says Dr. Nicole Haas, a physical therapist and researcher in Boulder, Colorado. "I knew it was coming. [Poor posture] just wreaks so much havoc on everyone, especially right now after months of being at home." People are away from both office-supplied ergonomic arrangements and the office-supplied witnesses that might discourage a full sloth pose. In May, the World Economic Forum asked itself, "What risks does COVID-19 pose to society in the long-term?" One of its experts came up with many answers, including the risk of musculoskeletal damage from bad posture.
For people newly working and/or schooling from home, half a year of hunching has caught up. Since March, "there has been a significant increase in musculoskeletal complaints" in Europe and the U.S., says Blake McGowan, a researcher at environment, health, and safety consulting group Velocity EHS. People have reported pain in the traditional back and shoulder categories but particularly in the neck, he says.
And it's not just the stoop over the keyboard, notes Dr. Haas: It's the stress of a global pandemic, political uncertainty, the climate-change crisis, etc., that makes for a tense Kafka-body. "If we're stressed, anxious, depressed, overwhelmed, we go into this slump — rounded back, head forward like a chicken. It's a protective posture, which happens to be similar to bad work ergonomics." 
It's all very angsty. As a slouchy and stressed Mr. Kafka wrote, poor posture doesn't just feel like a lack of attentiveness to the body, but also like a lack of hope about the future the body will participate in. In other words, it's a little impossible to get a sad sack to straighten up. Though I'm extremely bummed out that we don't have a safe world to stand in, I kind of enjoy the private indulgence of lolling around all day as I work. But I see how this isn't very public friendly, and whenever we're released into the world, I want to be standing perfectly for it.
Posture is something tantalizingly appealing to self-improvement. Ori Fruhauf, the co-founder of Upright, which makes wearable tech to correct posture, assesses that people looking to correct their posture fall into three groups. One-third of people look for immediate relief of their back-shoulder-neck pain, and one-third look to prevent future pain. "The third group is super-interesting," says Fruhauf. "It has nothing to do with back pain. They understand the other benefits of better posture, like improved breathing, better blood flow, and looking taller and more confident. You know, pure vanity. I'm not a huge, tall guy, and just by standing upright I gain two inches!" Vanity: It contains such life force.
As people realize that drooping-from-home may be more permanent for them, demand for Upright's program, Fruhauf tells me, has soared. "In the last couple months, what we've seen is amazing," he says. Upright makes a variety of sensors that monitor posture and will buzz to remind you to tighten your core, like a technology version of Kafka's mother.
Vivian Lee, the CEO and founder of Kinflyte, which makes bras that realign the body, says her company has also been seeing spikes all summer. "The demand for products has increased three times since March," she tells me. Kinflyte bras have thick, sturdy straps that both redistribute the weight of your breasts and encourage you to roll your shoulders backward, while the mesh on the back of the bras gives some targeted compression to help you hold the holy, coveted "neutral spine" position. Kinflyte's core customer, Lee says, is working from home and homeschooling (in "mom posture," as she puts it). "After months, this is hurting their back and their neck," she says.
When Dr. Haas encounters patients with posture problems (from general vague or vain concerns to severe pain from holding themselves sloppily), she has some favorite tricks. First off, she recommends a hip-opening exercise called "the work pigeon," in which you put one ankle over your thigh at your chair, then hinge your torso forward until you feel your hip open. For the back, she suggests rolling it on a foam roller. And for your chest, as Dr. Haas instructs me while we're on the phone, you can stand up with your hands lowered by your sides, meet them in front of you with your palms facing down (deep-breathing the whole time, obviously), bring your hands up over your head and then open them like a cactus and squeeze your shoulders. "Honestly, that's my favorite thing to do," she says.
We'll see if it's my new favorite thing. For now, I'm waiting for the elders to invite me back to their lawn so I'll have something worth cactus-practicing for. A little future goal to walk upright toward.