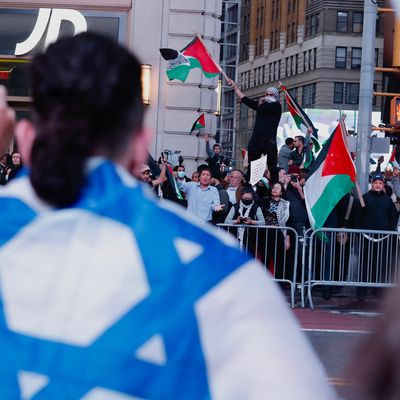 Photo: KENA BETANCUR/AFP via Getty Images
In the days since the Hamas attacks and Israel's declaration of war on Hamas and air strikes in Gaza, it seems as if no institution has avoided the political cross fire. While many organizations and companies explicitly declared a position — American Eagle replaced its flagship billboard in Times Square with an Israeli flag, for example — some have found themselves under intense public pressure to issue statements condemning Hamas's attacks specifically and antisemitism generally, or else to denounce comments made about the war by their employees, students, or faculty.
But the responses, which vary from just-vague-enough public statements to internal memos to swift terminations, have done little to satisfy those who believe the politics of universities, business leaders, and cultural institutions should mirror their own. Here's a running list of the fallout.
On college campuses
A coalition of Harvard student organizations calling themselves the Palestine Solidarity Groups released a letter condemning the Israeli government on the night of the Hamas attacks. "The apartheid regime is the only one to blame," read the statement, which has since been deleted. In response to the letter, Harvard president Claudine Gay said that while the university "rejects terrorism," it also "embraces a commitment to free expression" — a position that did little to quell the concerns of some university donors and CEOs. The Wexner Foundation, a nonprofit started by Victoria's Secret founder Leslie Wexner, formally ended its relationship with the school in protest, while Israeli billionaire couple Idan and Batia Ofer stepped down from the board of the Harvard Kennedy School, saying their "faith in the university's leadership has been broken."
Hedge-fund manager Bill Ackman called for a list of the students involved with the groups that signed the statement, writing on X that employers should deny job opportunities to all of them. Jonathan Neman, CEO of Sweetgreen, was among several business leaders who endorsed Ackman's position. "I would like to know so I know never to hire these people," Neman wrote on X. Following Ackman's post, Accuracy in Media, a conservative media advocacy group, arranged for a billboard truck to drive around the Harvard campus displaying the names and faces of all the students belonging to the organizations that signed the statement and labeling them as antisemites. Several websites also posted the names, photos, social-media profiles, class years, employment histories, and hometowns of students linked to the clubs.
Amid the fallout, at least ten of the 34 co-signing clubs withdrew their signatures from the statement, with some claiming they had not read it prior to adding their endorsement. In a subsequent statement, the coalition of groups wrote that it "staunchly opposes" violence against all civilians.
Steven Davidoff Solomon, a law professor at the University of California, Berkeley, wrote an opinion column for The Wall Street Journal warning employers not to hire some of his own students who had expressed support for Palestinians if the firms "don't want to hire people who advocate hate and practice discrimination."
Seth Crosby, a professor at the Washington University School of Medicine, claimed he was fired for a since-deleted post on X that said Israel's attacks on Gaza were a "much needed cleansing, yes, but not an ethnic one. Israel is not targeting humans." Crosby later clarified that he had been referencing Hamas specifically, and the university has said he is still employed. "We are following up as appropriate, according to our policies and processes," a spokeswoman for the school later said in a statement.
The University of Pennsylvania had faced accusations of institutional antisemitism before the war broke out for sponsoring the Palestine Writes festival in September. The event included speakers whom the American Jewish Committee accused of having "a history of making antisemitic remarks." The group placed particular emphasis on CUNY professor Marc Lamont Hill — who was fired from CNN after giving a speech in which he called on world leaders to support a free Palestine — and former Pink Floyd front man Roger Waters, who has been critical of Israel and wore a Nazi-like costume at a performance in Germany this year (Waters has said he wears the costume to parody fascism). Discontent reached a fever pitch in the wake of the Hamas attacks as critics alleged the university still wasn't doing enough to combat antisemitism on campus. Several donors, led by alum Marc Rowan, CEO of the private-equity firm Apollo Global Management, have pledged an annual donation of $1 until Penn president Elizabeth Magill resigns.
At Columbia University, a student petition published last Friday with over 47,000 signatures called for the ousting of Joseph Massad, a tenured professor in the Department of Middle Eastern, South Asian, and African Studies, after he described the Hamas attacks as a "resistance offensive" to "Israeli settler-colonialism and racism toward the Palestinians" in an article for the website Electronic Intifada.
A similar petition circulated at Yale University calling for the removal of Zareena Grewal, an associate professor of American studies and related fields of ethnicity, race and migration, and religious studies, due to her posts in support of Palestinian resistance.
Another petition went around Vanderbilt University after the school's chancellor, Daniel Diermeier, released a statement on its website and social-media accounts noting that "the deeply layered and nuanced complexity of today's incidents reminds us that we must denounce violence, hate and prejudice in all forms and remain steadfast in our commitment to open discourse and a compassionate, supportive environment." Backlash to the "tepid, both-sides statement," as one X user called it, was swift. The petition called for an apology from the school, along with a statement of support for the Jewish community. The initial statement was removed days later and replaced with another that explicitly condemned Hamas. Indiana University, Northwestern, the University of Rochester, and Penn State also issued responses that more explicitly condemned Hamas and outlined the conflict after criticism of their initial official statements.
At Stanford, an instructor was removed over allegations of singling out students "based on their backgrounds and identities" during a discussion about the conflict, per a statement from the school. The teacher, who was not on staff and whose name has not been released, reportedly asked how many Jews were killed in the Holocaust, to which a student answered, "6 million." The instructor then said that more people had been killed by colonizers and that "Israel is a colonizer." He asked some students to stand at the back of the class and allegedly said, "That's what Israel does to Palestinians."
Cornell University history professor Russell J. Rickford is on a leave of absence following criticism of his description of the Hamas attacks as "exhilarating" and "energizing" in a speech he gave at an off-campus pro-Palestine rally. He initially defended his choice of words but clarified, "What I was referring to is in those first few hours, when they broke through the apartheid wall, that it seemed to be a symbol of resistance, and indeed a new phase of resistance in the Palestinian struggle." A petition demanding his termination accumulated nearly 11,000 signatures. He has since issued an apology, calling his comments "reckless."
Jemma Decristo, an assistant professor of American studies and an undergraduate faculty adviser at the University of California, Davis, is under investigation in relation to a now-deleted post on X calling out "zionist journalists who spread propaganda & misinformation" and adding that "they can fear their bosses but they should fear us more." She punctuated the post with emojis of a knife, a hatchet, and three drops of blood. UC Davis chancellor Gary S. May called the comments "revolting in every way."
The State University System of Florida mandated that its colleges shut down campus chapters of Students for Justice in Palestine, alleging that their demonstrations provide "harmful support for terrorist groups." In an email to university heads, Chancellor Ray Rodrigues said the decision had been made "in consultation with Governor DeSantis."
In the workplace
Jackson Frank, a Philadelphia-based sports journalist who often writes about the Philadelphia 76ers, was fired from PhillyVoice.com after he condemned the 76ers' statement in support of Israel, writing on X, "Solidarity with Palestine always."
Michael Eisen, editor-in-chief of the medical journal eLife, announced on X that he had been fired after he shared a satirical article from The Onion headlined "Dying Gazans Criticized For Not Using Last Words To Condemn Hamas." His tweet also said the humor site "speaks with more courage, insight and moral clarity than the leaders of every academic institution put together." In response to initial pushback from X users, Eisen said, "The Onion is not making light of the situation. And nor am I. These articles are using satire to make a deadly serious point about this horrific tragedy."
The New York–based law firm Davis Polk announced in an internal email that it had rescinded job offers to three Harvard and Columbia students holding leadership positions in student groups that had issued statements in support of Palestine. "These statements are simply contrary to our firm's values and we thus concluded that rescinding these offers was appropriate in upholding our responsibility to provide a safe and inclusive work environment for all Davis Polk employees," said the email, which was signed by managing partner Neil Barr. He noted the firm was still "in dialogue" with two of the students and was willing to consider any additional information they might provide.
The law firm Winston & Strawn took back an offer of employment to Ryna Workman, a New York University law student and president of the university's Student Bar Association, after Workman said they "would not condemn Palestinian resistance" in a newsletter and pledged "unwavering and absolute solidarity with Palestinians in their resistance against oppression toward liberation and self-determination." In a statement, Winston & Strawn said the "inflammatory comments … profoundly conflict" with its values. Workman was also removed as SBA president and has since received numerous threats online.
Harper's Bazaar editor-in-chief Samira Nasr issued an apology on Instagram after she called Israel's decision to cut off water to residents of Gaza "the most inhuman thing I've seen in my life." Hearst Magazines sent an internal memo to employees clarifying that Nasr's comments "do not represent Hearst's values."
Maha Dakhil and Kitty Laing, two talent agents, were forced to step down from leadership roles within Creative Arts Agency and United Agents, respectively. Dakhil resigned from CAA's internal board and is stepping away from her role as co-head of the motion picture department after she faced criticism for sharing two Instagram posts that referred to Israel's attacks on Gaza as a "genocide." Laing is leaving her role as head of comedy at United Agents following a "full and thorough investigation" into her reposts on X, which were critical of Israel and allegedly referred to Israeli Jews as "settler paramilitaries." They have since been deleted. Both Dakhil and Laing will remain with their agencies in other capacities.
New York Times Magazine writer Jazmine Hughes resigned from the publication after a Times editor called her decision to sign an open letter in solidarity with the Palestinian people a violation of newsroom policy. The letter had called Israel's offensive in Gaza "an attempt to conduct a genocide" and expressed frustration with pro-Israel sentiments across major publications, including the Times. In an internal email to staff, editor Jake Silverstein said that the decision came after he and Hughes agreed that "her desire to stake out this kind of public position and join in public protests isn't compatible with being a journalist at The Times."
In cultural institutions
The Manhattan arts center 92NY, a Jewish organization founded as the Young Men's Hebrew Association, announced it was putting its literary series "on pause" following the controversy around its decision to cancel an event featuring Pulitzer Prize–winning novelist Viet Thanh Nguyen. Although 92Y initially declined to comment, it later confirmed that the cancellation was related to Nguyen's signing an open letter that demanded an immediate "end to the violence and destruction in Palestine." He was one of 750 writers and artists to endorse the letter in the London Review of Books.
Several writers, including Hannah Gold, Chris Kraus, Paisley Rekdal, Dionne Brand, and Hari Kunzru, and the critics Christina Sharpe, Saidiya Hartman, and New York's Andrea Long Chu pulled out of their events in protest. "The Y's decision has unintentional knock-on effects for the writing community as a whole, in particular an implicit chilling effect on free speech," Rekdal later wrote in an email to the Times. Sarah Chihaya, director of the 92Y's Unterberg Poetry Center, and Sophie Herron, a senior program coordinator, have also since resigned but did not comment further. "I have no regrets about anything I have said or done in regards to Palestine, Israel, or the occupation and war," Nguyen later wrote on Instagram.
Citing the "war in Israel," the Frankfurt Book Fair canceled the ceremony honoring Palestinian author Adania Shibli with the 2023 LiBeraturpreis, an award given to the best women authors across Asia, Africa, and Latin America. Shibli won the honor for her 2017 historical-fiction book Minor Detail, which describes the rape and capture of a Palestinian teenager by Israeli soldiers in the summer of 1949 after the War of Independence. In a statement, organizer Litprom said it was looking for a "suitable format and setting for the event at a later point," adding, "No one feels like celebrating at the moment."
Numerous events promoting Nathan Thrall's newest book, A Day in the Life of Abed Salama, which chronicles how Israeli restrictions affected a Palestinian man's search for his 5-year-old son, were canceled citing security concerns.
The Boston Palestine Film Festival canceled all in-person screenings and moved online. The annual Witness Palestine Film Festival, held for the past 12 years in Rochester, also chose to go virtual.
Palestinian artist Emily Jacir said on Instagram that a talk she was scheduled to give had been canceled. Though she didn't specify which event, ARTnews surmised it was a workshop held by the University of Potsdam at the Hamburger Bahnhof museum in Berlin. Jacir was initially listed as a participant in the workshop, and her name no longer appears on the event's website.
The editor-in-chief of Artforum, David Velasco, has been fired following backlash to a letter the magazine published that called for "an end to the killing and harming of all civilians" and urged institutions to break their silence on the "ongoing humanitarian crisis that 2.3 million Palestinians are facing in the occupied and besieged Gaza." Hundreds of artists and gallerists, many of them Israeli, spoke out in protest of the letter, which was signed by artists and cultural figures including Nan Goldin, Barbara Kruger, and Judith Butler. Ronen Eidelman, co-editor of the Israel-based online magazine Erev Rav, composed a response to the letter to say he accepted "calls for ending the violence, supporting Palestinian liberation, and the end of the occupation … but not by ignoring the rights of all who live in Israel." Two thousand art-world figures reportedly signed the response. Several artists have retracted their endorsements of the Artforum letter, including Peter Doig, Katharina Grosse, and Tomás Saraceno. Grosse wrote that the letter "created more hurt and confrontation, and so have I by signing it. I apologize for my ignorance."
In Australia, State Library Victoria has reportedly decided not to advertise its new exhibition of Hebrew manuscripts because of fears that it could be targeted by antisemites who might damage the 37 documents on loan from the British Library.
This post has been updated.