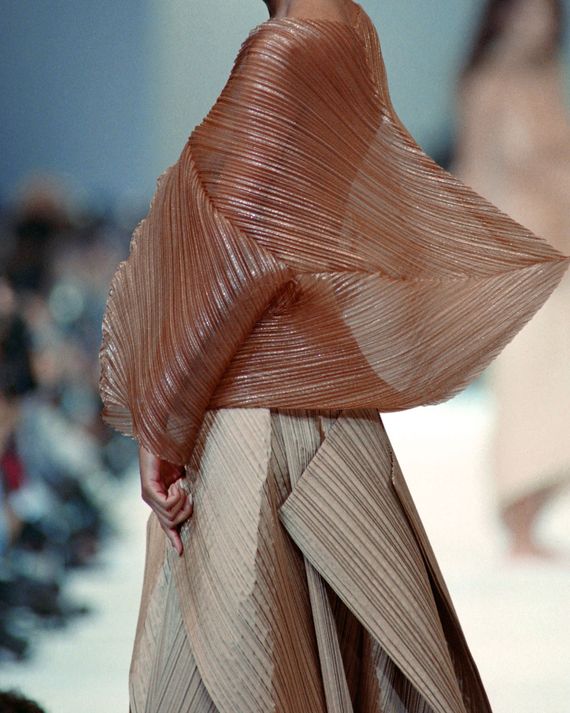 Photo: PIERRE GUILLAUD/AFP via Getty Images
In my closet, I own ten Pleats Please garments, pieces that are made from an accordion-type fabric with soft tiers of pleats and are created by Japanese designer Issey Miyake. Sometimes when I'm wearing them on the subway, I'll examine how my top and pants fold, drape, expand, and flatten. When I cross my legs, the shape of the pants creates a billowing effect on my thighs, accentuating my curves; I've also noticed that I could quickly smooth out the shape to obscure my body if someone stared at me. Other designers produce garments that conceal the wearer's body too: Yohji Yamamoto, Rei Kawakubo, and Simone Rocha, to name a few. But nothing compares to Miyake's designs regarding the sense of security I get. The fluidity of Miyake's garments leave me reassured that I could always obscure myself, a trans woman, and disengage from any fears of people scrutinizing my body. It's not that I want to disappear, but sometimes I wish people didn't notice me at all.
Growing up in Korea, I started to think about the concept of gender at an early age. In kindergarten, for instance, I was much closer to the girls in my class than the boys. When we were doing activities, the teachers would group us according to gender. I remember, as a young boy, I wanted to be grouped with the girls. I thought to myself, Why is it so important that I am a boy, as opposed to a girl? What if I am actually a girl? What if I start telling people I am a girl? Thanks to a myriad of male K-pop stars of my childhood who wore shaggy bobs and androgynous stage outfits, it wasn't so extreme when I started to grow my hair long and asked my mom if I could wear feminine clothes. She thought I was trying to reinvent myself to be my favorite idol, Kim Jae-jung.
It all changed when my family relocated to a big city because of my dad's job and I went to a British international school where there were students predominantly from Europe and North America. It was here that I developed shame around my gender expressions. I studied western standards for "masculinity." It did not take long before I realized that an Asian boy at a white institution, where boys were expected to play rugby and have short hair, didn't fit in with the ideal of masculinity. I cut my hair short and stopped listening to K-pop — and the memories of my own androgyny grew fainter and fainter.
By my mid-20s, I realized I'd never been happy with my clothes and started to wonder why that was. Nothing fit me right. The men's clothes I tried on were always too big and bulky for my body. One day, I thought, Why not try on a pair of women's jeans? The jeans fit my waistline perfectly. Soon enough, I asked my friends to refer to me as "they/them" instead of "he/him."
Initially, I gravitated toward prairie dresses and any garments with floral prints, but I was slowly drawn to more gender-neutral clothing that still felt feminine. It was at this time that I discovered Issey Miyake.
My first Pleats Please piece was a blue turtleneck that I bought on the RealReal. The garment would billow in the chest area, creating the illusion of curves. I desperately wanted my body to be different, but I was too insecure to admit it, so I would flatten it when I was out in public. I looked at mirrors and reflective surfaces at every chance. It did not take long before I accepted that the top has its autonomy. After reading this quote from Miyake, it made all the more sense: "The space created between the clothes and the body is what interests me and communicates the most." While the pleats of Pleats Please pieces are uniform, the shapes of space they create are varied and often unpredictable.
I have many childhood memories of my mother wearing micropleated clothes — I also distinctly remember disliking them as a kid. A few years ago, I asked my mother, "Were those Issey Miyake's clothes you used to wear?" She laughed. She had received a dress as a birthday gift from her friends one year. "If only I had the money to have a closet full of his clothes," she said. When asked what drew her to Miyake's designs, she took a minute to ponder, then answered, "The big thing for me was hiding my fat, middle-aged body behind those clothes. You know, they tend to obscure your figure."
As a boy, I could not wrap my head around the lengths to which she would go to hide her body. Even in the middle of July, her upper arms and legs were always fully clothed. The most she was willing to bare her arms were half-sleeves. It makes a little too much sense now: Miyake's empty space is essentially armor. Although it may seem like a feeble layer of vacuity, it is dense and sturdy enough to shield her.
When I apologized to my mother for being unsupportive of her fashion choices, she was mostly bemused by my newfound love. She wanted to know what caused this change of heart. "It's just … cool," I said. It was the only answer I could give her since I was not — and still am not — out as a trans woman to my family. We have more in common than she thinks; she just doesn't know it.
On my first birthday as a trans woman, I bought a lime-green Pleats Please dress to celebrate the occasion. I went to the store in Soho; it had a version with a zipper on the side. In the changing room, I incrementally played with different levels of unzipping. It looked like a cocoon when completely zipped, but even the slightest unzip changed how the garment shaped my body.
I now see that every version of myself I choose to present is feminine. That remains true with or without Pleats Please, with or without a dress, with or without a specific vocal register. I still reach into my closet for Pleats Please pieces at least five times weekly. I might have certainties about my gender and body today, but that might change tomorrow — like Issey Miyake's pleats, my body does not have definite forms. I put on Pleats Please garments to remind myself that I have the room to explore that.