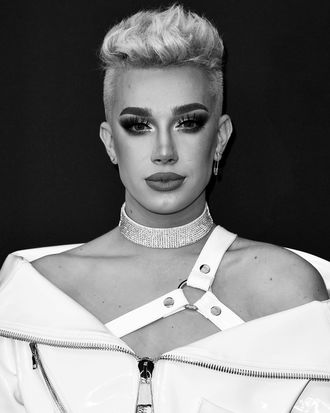 Photo: Bryan Bedder/WireImage
Last week, 21-year-old beauty influencer and controversy magnet James Charles released an apology video in response to allegations that he exchanged inappropriate messages with minors. In the video, titled "holding myself accountable," Charles shifts away from his former tactic of denying any wrongdoing, and instead says that after spending time "researching these topics" and self-reflecting, he realized that he (and only he) was to blame for the interactions. He admits to having "engaged in a flirty conversation" with two 16-year-olds, once last year and once more recently — though he stands by his claim that in both situations, he was told that the other person was 18 and believed them. "I fully understand my actions and how they were wrong," he concludes.
It's worth noting that the video only comes after Charles was replaced as the host of the YouTube TV show he co-created, "Instant Influencer," and after he spent the entire month of March posting normally, with no acknowledgment of the accusations rapidly proliferating on TikTok and Twitter.
Charles first gained the public's attention in 2016, when his highlighter-heavy high-school yearbook photo went viral. It was an innocent enough start to an influencer career, but since then, he's shot to YouTube stardom, gained 25.6 million subscribers, and faced repeated allegations of inappropriate sexual behavior. Previously, he's been accused of inappropriate comments and tweets, and of bragging about using his celebrity to coerce straight men into romantic relationships. In his apology on Thursday, Charles described his behavior as reckless, and says that, despite initially wanting to defend himself, he realizes he was indeed at fault. His explanation for the behavior, after some reflection, was simply that he is "desperate."
Many of his critics aren't accepting that explanation. In a top-rated comment on the apology video, YouTuber Kat Blaque wrote, "TBH, any time I've ever been approached by a fan in a flirty manner, it makes me really really uncomfortable. So I actually don't exactly get how someone would feel comfortable pursuing anyone who's in their fanbase."
Trisha Paytas and Ethan Klein, hosts of the H3 podcast and vocal critics of Charles, have both responded to his apology with skepticism. Klein tweeted that he believes the claims of "desperation" are an excuse for something much more serious:
And Paytas, also an influencer (who has faced plenty of controversy herself), responded to the video on TikTok, saying that while his apology may have sounded good to some, in her opinion, it's not the first time Charles has apologized and promised to do better:
She's right — he first faced controversy less than a year after he shot to influencer royalty as Covergirl's first male spokesmodel, and since then, the scandals haven't let up. Here's a running list of offenses that help contextualize the current allegations:
.

He was accused of harassing Shawn Mendes
In October 2018, Shawn Mendes went on Instagram Live to show off his juggling abilities, and Charles commented on the livestream, writing "Can you juggle me like that?" Pretty soon afterwards, Mendes ended the livestream. Fans speculated that Mendes ended it because Charles's comment made him uncomfortable and pointed to a report that theorized Mendes had privately told fans he disliked Charles because of the "weird shit" the influencer commented on his posts.
Charles apologized to Mendes, and Mendes DM'd him on Twitter, denying he'd ever made those comments and apologizing for "all this." Still, the belief that Charles regularly makes inappropriate comments lingered.
.

While discussing his sexuality, he made a transphobic comment
In an April 2019 video collab with Jeff Wittek — a member of David Dobrik's vlog squad who's now embroiled in a separate set of sexual-assault allegations (which he has denied) — Charles received backlash for transphobic comments he made during the video. He identified himself as a 5.5 on the Kinsey scale, explaining that he's been attracted to girls and "trans guys," which many interpreted as a statement that trans men aren't men. He went on to discuss his experiences hooking up with men who identify as straight, which would pop up again a month later. After the swift backlash, Charles apologized, tweeting in part, "you are valid in your identity!! I apologize & should've chosen my words wiser," but did not delete the video.
.

He was accused of creepy behavior by Tati Westbrook
If you know who James Charles is, you probably already know about his feud with beauty influencer Tati Westbrook. To summarize: In May of 2019, Westbrook shared a now-deleted video titled "BYE SISTER" — a reference to Charles's signature video intro, "Hi, sisters!" — in which she very publicly ended her friendship with Charles, who she'd previously considered a mentee and had collaborated with on many occasions. The friendship breakup was prompted by a gummy vitamin scandal (yes, really), but Westbrook also went on to make some sexual misconduct allegations against Charles.
She alleged in her video that Charles regularly goes after straight men with the intention of manipulating their sexuality. "You tried to trick a straight man into thinking he's gay, yet again, and somehow you're the victim," she said. "You're using your fame, your power, and your money to play with people's emotions." Westbrook then recounted a birthday dinner in Seattle, attended by Charles, where she said he had made sexual comments about a waiter and joked that the waiter's sexuality didn't matter because "I'm a celebrity."
The waiter in question, who Westbrook had mentioned anonymously, made his own now-deleted video telling the story from his perspective, saying that he had reached out to Charles because he was bicurious at the time, and that after he realized he was straight and said so, Charles told him in messages that he wasn't. YouTuber Gage Gomez, who had been Charles's Coachella date, also made a now-deleted video at the time, claiming that he'd been harassed by Charles, despite telling him he was straight and wasn't interested in dating him.
The infamously controversy-ridden beauty influencer Jeffree Star also chimed in, tweeting and deleting a confirmation of Westbrook's version of events, and claiming Charles was a "danger to society."
Which brings us to Charles's first big apology video, "No More Lies." In it, he apologized to Westbrook but went on to defend himself from her claims. "I have never, and would never, and will never, use my fame, money, or power to manipulate or get any sexual actions from a guy. That is disgusting, it is not me, and the fact that Tati brought this up blows my mind." He shared screenshots that he believes disproved Westbrook's allegations. He addressed his interest in straight men by showing a clip from a video Star had made. "I do take full responsibility for sending these messages, and this situation has definitely taught me that sending messages that are so forward and direct like this are unacceptable, and I no longer will do that moving forward."
Following "No More Lies," Charles's follower count started to rise again, and after taking a break from posting online, he made his comeback in June of 2019.
.

When Jeffree Star was canceled, James Charles was seemingly forgiven
In April 2020, Star resurfaced allegations against Charles: On an episode of the podcast "Mom's Basement," he claimed he had a voice memo from one of Charles's alleged victims. He allegedly played the recording for the hosts in a separate room, but it didn't air on the podcast. But this put the spotlight on Star's own past misconduct allegations — a laundry list of allegations including racist behavior and sexual assault — and despite an attempt to apologize, backlash against him went into full force.
In June of 2020, amid a host of allegations against Jeffree Star and Shane Dawson — the former "king of YouTube," who managed to transition from his roots in racist sketch comedy (his early characters included a Black woman character named "Shanaynay," for which he wore blackface and used the N-word, and a Mexican woman he called "Guadalupe/Fruit Lupe") to a popular documentary series and a beauty collab with Star — Westbrook posted a new video called "BREAKING MY SILENCE …" in which she apologized to Charles and retracted the allegations she had made.
In the teary video, Westbrook claimed that Star and Dawson had manipulated her into making "BYE SISTER," and that she was gaslit into believing the allegations against Charles. With all the heat off of him, and on his original accusers, Charles's reputation was repaired, and he was widely seen as the victim in the situation.
In the year since Westbrook's first video, Charles had begun befriending and collaborating with popular TikTokers, including the D'Amelio sisters and other Hype House members, including Tony and Ondreaz Lopez, widely known as the Lopez Brothers. On June 21, 2020, a Twitter user posted a thread claiming that they had been sexually assaulted by Ondreaz Lopez, an allegation Lopez has denied. The next day, Charles posted tweets that many perceived as being in defense of Lopez due to the timing and their friendship:
The tweets didn't receive much backlash at the time; when Westbrook posted her video soon after, any attention that had been paid to them faded away, then gave way to Charles's many mini-scandals of 2020 — mild for influencer standards, including maskless partying and shady insults to celebrities.
.

Early this year, James Charles was accused of grooming underage boys
In January, Tony Lopez was accused of sexual assault in a lawsuit. In a statement to Teen Vogue, he denied the accusations via a representative, saying in part, "These allegation are not at all true. I never sent nudes to these women and didn't ask them to send me pictures either." The allegations against his brother Ondreaz resurfaced, and more allegations about both brothers' misconduct circulated more widely on TikTok and Twitter. That's when Charles began facing criticism for what many perceived as his defense of Ondreaz Lopez. Soon after, Charles was facing allegations of his own.
Multiple underage boys started posting stories about Charles, primarily on TikTok. In January, Charles tweeted vaguely that social media apps "should have stronger policies about spreading false information … it's actually insane how one person can fake a story or screenshot for clout." It's unclear what, exactly, he was referencing.
In February, a 16-year-old boy, Isaiyah, accused Charles of grooming him in a pair of TikToks, claiming the influencer had sent him nude photos and requests to send photos in return. The TikToks circulated widely before being deleted for violating guidelines, and Charles immediately responded with a notes app statement denying the allegation, and saying that the boy had lied about his age. Isaiyah replied to the statement, saying Charles had never asked for his age:
Almost immediately after Charles posted his statement, more alleged victims spoke out. On February 27, a 17-year-old boy accused Charles of flirting with him even after he said he was 17, and another fan accused him of sending manipulative, aggressively sexual messages in 2019, and claimed the interactions occurred during the scandal with Westbrook.
After posting his Notes app denial, Charles went back to his regularly scheduled social-media posting. But if he was ignoring the accusations, others weren't: A prominent critic was TikToker @sillygeorgie, who shared updates on Charles's behavior, including a TikTok accusing him of flirting with a 16-year-old in his TikTok comments:
Then, at the end of March, two more 16-year-old boys shared screenshots of messages they said they received from Charles. In the first, Charles seemingly accused the boy of lying about his age, and was upset with him for sharing screenshots of their conversation in his story. The now-deleted second TikTok seemingly shows screenshots of inappropriate snaps Charles sent to the boy.
On April 1, Charles uploaded his apology video, which addresses and confirms just two of the alleged interactions between himself and underage boys, and doesn't specify which two beyond referencing the time frame. He concluded the video with an apology to the victims and an acknowledgment that the situation was caused only by his own actions, saying that he now understands the root of the problem. He's now taking time off social media to "reflect and further educate myself on these topics." Charles also vowed never again to use social media for dating:
"I am making a promise to all of you right now, on camera, that I will be way more careful moving forward with every single person that I speak to. My "For You" page and Explore page are not dating apps, and I will stop treating them as if they are."
Let's hope he means it.