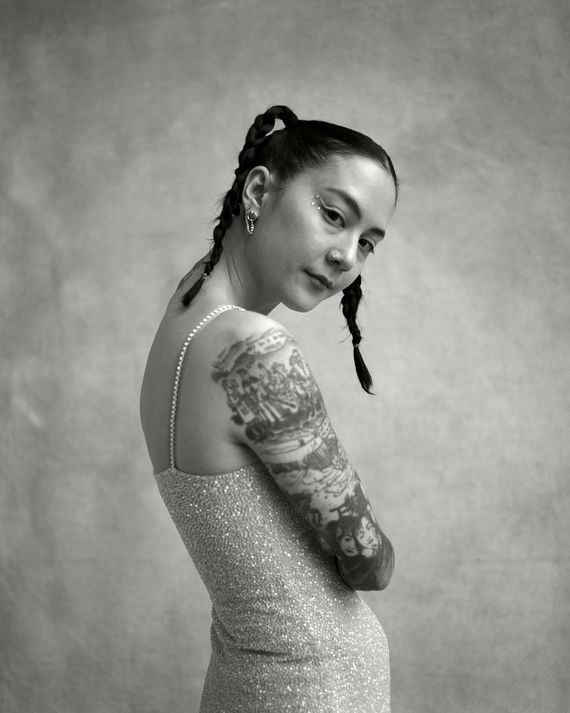 The singer and author Michelle Zauner is entering a season she's dubbing "banchan ajumma" summer. Banchan is the word for the small, assorted side dishes served alongside Korean entrees; ajumma is a maternal middle-aged Korean woman — a madam, if you will. "You know what we need to do?" Zauner says, mid-kimchee bite, at the restaurant Cho Dang Gol, tucked away three blocks above the main hub of New York City's Koreatown. "There needs to be a circle of women who make banchan, like a potluck." Better yet, she says, make it a summer retreat where all we do is pickle and marinate assorted vegetables.
At all of 32 years old, Zauner jokes she is ready to retire for the banchan-ajumma lifestyle. The front woman of indie-rock band Japanese Breakfast and the author of the just-released best seller Crying in H Mart is coming off a whirlwind spring. When we meet, she is suspended between two press cycles: Her debut book has been out in the world for two weeks, and her new album, Jubilee, the band's third, is due in a month. The album marks a slight sonic shift for Japanese Breakfast, but the book is a stratospheric one for Zauner's career — a cultural talk of the town. On this May morning, sitting in an outdoor-dining hut reminiscent of a traditional house in a Korean village, we're keeping things humble and old school: a lunch-special order of kimchee biji (a kimchee-and-pork soybean-curd stew that has a slightly more acquired, tofulike taste than your average jjigae) and haemul pajeon (seafood pancake). After spending the past several years working on her twin babies, "it's a wonderful time for me," Zauner says, looking enviably relaxed in baggy blue jeans, a black top, and a black leather jacket. She makes a whooshing sound. "I have space for so much now."
Zauner's memoir is an extension of her acclaimed 2018 New Yorker essay of the same name, which used her relationship with Korean food to trace her grief over her mother's death and the ways in which she questions her half-Korean identity. There's a misconception that Zauner was inspired to expand her essay into a book, but she already had several chapters of the memoir finished years before she submitted its first chapter to New Yorker culture editor Michael Agger. The book debuted at No. 2 on the New York Times' nonfiction best-seller list. It chronicles Zauner losing her mother to cancer in 2014; starting her own family with her husband, Peter Bradley (also her bandmate); finding new love for Korean cooking with the help of YouTube star Maangchi; and becoming overwhelmed with emotion in the aisles of the titular Korean American supermarket chain. It received high praise from critics and readers. Zauner writes with feelings that "radiate off the page," NPR's Kristen Martin wrote.
Zauner formed her first band, Little Big League, in 2011, before starting Japanese Breakfast in 2013. Japanese Breakfast's first album, 2016's Psychopomp, was also a meditation on her mother's death. Jubilee is bigger, poppier, and synthier than her previous albums — something dance-floor ready, for whenever that comes back. (Just listen to the bouncy single "Be Sweet.") In a 2018 KEXP interview, Zauner spoke about the strangeness of talking about her debut album: "It was really difficult to tour on Psychopomp for a year and do the press cycle and talk to people three or four times a day about my mom dying." It's a cycle that's repeating itself now. The subject matter of her book still colors every interview. "I'm confused because the interviews talk about both projects seamlessly, and I don't know if they're helping or hindering each other," she says. "I'm looking forward to having a simpler conversation when the album comes out."
Reading and listening to Zauner's projects at the same time, though, I've only gotten a more complex understanding of her — someone who is still vulnerable and hurting, whose mother's death has hung over her young adult life. But also someone who is excited by possibility, especially when it comes to her art. Her narratively connected music videos "Posing in Bondage" and "Savage Good Boy" — the latter of which stars The Sopranos actor Michael Imperioli — explore vampiric themes. The cheekier "Be Sweet" spoofs The X-Files. She is currently working on a video-game soundtrack and thinking about her next book.
Zauner is also incredibly amusing, both on the page and in person. With a serious face, she picks up a coveted piece of radish kimchee. "Would you be devastated if I eat this?" she asks. There are many droll observations about Korean culture in Zauner's book; I bring up a part where she writes about how in Korea, compliments on her physicality revolved around her small face — a specifically Korean obsession. Zauner laughs and tells me that just the night before she was at a dinner with a group of fellow Korean women, and she pulls out her phone to show me a selfie they took together. Zauner is standing front and center. "They were like, 'You, small face, in the front!'" Her voice booms for dramatic effect.
Much like in her book, Zauner uses Korean phrases while speaking English. She doesn't speak the language fluently, but her pronunciation of Korean words could fool even a native speaker. She throws in an aigoo here and there (a word that is interchangeable for "oops" or "aw, jeez"). She has different levels of "mmms": the kind that prods me to keep talking and a higher-pitched kind that escapes when she takes a bite of an especially fermented piece of kimchee. Her "oh!" leans closer to an "uh!," which can be a casual "yeah" or "huh?" in Korean. At one point, a huge fly wanders into our dining area and Zauner gasps and yells, "Ga! Joogeuelleh!," threatening the insect's life with a shoo. That's some banchan-ajumma shit.