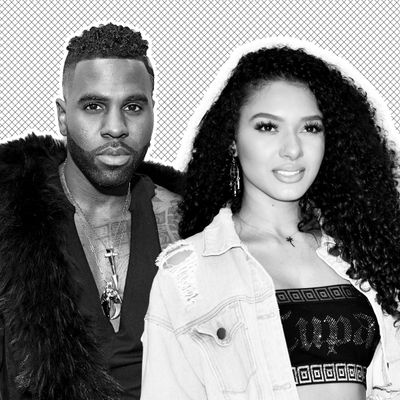 Photo-Illustration: by The Cut; Photos: Getty Images
Singer Emaza Gibson has accused Jason Derulo of quid pro quo sexual harassment, NBC News reports. In a new lawsuit filed in Los Angeles and obtained by the outlet, 25-year-old Gibson alleges Derulo reached out to her with the promise of a record contract, then subjected her to "aggressive behavior, unwanted invitations," and "implications she'd have to have sex with him" to advance her music career. Gibson — who is also seeking damages from Derulo's record imprint Future History as well as Atlantic Records — claims Derulo dropped her deal after she rejected his advances. "I have anxiety, I'm traumatized. I've dealt with inhumane work situations," Gibson told NBC in an interview. "I'm at this point where I'm back to zero and I have nothing."
Gibson is best known for her part in now-dissolved L.A.-based R&B girl group Ceraadi, which she performed in alongside her sisters Saiyr and Znui Gibson; the group was signed to Jay-Z's Roc Nation label in 2019 before splitting up in 2021. In her suit, Gibson claims that Derulo reached out to the group with an invitation for a work session and reached out to her again as a solo artist in April 2021 for a joint venture between Atlantic Records and Future History. Per the suit, the terms of the deal required Gibson to create a mixtape in four months and an album in six, along with a single featuring Derulo, to be presented for Atlantic Records executives. She says she and Derulo began working with each other in studio sessions, where he allegedly pressed her for drinks and dinners at members-only lounges. After declining several times, Gibson says she accepted an invite to have a drink with Derulo at his studio sometime in September 2021; while there, she says he gave her "inappropriately large amounts of alcohol" and pressured her to drink even after she told him she "wasn't a big drinker." Gibson says she told Derulo she wasn't willing to compromise her morals, at which point the musician allegedly told her she might have to partake in "goat skin and fish scales" to achieve success — apparent slang for "rituals involving sex, goat sacrifices, and blood," per Gibson's suit.
Gibson's suit also alleges at least two verbal outbursts on Derulo's part. The first alleged instance took place at a meeting with Atlantic Records in New York City in November 2021, where Gibson says Derulo extended a last-minute invitation to another musician, Rosa. Gibson says Derulo showed Rosa's music to the executives and that Rosa privately implied to Gibson that she and Derulo were having a sexual relationship. In her suit, Gibson recalled telling Derulo's manager she was "thrown off guard" by Rosa's attendance, prompting Derulo to hit his armrests and scream, "'What does she have to do with you!? We weren't going to tell you anything! We don't have to tell you anything!" at her. Gibson claims her deal was signed after the meeting but that Derulo neglected to assign her a project manager and either dismissed or ignored several of her work-related messages, allegedly telling her he could "always get new records." Gibson's suit also states that Derulo charged at her in front of her mother and staff members at a Los Angeles recording session in 2022. "I had to step back … my hand just clutched my chest, because I was, like, I've, I've never been approached this way by anybody," Gibson told NBC.
After the incidents, Gibson says she was ultimately dropped by both Atlantic and Future History in September 2022 and that efforts to report Derulo's alleged misconduct to Atlantic's HR department went unanswered. She is seeking damages from the defendants over sexual harassment, breach of contract, a failure to remedy workplace harassment, and violation of California's civil rights act.
For his part, Derulo released a statement via Instagram, denying Gibson's "false and hurtful" allegations. "I stand against all forms of harassment and I remain supportive of anybody following their dreams," the musician said in a video. "I've always strived to live my life in a positively impactful way, and that's why I sit here before you deeply offended by these defamatory claims. God bless."
The Cut has reached out to both Derulo and Atlantic Records for comment. We will update this post when we hear back.