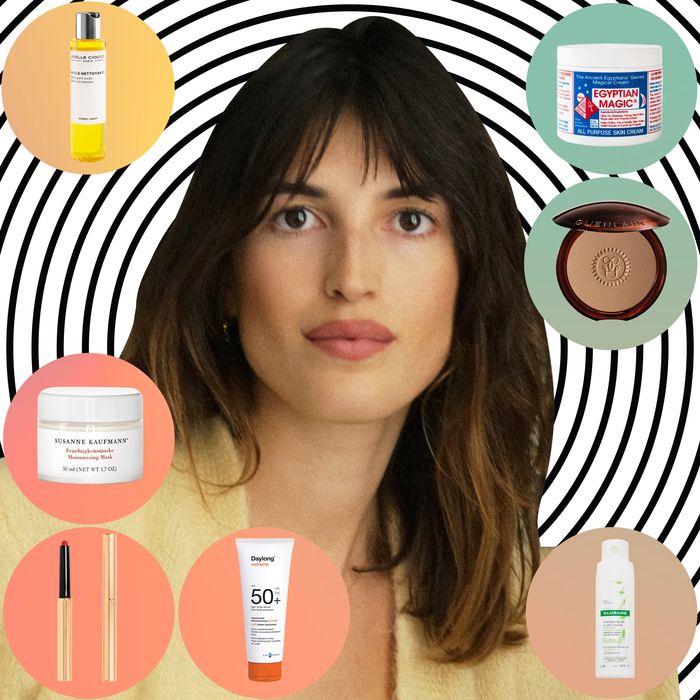 Photo-Illustration: by The Cut; Photo Courtesy of Jeanne Damas
On the Beauty Group, a Facebook community co-founded by the Cut and the Strategist, people chat all day long about the products they love — the ones so good they'll make you hit that little "auto-refill" box at checkout. Below, we asked one of our favorite beauty pros to share her own selections.
When the Cut spoke with Jeanne Damas in 2014, the model and entrepreneur said she couldn't live without red lipstick. Two years later, when she founded her own clothing line, Damas named it Rouje, as in rouge, French for the color red — the j is for Jeanne. Two years after that, when Rouje launched its beauty line, the brand offered a gradient of reds, all meant to be touched, mixed, and layered. "Almost everything that you can think of already exists in the world of makeup, and I didn't want to do something just to do something," remembers Damas. "Rouje products are simple but versatile; women can mix their own shades, highlight what they want, and play with the intensity as they like. They allow you to apply in a playful, practical, and easy way."
Damas is not one for trends; once the founder finds something she likes, she tends to stick with it. "Same thing as clothes: Once you find a look that you like and are comfortable with, you don't need to change it all the time," she says. "I like to have a signature look and stick to the same products." Plus, she never wants to appear "overly polished." It's why she goes minimal on the makeup, save for a red lip, and focuses mainly on skin care. Among her vanity, you'll find Biologique Recherche's P50 (which helped heal the hormonal breakouts that erupted when she stopped taking the pill after eight years), Joëlle Ciocco's Nourishing Elixir (she's a faithful client of the Parisian "skin guru" and promises all of her products are "amazing"), and Dr. Georg's Premium Coconut Oil (which she loves for both her face and her body).
Below, 11 more products Damas uses to the very last drop, including the beauty tip her mother shared with her, the gel she uses to create a natural, feathery brow look, and the red lipstick she's currently reaching for.
The Shampoo
"This is a very gentle shampoo. It's perfect for frequent use — and I love the smell of honey. Leonor Greyl creates some of my favorite hair products. I also love their Algues et Fleurs Curl Enhancer Styling Spray to create a wavy hair effect."
The Lip Crayon
"This is our new lip product. It's creamy but very matte and easy to apply. I especially love the Louise shade, which is an orange-red."
The Brow Gel
"I love natural eyebrows. I like to see the little imperfections, and I prefer when the eyebrows are brushed upward. This gel is the best for that look."
The Bronzing Powder
"There is nothing better than this iconic powder to give you some color in the wintertime. I prefer the shiny ones as they give a certain glow and aren't matte. I use the powder on my forehead, chin, and cheeks — especially on the cheeks to give a bit more structure to my face."
The Sunscreen
"The best beauty secret my mother has given me: Protecting your skin from the sun can replace any antiaging cream or surgery. Replace all antiaging creams — except the one by Augustinus Bader!— and use SPF 50-plus all year long. It's quite simple, not to expose your skin to the sun, or only very little, as it helps slow down the aging of your skin. Test it with two fruits: Put one into the sun and the other into a shadow, and you will see. I like this product as it's active for eight hours, is unscented, and for SPF 50, is not too thick."
The Moisturizer
"I think this is one of the best creams ever. The texture is incredible, and you can see the results after just two weeks of use. It really took away little wrinkles and smoothed my skin. I like to mix the cream with my serum at night and massage it onto my face."
The Cleanser
"This has been my go-to face cleanser for years. I love the texture — it's very gentle and barely scented. It's very easy to massage onto your skin before rinsing your face. I feel really lucky that I'm able to get a facial massage twice a year at Joëlle Ciocco's institute — ask for Christianne, a real magician!"
The All-Purpose Balm
"I discovered this product through makeup artists I've worked with on shoots. It completely hydrates your skin and lips and also gives a bit of shine to areas such as eyelids or cheekbones."
The Face Mask
"I use this mask twice a week. After applying, I keep it on overnight. The next day, people always tell me that I have a nice glow and that my skin looks more refreshed. Plus, the smell is very discreet."
The Lip Palette
"I designed this palette, and it's basically all I ever need for makeup — some color on the lips and cheeks and a little bit on the eyes. I apply it with my fingers to create a blurry effect."
The Dry Shampoo
Photo: Courtesy of the Vendor
"When you have thin or easily greasy hair, this dry shampoo is essential, especially if you're traveling a lot or if you're a mom and have to give yourself a quick freshening up."