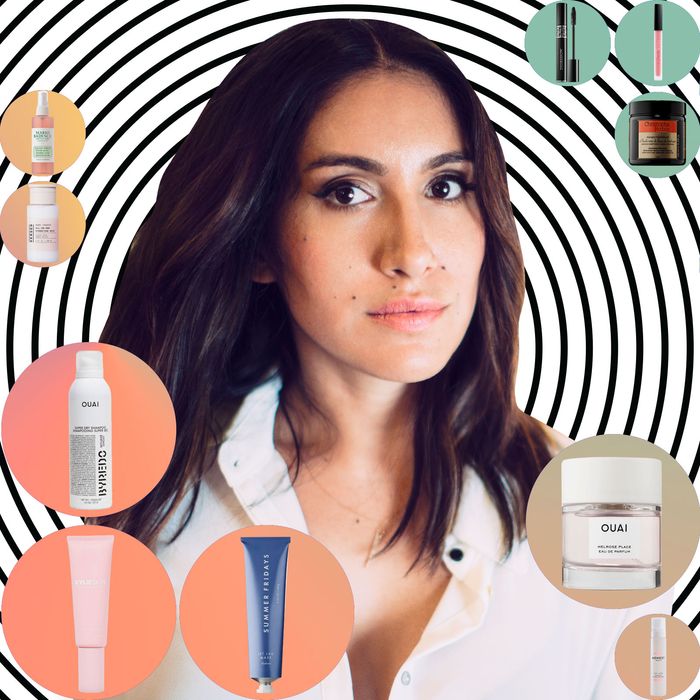 Photo-Illustration: Photo: Courtesy of Jen Atkin / Image by The Cut
On the Beauty Group, a Facebook community co-founded by the Cut and the Strategist, people chat all day long about the products they love — the ones so good they'll make you hit that little "auto-refill" box at checkout. Below, we asked one of our favorite beauty pros to share her own selections.
In late 2019, Jen Atkin slid into Byredo founder Ben Gorham's DMs. She's happily married to photographer Mike Rosenthal, so this was about a collaboration.
Atkin, once dubbed "the most influential hairstylist in the world" by the New York Times, met Gorham at a dinner in Los Angeles years ago. "Byredo has been on my mood boards since day one, and I've used — hoarded! — the product for years. They're always in my bathroom or around the house, so to say the synergy was there is an understatement," she says. In the end, the duo decided on combining OUAI's Super Dry Shampoo and Byredo's Mojave Ghost fragrance for a limited-edition run.
The perfume was inspired by a pale, blooming flower called the ghost, which grows in the Mojave Desert. It's bold, with crisp notes of pear, pepper, and sandalwood. The hairstylist describes it like "a soulful sunset in the desert" — the perfect gender-neutral scent to carry in your hair. It's so good, Atkin says, you should avoid using it too much. "I promise you will cry when it runs out, and you can't get it again."
Atkin is a big believer in collaboration over competition. "[Fellow hairstylist] Serge Normant gave me advice that I've carried with me closely ever since because it really spoke to me," she remembers. "It's basically that there is room for everyone in this industry. It's such a waste of time comparing yourself to what others are doing, being threatened by someone else's success. It's only going to help you to lift each other up."
It's also why she eagerly supports beauty endeavors by her friends — a list that includes names like Kylie Jenner, Marianna Hewitt, Lauren Gores, Shani Darden, Kim Kardashian West, Anastasia Soare, Emily Weiss, Jessica Alba, Huda Kattan, Dr. Barbara Sturm, and Camila Coelho.
When building your own beauty arsenal, the hairstylist suggests starting with the basics. "It's so important to understand what you actually need versus just spending blindly and frivolously. Get a professional opinion, like a dermatologist, if you need to," Atkin says, adding that "trying a product once or twice won't give you the full effect. It's best to stay consistent with a routine for a few weeks to see how your hair, face, or body reacts to it — unless of course you have a crazy reaction to something, then definitely step away and throw it out immediately."
Below are 21 of the products that she can't get enough of, including ONE/SIZE by Patrick Starrr's Go Off Dissolving Mist ("This actually gets all your makeup off, without having to take extra measures"); Koko Kollection by Kylie Cosmetics Matte Liquid Lipstick in "Allergic to Bullsh*t" ("I'm a makeup snob, and this is one of the best products I've ever used, hands down"); and Dr. Barbara Sturm's Hyaluronic Acid ("One of those things I would take to a deserted island if I could only choose three — it's popular for a reason!").