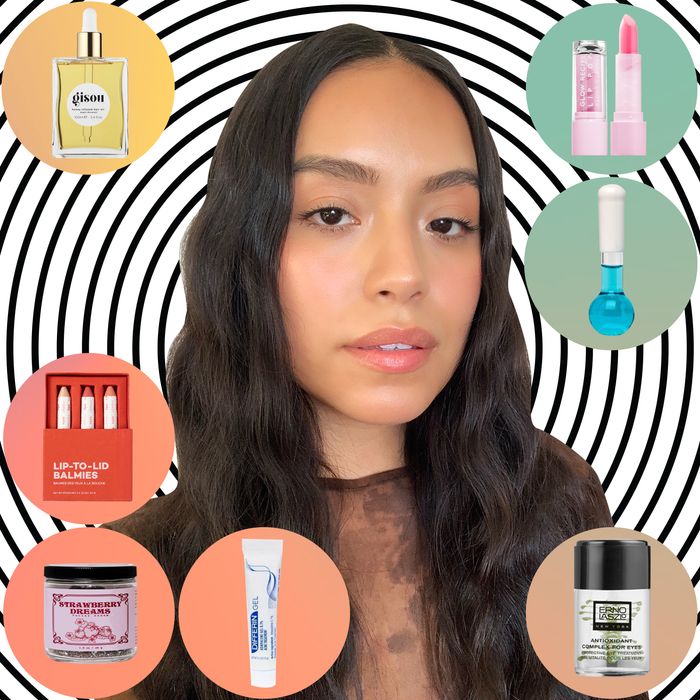 Photo-Illustration: by The Cut; Photos: Courtesy of Jessica Monzalvo, Retailers
On the Beauty Group, a Facebook community co-founded by the Cut and the Strategist, people chat all day long about the products they love — the ones so good they'll make you hit that little "auto-refill" box at checkout. Below, we asked one of our favorite beauty pros to share her own selections.
As an aesthetician and makeup artist, Jessica Monzalvo knows the importance of taking care of your skin. But when she decided to launch her beauty brand, Skin by Jem, she wasn't thinking about the work she'd done at the Victoria's Secret Fashion Show or on YouTube star and pop singer Poppy. She was thinking about her grandmother.
"The concept of beauty was introduced to me by my abuela — her teachings and acts of self-care are something that I hold dear," Monzalvo says. "Mexican households are known to have natural remedies that help ease anything from headaches to acne through herbalism, and I take those same principles and incorporate them into SBJ products. My grandmother had many favorite herbs that she liked to use, and I feel so fortunate to be able to honor her in this way."
As a company founder, Monzalvo feels it's her job to lead with intention in an often under-regulated industry. "It's a famous, and cheesy, quote, but it's true: With great power comes great responsibility," she explains. "I have realized that my job is more than just creating skin-care products that work; I have to educate myself and my team on sustainability."
That involves rethinking her own purchasing patterns as well. At one point, she says, she was applying more than 20 products — a combination of K-beauty and makeup — daily. "Young Jess was ready to spend her coin on any trendy new thing, only to be disappointed, while older Jess takes her time researching what she's buying and why." These days, she's especially thankful for multitasking products. "I'm a mom and entrepreneur, so time is of the essence. I can use my mascara as a brow gel, and my face oil as a moisturizer — it's an auto-refill for sure."
Below, Monzalvo shares the beauty products that she comes back to time and time again, including the zero-waste crayons that give her a "J.Lo glow," the hair mask that doubles as a leave-in conditioner, and the "life-changing" tool she reaches for after a sleepless night — and make sure to join The Beauty Group for exclusive discounts to shop her picks.
The Face Oil
"Papaya Glow is my go-to product when my skin lacks luster. It was inspired by my frequent trips with my grandma to the market, where we would enjoy a fresh bowl of papaya together, in Mexico. It has no smell to it and is formulated with papaya-seed oil, which has natural papaya enzymes that support skin-cell turnover to reveal the glowy skin beneath. I love that I can use Papaya Glow on my face and body and as an oil-cleansing treatment to remove my makeup.
Serums and oils are two different things but are sometimes marketed as the same, which is a pet peeve of mine — any brand that claims a face oil as a serum is a no-no for me. I just feel that using the terms interchangeably is misleading to the consumer, especially when the main priority of a brand should be to educate their customers on what they are buying and why it's beneficial for their skin. That said, Papaya Glow is a true oil with an oil-like consistency. Since it contains high levels of linoleic acid, it's great for all skin types, especially those who are acne prone, and absorbs easily into the skin.
Just note Papaya Glow is currently sold out, but we're working to restock it. (You can join the waitlist here.)"
The Nail Polish
"The perfect sheer pink shade for when I don't want to splurge on getting my nails done but still want a little something on. I love that I can wear it longer than a week and not worry about the chips since it's pretty clear."
The Concealer
"The brightening agents in this concealer — caffeine and pink algae — make it the perfect match for my under-eye area. I use shade 7.5, which has a warm undertone to cancel out dark circles, and then layer a little 6.0 on top for brightness. Its creamy formula glides on so effortlessly and does not crease. I personally like to skip the brush and use my fingers to blend it in for an all-day wear."
The Multiuse Crayons
"A year in, I am still so in love with these Balmies! They are zero-waste adult crayons that can be used on your lips, cheeks, and lids. The vegan-formulated set includes two beautiful matte shades and a shimmer finish balm that I love to use as a highlighter — I apply it on the high points of my face and décolletage area when I'm feeling fancy. I also love mixing the shimmer shade in 'Champagne' with the shade 'Peach' and applying it to the apples of my cheeks for that J.Lo glow."
The Hair Oil
"This oil is so luxurious, from the bottle to the honey smell. It's infused with honey to maintain your hair's natural moisture. I love how shiny it leaves my hair and that I can use it as a pre- or post-styling product. It's perfect for fine to medium hair types."
The De-Puffing Tool
"Ice globes have always been my favorite way to de-puff my skin. The size of these is perfect to comfortably treat my under-eye area when I'm sleep deprived or after eating my favorite ultrasalty comfort food, pho. I place them in the freezer ten minutes before I use them, and they are supercool to the touch. Using them in the morning is sure to wake you up."
The Eye Cream
"After testing a long list of eye creams, I finally found one that works. It's formulated with mulberry extract, which is known to help to remove dark spots and discoloration. The gel-like consistency is so refreshing, especially if you leave it in your fridge overnight."
The Facial Steam
"When I need a skin reset, this is it! After cleansing my face, I add one to two tablespoons of Strawberry Dreams to a bowl of hot water and drape a towel over my head to enjoy for ten to 15 minutes while taking long, deep breaths. Its steamy essence promotes blood circulation and opens up your pores for a deeper detox. The antioxidant-rich formula is derived from natural ingredients like strawberry leaves, hibiscus flowers, ashwagandha, and jasmine green tea. These herbs collectively help combat free radicals that cause damage to skin cells, control acne breakouts, and promote firm, youthful skin.
I purposefully created this steam with the intention of encouraging people to slow down, since you have to consciously make time for it. This practice allows you to fully focus on yourself while enjoying all of the benefits that come from steaming, such as increased blood circulation, detoxing the skin, and loosening any buildup of dirt for a deeper cleanse. I personally use it two times a week and follow it with our Rosa Clay Mask and Papaya Glow [above]."
The Retinol
"I use Differin three times a week by mixing it into my face oil to stop new acne from forming. I didn't experience the retinol uglies since I was knowledgeable on the use of retinol before incorporating it into my routine, but for anyone new to the product, I recommend easing into it by mixing it into your facial oil to lessen sensitivity. I've noticed a significant difference in my skin tone and texture since I started using it last year. It's game-changing!"
The Lip Balm
"I was never a lip-balm gal, let alone a lip-scrub gal, until I tried this one. This no-rinse scrub-to-balm formula exfoliates, hydrates, deposits a pop of pink color, and smells insanely delicious. I find myself applying this lip balm hour after hour, and it leaves my lips supersoft!"
The Hair Mask
"This is a new favorite. My hair tends to be on the drier side, and this mask replenishes its hydration with white-clover honey and mallow extract. It also rebalances the moisture content of the hair shaft, leaving my hair super-supple. It's a great buy for medium to coarse hair types, and I actually use it as a leave-in-conditioner every day."