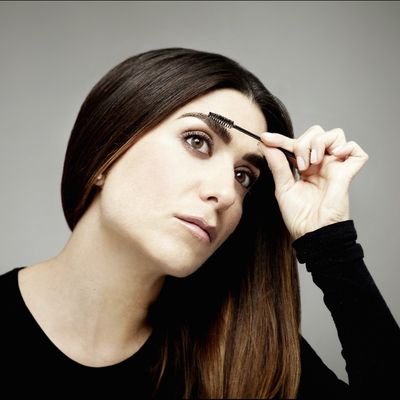 Chanel brow artist Jimena Garcia's career journey began with her studying art history and fine art at places like the Met, Parsons, and the Connecticut Institute of Art. This love for creativity later evolved into an appreciation for the world of beauty and a desire to help others feel more confident via "framing faces." After attending beauty school, she landed a job that changed her career in 2010 at Ten Over Ten. "I got to watch firsthand two brilliant women build something huge because they believed in it," she says. "I also met some of the most amazing clients I have been working with for years."
In 2019, Garcia became Chanel's first-ever brow artist and hasn't looked back. "I get to learn from the rawness and realness my clients share with me," she says of how they keep her going to this day. "It reminds me that we are all just humans, perfectly imperfect. I've seen some of my clients for over 20 years and watched them grow and evolve, make mistakes, and recover. My confidence comes from the humanity I encounter daily."
Additionally, the self-assurance in her path comes from her upbringing. "I like to think I have a global perspective on beauty and with that comes an acceptance for being in my skin just as I am," she says of growing up in a Latinx household between Australia and NYC. "I know that simply being myself is the most beautiful I can be." And feeling her best comes with solid beauty and wellness routines, of course. For Garcia, that includes breath work, nightly baths, weekly hair masks, and more. "Respecting and nurturing yourself is integral to how you choose to participate in the world," she says. "And it feels damn good."
.

Here, Garcia's a.m. routine:
5:45 – I'm an early riser. The first thing I do is light rainforest incense from Maroma — the aroma reminds me of my mother and helps me set my day. If I need a more cleansing vibe, I'll burn Palo Santo or Sage. Then I tap my singing bowl three times — this immediately changes the vibration in my mind and my space and signals the opening of my day.
6:00 – I try to oil pull often (Keeko packets make it easy), but I'll be honest: I really only do this about five days a month. I floss, brush with my Bully toothbrush and Marvis toothpaste, and rinse with Aesop mouthwash that comes in the chicest bottle that is reminiscent of a beaker from chemistry class.
6:15 – I make a cup of fresh celery juice. This has changed my life in so many ways. I highly recommend reading this book if you're at all interested. After that, I have the Sakara Beauty & Detox Drops, which are packed with minerals that help our bodies actually receive and retain hydration. After all this hydration it's time for a little matcha — obviously, CAP Beauty's Matcha reigns supreme. It's perfectly balanced and provides smooth sustained energy. If I'm in L.A., I like to mix it with almond milk from Erewhon, and if I'm in NYC, I mix it with the homemade nut-milk blend from Cafe Integral.
7:00 – If I'm not heading to hot yoga, I take a shower. I always keep eucalyptus from the farmer's market in my shower. It steams up and the aromatherapy is next-level divine. For shampoo and conditioner, it's Crown Affair for me, unless I'm blow-drying, I use Pantene Pro V (sorry, not sorry). Another must from Crown Affair is their towel that protects hair when it's at its wet and looks very chic on. Once a week, I also do an argan-oil hair mask.
7:15 – For hair, my Mason Pearson brush is a must. It has the perfect blend of bristles, it's gentle, and the pocket size is ideal for taking everywhere. If my hair is wet (post-shower or beach) I rely on the Yves Durif brush which also comes in a petite size that's great for on-the-go.
7:20 – Post-shower, I spritz on the Chanel Hydra Beauty Essence Mist. This is the most magical product, I use it all the time — it energizes, hydrates, protects, and gives a major glow. Then I apply the Sublimage L'essence Fondamentale Yeux eye serum — it's rejuvenating and stimulates hair growth. It contains an ingredient called Planifolio derived from the vanilla bean and has major anti-aging and regenerating benefits.
7:22 – I then apply the Concentrate from La Mer. This is one of those products that I wish I'd never been introduced to because now I can't live without it. It makes your skin feel like silk and it heals everything. Next, I apply N°1 De Chanel: This line contains 97 percent naturally derived ingredients and has a low carbon footprint. I adore this whole line; not only does it feel great on the skin, it feels good to use something made with such intentionality.
7:24 – The final layer on my face is the Physical Fusion UV Defense SPF from SkinCeuticals, it's just the best (I also love that you can get it tinted or untinted).
7:26 – Once my face is done, I apply the Firmante Oil from In Fiore. This oil stimulates the lymph with horse chestnut which reduces swelling and stimulates circulation. Beyond that, the scent and feel inspire me to practice self-massage.
7:28 – When it comes to makeup, N°28 from Hourglass is the best primer for a dewy look. Chanel Fluide Enlumineur is great mixed in with foundations for glow. Ilia's Super Serum Skin Tint is the bomb — it has SPF and it literally feels like you're wearing nothing. If I want more coverage, I go with Giorgio Armani Luminous Silk Foundation. Saie Beauty Hydrabeam Concealer is natural, hydrating, and brightening — what more could you want? Guerlain Bronzer has loads of tones and creates a really rich and sun-kissed look. Jillian Dempsy has the most amazing cheek tints that offer the perfect pop of color.
7:38 – And I love Westman Atelier's Eye Love You Mascara. And it's natural. When it comes to lip products, it's only Chanel for me. Whether it's liner or gloss or lipstick, they do it the best. Simply no one else compares. Chanel Brow products are also superior. I particularly love the Boy de Chanel brow products that come in beautiful matte tones that mimic real hair.
7:43 – I also love that they have a large range of tones to choose from, including gray. If I'm in need of a superstrong hold, I opt for the Surratt Pomade. Mac's Prep+Prime Spray is my tried and true setter. I swear your makeup will hold till the following evening with this stuff if you want it to. I am deeply devoted to all of Chanel's makeup brushes. They've refined and mastered each brush, and they are exceptional. Face Stockholm's Cake Liners are so fun to play with and can line the inside or outside of the eye. Pat McGrath makes the most fun colorful mascaras if you're feeling playful. And Violette's eye shadows are perfect for flirty, fun, and funky vibes.
7:53 – Last but certainly not least, I like to add a bit of Chanel N°5 Hair Mist if I'm heading out. Chanel N°5 was my first perfume so it holds the most special place in my heart.
.

Garcia's p.m. routine:
8:30 – Every day wraps up at a different time, but when I'm ready to unwind, I like to pour a cup of tea from the Art of Tea and draw a bath. I'm obsessed with baths. I met Mama Medicine a few years ago and she gave me her book which I absolutely treasure — it's like a little book of sorcery.
9:00 – I always double-clean. Tata Harper is forever an icon to me when it comes to natural beauty and I always start with her Nourishing Oil Cleanser to pull everything out of my skin. My second cleanse is with the N°1 de Chanel Powder-to-Foam Cleanser which provides a rich lather that leaves skin feeling clean yet supple.
9:05 – The next step is the Retinol Serum from Agustinus Bader. Agustinus created a proprietary blend of amino acids, vitamins, and peptides which are included in this formulation to really boost cellular renewal. If I'm not using that, I apply the Plump Jelly from Moon Juice which is a really wonderful hyaluronic.
9:07 – Then I apply R Brow, a brilliant creation that acts as a brow mask and has an applicator that massages and stimulates brow growth. And I can't forget my lips — I use the Lip Mask from Make Beauty for intense hydration and the perfect pout.
.

Garcia's p.m. routine:
.

The beauty-marketing ploy that makes her cringe:
I struggle when I see someone super-young touting the importance of using anti-aging products. First off, we need to reorient our perspective on aging: It's not about trying to avoid it at all costs, it's about doing it with grace and enjoying the beauty in it. Secondly, I want to see older faces and bodies represented and celebrated.
.

On the beauty industry as a whole:
I'm proud of the changes I'm seeing in terms of representation. It's helped me feel more comfortable being myself. That said, we have so much further to go and I hope we'll continue to see more bodies, more faces, more ages, more colors, more quirks, and, of course, more unibrows. Right now, I especially want us to retrain our brains on aging. It's bad. We need to embrace this shit. We need to retrain the eye to see it, to feel comfortable with it, and to love it. If we saw more aging, we'd be more comfortable with it, so I want to see it in ads, in models, in movie stars, in everything.
.

On beauty and TikTok:
I'm not into the prescriptive face that we see a lot of on TikTok. No one needs filler, Botox, or plastic surgery. If you want it, power to you. But if you want it because you think your lips or forehead need to look more like the person in the video, rethink it. Faces are interesting and stunning because they're unique and don't all look the same. I do love the playfulness and experimentation with beauty and makeup on TikTok. It's inspiring and fun and I think it's encouraging people to explore and play a bit more. One of my favorites for makeup inspo is the owner and creative director of Make Beauty, Carrie Barber. She crushes it.
.

 The treatments she swears by:
I swear by facials from Crystal Greene, treatments from Ricari, acupuncture with my dearest Belinda, Nutridrips from Clean Market, Korean body scrubs, energy work with my shaman, and breath work with Nadia.
.

On what she must do, even in a rush:
Brows. They frame the face.