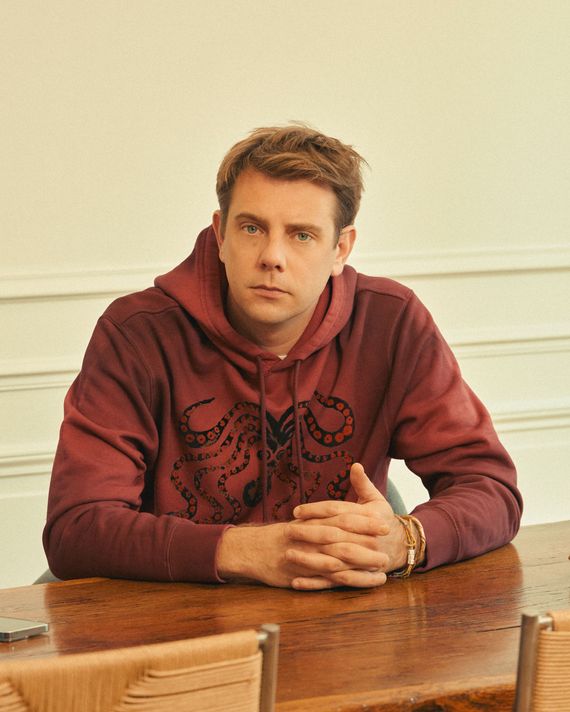 Loewe is a $1 billion-a-year fashion brand owned by LVMH, though it has been around since the mid-19th century, when a German immigrant in Madrid bought into a group of leather artisans and gave it his surname. You say Lo-WEH-vay. For close to a decade now, it has been under the creative direction of Jonathan Anderson. LVMH is extremely good at sprucing up storied houses, but until Anderson, it struggled to make the Spanish brand feel new and exciting instead of traditional and dull. The challenge defeated three designers over 16 years, each valiantly trying to come up with a fresh way to cut a pencil skirt or blazer in leather and suede. One critic summed up the excitement their clothes produced as "Madrid Whenever."
It is telling that the first person who thought of Anderson for Loewe was Anderson. That's how Pierre-Yves Roussel remembers the meeting in 2013. Roussel, who is now chief executive of Tory Burch, and Burch's husband, was then head of the Fashion Group at LVMH. That year, at his urging, LVMH had taken a minority stake in the designer's London brand, JW Anderson, which he started in 2008, just shy of turning 24. Anderson was known for casually non-binary designs, such as strapless tunics and ruffled shorts for men, and attention-getting references. He once created a collection of dark felted-wool trousers and Aran sweaters, roped with massive leather necklaces that looked like spinal cords, based on the idea of Rasputin on a ski holiday.
But Anderson's personality was what caused the most intrigue in London's clubby fashion circles. Tall and blond with a tendency to get possessed by things, he was like a big Labrador puppy, yet he had an analytic intelligence and an almost predatory sense of survival. One of his early employers, Sam Roddick, who ran a high-end sex shop where Anderson clerked while in design school, remembers him as someone who was "mapping out his ambition." "He was quite a hunter of opportunities," Roddick said. "He just knew when things were giving him an opportunity and when they weren't."
Roussel had a similar impression when he first met Anderson, shortly after the designer had launched his brand. "His work was interesting, but even more interesting was Jonathan," Roussel recalled. "He was not just talking about the clothes, which is how most designers talk, but he was discussing story, brand space. He had references outside the pure fashion world — to architecture, art, and crafts." The two became friends and would often chat about other brands. One day, Roussel mentioned he was looking for a new designer for Loewe — which, in terms of a league chart, was near the bottom of LVMH's fashion brands. Did Anderson know of anyone?
"And he looked at me and said, 'I would love to do it,' "
Roussel said. "He made that connection. I didn't." Within days, Anderson had prepared a presentation. "He had an interesting perspective on Spain, which has always been a challenge," Roussel said. "If you're too Spain — the paella and horses, etc. — then it's boring. Instead, Jonathan had this whole Ibiza-in-the-'70s vibe."
In his shows, Anderson still used leather, but the Ibiza angle allowed him to add cotton and other natural fabrics, which he did for the long, flowing dresses and voluminous pants that became Loewe signatures. He also got away from Loewe's structured bag design, which used outmoded techniques like piping, and introduced softer, quirkier shapes, such as the Puzzle bag, with its geometric patchwork, and the Woven Basket, distinctive for its wide strips of calfskin. Anderson worked closely with a French stylist named Benjamin Bruno and considered him a partner. Bruno, who helped put together the presentation for Roussel, told me, "When LVMH offered Jonathan the job, Loewe was kind of a dormant vessel. We had to invent a fashion language for it." They felt Loewe should be "a cultural brand" — aimed at people who were themselves collectors and connoisseurs of art and vernacular crafts and weren't interested in logos. Hence the appearance in a 2020 show of full sleeves and flounces that might have strayed from a Goya painting and dresses adorned with large flat ceramic blobs (the work of a Japanese artisan) that evoked wombs. Critics praised Anderson's "brain-revving" mixes while citing his reverence for humble objects like willow baskets. As Nancy Hass wrote in the New York Times in 2019, his concepts "speak to our moment, to our inchoate and inarticulable yearning for the earthbound, the slow, the imperfect and the anthropological." For LVMH, there has been a payoff as well: Since Anderson took over, Loewe's annual revenues have increased fivefold.
But by the spring of 2021, Anderson was tired of that language and the very things people had praised him for. He and Bruno both felt Loewe had become overcomplicated and nostalgic, and he now wanted something incisive and strong — so strong, he hoped, that it would cause LVMH executives sitting in the front row to go, What are you doing? As Bruno put it, "We knew that we had to make a shift before the tide changed. We couldn't have gone back to an overflowing, lineny parade full of trinkets. The change had to be brutal." In all likelihood, Anderson was analyzing his place on the fashion map relative to his peers. Demna was blowing up Balenciaga; Prada had renewed itself thanks to the combo of Miuccia Prada and Raf Simons. As Anderson told me during one of several conversations this summer, he felt after the lockdowns that "if we are going to show again, I want to make sure I have a job for the next ten years. And the only way for that to happen is to be in the top-five shows that people are engaging with." He had no idea if his plan would work — and he wouldn't know, he told himself, until the morning of October 1, when the spring 2022 show was under way in Paris.
The main point of difference in the October 2021 show, and again in the March show — the two must be linked because Anderson didn't back off his attack — is the focus on the body. The clothes revealed legs, shoulders, the outline of breasts and waists. In March, the models wore fit-and-flare minidresses made of leather that had been soaked in water and then molded to look as fluid as silk. That much female sexuality has never been present in Anderson's designs. He usually covers up the body. In the past, his collections tended to feature a pastiche of obscure artistic or cultural references, but both of these shows tackled a more sophisticated subject: Surrealism, the art movement that links fashion greats, from Elsa Schiaparelli and Yves Saint Laurent through Martin Margiela and John Galliano. Anderson approached it aggressively and wittily with the tops of viscose-satin columns shaped into glossy lips, shoes with heels that looked like balloons ready to burst, and jersey dresses embedded with curvy breastplates. Sarah Mower, writing in Vogue, called the October show a "massive creative change."
It seems ironic that after years of pinning his confidence on the outside of fashion — on the hundreds of things that obsess him — Anderson at long last found it on the inside, in the primal elements of line and sexuality. As I went round the shows that season, the one collection every designer wanted to talk about was Loewe's.
"We worked so hard on that collection," Anderson told me. Still, not until the show had begun, and he looked at the audience through his backstage video monitor and saw their rapt and slightly confused expressions, did he know he had succeeded. He said, "I think people were so used to what we had done before that this was a kind of knife edge. I remember saying to Ben that night, 'Now we can head in a different direction.' "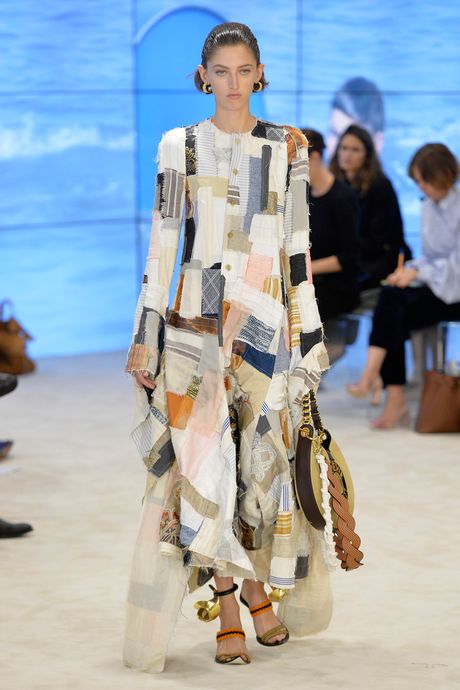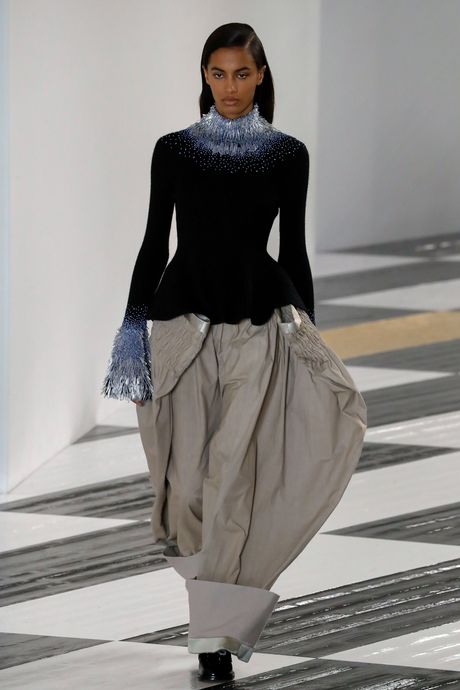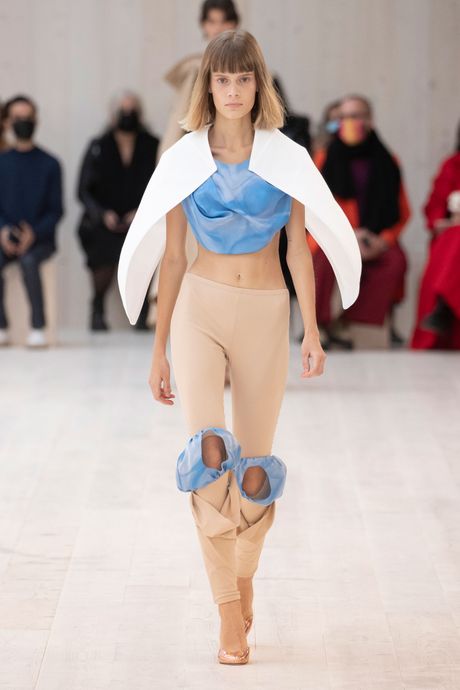 Anderson lives in a modest, late-Victorian terrace house in East London that he bought soon after joining Loewe. In the living room, there are pieces from his large ceramics collection, mainly Japanese and English in origin, along with spare antique tables and a beige sofa by the Belgian designer Axel Vervoordt. Later this year, Anderson will begin construction on a new house on Highbury Fields, a park surrounded by Georgian homes. The property is actually a former stable yard; in the '70s, someone bought three stables and built "a monstrosity," as Anderson put it. Since the building is unlisted, he'll be able to tear it down. "The garden is dictating the design of the house. The idea is you'll enter the garden first and then the house," he told me as we drank coffee in his kitchen in June. To help accomplish this vision, he hired the well-known English landscaper Dan Pearson. "It's a crazy process, but you need a distraction when you're working all the time," Anderson said. Wearing jeans and sneakers, he had returned at one in the morning from Ibiza following a Loewe party.
Anderson is ambitious and, at 37, still young. Even so, it's rare for designers to make a major turn in their work without switching jobs. Having written about his collections for years, I wanted to know what aspects of his background and character might help explain such a remarkable change. Because on the surface, very little is obvious.
Anderson comes from a middle-class family in Northern Ireland. His father, Willie, was captain of the Irish Rugby team and was a colorful figure who, long before Jonathan was born in the town of Magherafelt, spent a brief time in an Argentine jail for a prank he played during a World Cup match. (He climbed a flagpole and removed the national flag.) His mother, Heather, was an English teacher. It was the time of the Troubles, and Anderson, raised Protestant, recalls passing through checkpoints to go to school. He said he attended school one day even though an IRA car bomb had exploded in the town center. "It does make you quite hard because emotionally you were toughened by that," he said.
From his parents, he said, there was "never any kind of judgment or expectation" about a career path. When Jonathan was 18, they sent him to live with friends in Washington, D.C., so he could study acting; he had already done some youth theater at home. "It was very bizarre," he admitted of the choice of Washington over better options in Dublin or London. In any event, Anderson had the time of his life thanks in part to a weak dollar. "It was also the moment that I came out," he recalled. "Near Dupont Circle, there was a Starbucks, a DVD store, and a bookstore, and I think I flirted with every single clerk and everything was free."
Anderson also developed an obsession with James Dean, the movie star killed in a car crash in 1955. It was a formative step in his understanding of the power of aesthetics and trying on various guises. He said, "I think I read every single book on him. The sexual ambiguity, the look — to the point where I dressed like that. I think I took up smoking because of him. He was quite sadistic and twisted in a way. I think people would have said he was an asshole because he used a lot of people to get what he wanted." Anderson cocked his head. "Well, if James Dean was doing that, then it's fine." He laughed.
After two years of shenanigans during which he realized he didn't actually like acting, his parents told him to come home and get a job while he prepared to enter a university. That job — as a salesman in the men's area of the department store Brown Thomas in Dublin, where his father had an apartment — gave him his first insight into the difference between high fashion and mere clothing. Hedi Slimane was in his prime at Dior with the skinny suit. "And none of it ever sold. It was so skinny," Anderson said. "That's all I ever wore because it was on the discount rack." But it was a look, a grade up from the tragic-outlaw cliché. He remembered wearing a Dior tuxedo jacket "with all this fringe coming off it" and a pair of massive trousers and "I'm in it in the only gay nightclub in Dublin."
He decided to become a designer, persuaded by the acceptance he felt in his outfits. The portfolio he sent for admission to English schools like Central Saint Martins consisted of a photo of himself at drama school, examples of his visual merchandising at Brown Thomas, and a few ideas about clothes. ("That's how bad it was.") Every school turned him down except the London College of Fashion, which offered him a place in a new pilot course for menswear. This was less than it might appear. In the early aughts, creative menswear was still an outlier. The attention was all on women's fashion, and menswear didn't even have a slot on the British Fashion Council show schedule. "I don't think I learned anything there," he said of his three years at LCF. "I think I learned how to make a shirt."
The arrogance of that statement is striking. Anderson saw himself in the early years of his career as an outsider, "an underdog" — in part, he said, because he is Irish and because he didn't qualify for a top art school: "I think there was a bit of a chip on my shoulder. Everyone who was successful in fashion had gone to Central Saint Martins, and to me that was incredibly annoying." Its best-known alumni were Galliano and Alexander McQueen, and their heirs in provocative design — including Christopher Kane, Gareth Pugh, and Jonathan Saunders — were also Saint Martins graduates and were hitting the scene around the same time as Anderson. He said he probably hadn't helped himself with his attitude, but "when you're not part of something, you have to retaliate. You become more arrogant because you're trying to exist in a system that is not really for you." Some of his feelings and frustrations were probably legitimate, but one shouldn't take Anderson fully at his word on this score. As Adam Iezzi, a close friend and his publicist since 2009, told me, "With Jonathan, everything is a bit of a battle, whether it is or not." It's also true that some editors and fellow designers found him "quite tricky," to use Anderson's own term. "People were unsure about him," Yasmin Sewell, who was a creative consultant for the department store Liberty, told me. "He wasn't part of that London crowd of designers who were all good friends. He wasn't liked by that crowd. And you know what? He just didn't care. His focus was somewhere else."
Anderson was never a designer in the proper sense, like McQueen, who could cut and drape. He related more to another fashion genius who didn't have formal skills: Miuccia Prada, who studied political science and mime before she started making clothes. Prada didn't sketch or know how to make a dress pattern. Instead, she talked out her ideas — her feelings about women, politics, sexuality, bourgeois culture — with her director of design, resulting in an idiosyncratic aesthetic that in the late '90s set a new standard for young designers. Before Prada, the best designers were masters of a singular form (Giorgio Armani, say) or, like Margiela, avant-garde speculators mining the history of couture for modern meaning; after Prada, they aspired to be creative directors who work largely by taking an idea or object — an image on the internet, a vintage garment — hashing it over with a trusted collaborator, and afterward placing that raw concept in the hands of a design team to further develop. That, in essence, is how Anderson and Bruno work today. But in the early years, before this method of designing was the norm, there was reason to be skeptical of Anderson. Talking to him, you were aware that he had once been an actor, someone with a gift for the left-field source (he has cited Seamus Heaney and once used the photography of William Gedney) and the well-polished line. It would have taken a leap of faith to see his potential as a major designer. Sewell, remembering her first encounter with him in 2009 in his East London studio, said, echoing Roussel, "He wasn't making clothes that I thought were interesting. It was a little messy. But I could see what he was doing with accessories. And it was really his brain that blew me away. He had something in his head that you couldn't see in the clothes, yet."
His earliest creations were jewelry. These included brooches of taxidermy mice adorned with feathers and Swarovski crystals that he named after designers, such as Vivienne Westwood, and sold to a London shop called twosee. "They were pretty grotesque but also glamorous," Anthony Stephinson, the store's manager and buyer, recalled. Stephinson, now an artist in Paris, believes the brooches were characteristic of Anderson's approach — his sense of provocation and his ability to look ahead, making accessories before he made the rest. Stephinson pointed out that, from the start, Anderson was also business minded: "I mean, he had a logo before he made anything. That JW anchor logo has been around since before he actually made clothing."
By 2013, Anderson had achieved limited success with JW and the brand now included women's clothes. He had to continually balance the running of the business, which had faced cash crises — at one point, his parents had to bail him out — with the need for ambitious work. In January of that year, he put on a men's show that featured ruffled shorts and bustiers with frill-topped riding boots and models groomed with the suavity of '30s film stars. Iezzi, remembering the reaction from editors, said, "I had people coming up to me from commercial titles saying, 'Why did you make me go to that show?' The collection didn't sell. It was featured in the Daily Mail as a joke. And Jonathan said to me, 'I'm just going to do, like, an A.P.C. collection. Something really commercial.' And of course, the next season, he did men in black wigs with headscarves." Today, that collection with the ruffles is regarded as a bellwether of nonbinary fashion. It also contained the incisiveness in shape and materials that would show up almost a decade later.
A few months after the show, LVMH decided to invest in JW Anderson — the only up-and-coming brand, according to Roussel, that had received such a commitment. Then Anderson confidently raised his hand for Loewe.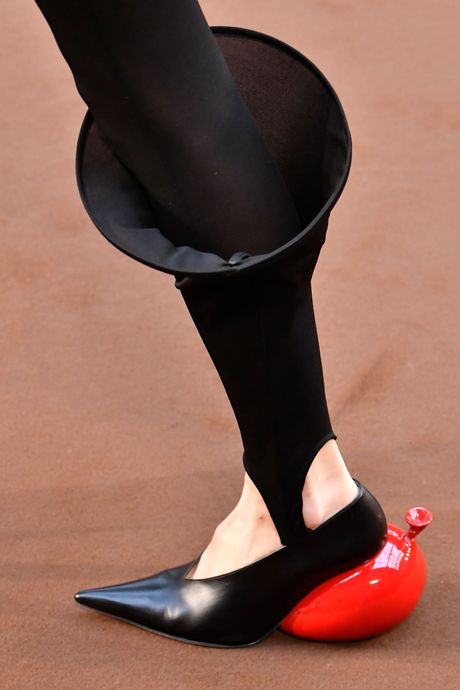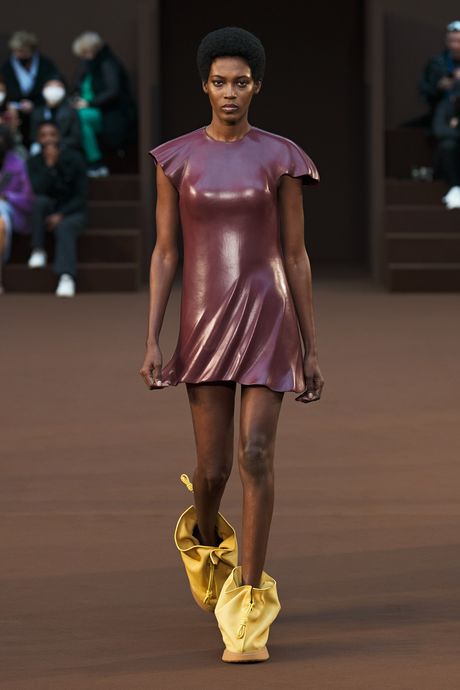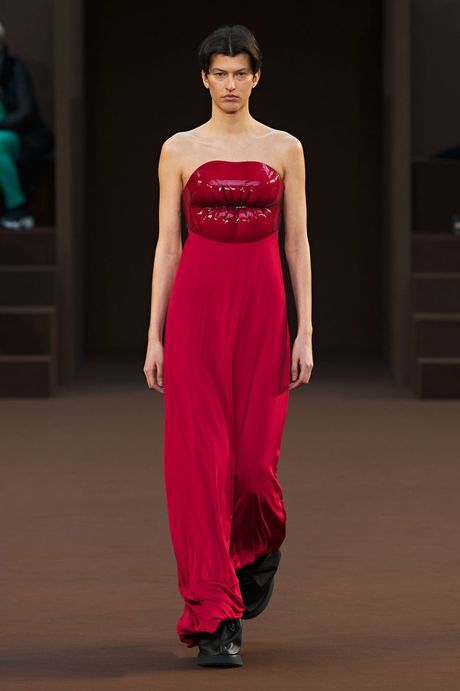 A week after I visited Anderson at his home, I met him at Loewe's new headquarters on Rue Scribe, not far from the Madeleine. (The brand's workshops are still in Spain.) The building and the surrounding area were once at the heart of 19th-century Paris culture. Worth's original maison de couture is two blocks away, and Nadar's studio, where Baudelaire and George Sand sat for their portraits, is down the street. On that June day, Anderson and Bruno were huddling in the studio with Ashley Brokaw, a top casting agent, to pick models for the spring 2023 men's show to happen in a few days. Anderson described his concept as "nature meets technology." On a clothes stand nearby was a dark wool coat trimmed with a grid of small iPads blinking with the same blurry image. "I like the idea that we use them as they are," he told me. "They just become Tetris blocks." Loewe doesn't plan to produce the coats. "Well, we could," Anderson said. "Sometimes fashion is not about selling; it's about introducing ideas."
A decade after he raised eyebrows with his naïf ruffles and wanky, attention-getting references, Anderson is now an exemplar of the modern creative director. He's competitive, he has an uncanny instinct for the next thing, but, more than that, he has a predatory sense of his own survival in the industry. "He can see the whole field and where to go and who's got the ball," said his friend Amanda Harlech, who was an adviser to Karl Lagerfeld and John Galliano.
After the March show — the one featuring molded-leather minis and lip dresses — the first person backstage to congratulate Anderson (who had actually stepped out to have a cigarette) was Sidney Toledano, the former head of Dior, who is now chief executive of LVMH's fashion division. He told me, "Today everybody in the group is convinced we can do the brand in a big way." He added, "I've worked with John, with Hedi, with Karl, but you see the real potential with this guy. He could do couture. He has an eye, and he's smart. Even if you are a genius today, in this business you are not a painter. You are not Monsieur Rodin. You need the atelier, the right materials, and the right people to execute." Pascale Lepoivre, Loewe's chief executive, notes that America, for example, is still open for expansion: "In the U.S., we have five stores — that's it." And jewelry is a still-untapped category, she said. Over the summer, there was also a rumor that Anderson was headed to Louis Vuitton, possibly to succeed the late Virgil Abloh as men's creative director. Vuitton denied the rumor.
Anderson broke away from the model discussion to show me sketches of the upcoming women's collection, which alluded vaguely to armor and the crash sculptures of John Chamberlain. But in mid-June, it was too early for him to elaborate. "We're trying to do this thing, which hopefully the next time I see you will be resolved: an entirely 3-D printed heel," he said, "which will then be cast in a mold and industrialized so the shape will be that of a Barbie shoe."
We left the group and went to his wood-lined office. On the desk were a small basket — the work of a Korean artisan woven from tiny twisted strands of paper and that Loewe reproduced (and quickly sold out of) — and a set of oval Shaker boxes. "I find them so simple and modern," he said of the boxes. "These are 1840. They're just singular." Anderson said he usually has about 20 objects in the room, including historical garments. The point is mostly just to look at them. "I'm sure Pascale thinks I'm mental when I buy certain things," he said, smiling. He once, for example, bought a piece of 15th-century railing. As a creative, you don't want your mind to get trapped: "If you live in the same environment all the time, you can reproduce it quite a lot."
He went to a cupboard and fetched a bespoke purple dandy's coat made in London in the time of Oscar Wilde. Touching the velvet, he said, "How radical this must have been." Of course, many designers get ideas from exquisite objects of the past as well as from the mundane (think of Coco Chanel's fisherman blouses and maid collars), but Anderson's obsession with craft — going back to those Aran sweaters and even the mice — provided the wedge that separated Loewe from its luxury rivals. Creating a clear brand identity is a tough thing to accomplish in itself, but to do it with the plain artifacts of human hands was daring. He said, "I have these things to remind us that we're not, like, gods."
More From the 2022 fall fashion issue
See All