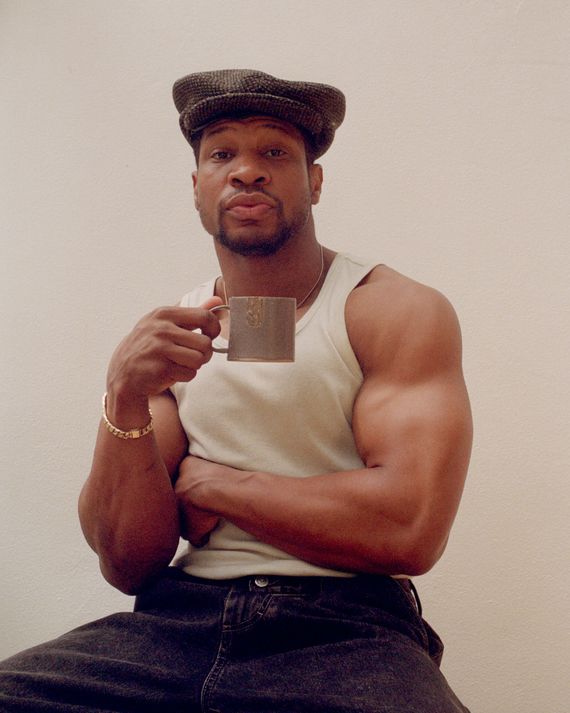 Photo: Clifford Prince King
Dream Date: Brushes with our celebrity crushes.
Jonathan Majors has an idea. We're at the Whitney Museum to view the Edward Hopper exhibit, and he really thinks we should bring in our drinks. I am sure this isn't allowed, but then again, this is the perfect setup for a rom-com-style first date. And have you seen Majors? The 33-year-old actor is irresistible: He's tall and muscular (which means he's a great hugger), he's fine (a chiseled jawline; a striking nose; and full, pillowy lips), he's a dog lover (he has four: Hero, Magi, Poet, and Captain), and he has a goofy personality that seems to make him unaware of his effect on you. How could I say "no"?
It's settled: We will attempt to smuggle our coffees into the exhibition. I'm hiding my chai latte behind my purse. He's obscuring his decaf Americano, which he poured into a tiny ceramic cup he brought with him, so that the staff member at the elevator won't see it. We make it up to the fifth floor, and the coast is clear. Majors is the ideal co-conspirator, both cautious (he's on the lookout for anyone who might be coming our way to inquire about our contraband) and motivating ("Are you even drinking yours?" he asks, to which I answer with a chug). He's committed to our game plan: not being caught or at least finishing our drinks before we are.
Majors is someone who fully commits. The Yale-trained actor seems to live inside of his characters, whether he's playing a peculiar young playwright, as he did in the 2019 film The Last Black Man in San Francisco, or an amateur bodybuilder fueled by rage and ambition in the recent Magazine Dreams. For that role, he ate 6,100 calories and worked out three times per day, refusing to use fake weights during workout scenes. In February, he enters the Marvel Cinematic Universe as time-traveling supervillain Kang the Conqueror in Ant-Man and The Wasp: Quantumania. Later, he'll star alongside Michael B. Jordan in Creed III as antagonist Damian Anderson. To prepare for that, he worked with a professional-boxing and MMA trainer for three months. "There's a version of not going all the way there, you know what I mean? And that to me is just acting. That's pretending," he says.
If being yourself is the hottest thing you can be, Majors excels. Since a Vogue camera crew followed the actor for 24 hours in 2020 to reveal how he spends his days (he wakes up, meditates, drinks tea, walks his dogs, takes a nap, plays his guitar, rides his bike, and does his skin-care routine), most of the women I know have been convinced that the actor would be their ideal man. A guy who takes such good care of himself would most likely treat you well, too — and, more important, you wouldn't have to take care of him. A real grown-up. Majors proves my theory when he tells me about the meal he'd cook to impress a date: "I'd probably bake a chicken, do some homemade frites where I buy the potatoes and chop them up, a green salad, and a good wine."
In magazine spreads, Majors is typically showing off his ripped body, as he did for recent covers of Men's Health and Ebony. There he is, shirtless and glistening as he comes out of a pool, shirtless and making eggs in the kitchen, shirtless and juggling oranges, shirtless and holding a bouquet of roses — you get the idea. He used to hate being photographed ("the highest level of the celebrity circus") until he realized it was another chance for him to totally commit to a character. For this magazine's photo shoot, Majors tells me he saw himself as "an unrequited lover."
In conversation, Majors ebbs and flows between being sensual and cerebral. You may be surprised to learn he is a poet, having recently published two poems in The New Republic. ("I don't want to know if you liked it or not. I really care more that you took the time to read it," he says when I tell him I'm familiar with his work.) That ceramic mug he snuck into the exhibition is his thing; he's been carrying around a cup of some sort for the past five years because it brings him comfort. "It does determine what coats I buy. It's got to fit in there," he says.
And yet, for all his smarts, he says he genuinely does not know why everyone seems to be in love with him. "It's a mystery," he says. "It's so strange because growing up in my neighborhood, people would say, 'Oh, J with the big nose and the big lips.' I was just not that guy."
Majors, who claims to "fall in love every day" and "cry probably a few times a week," wants to star in a romantic comedy, something lighter after these recent strenuous, body-focused roles. "Life is so beautiful. Love is everywhere," he says. His favorite romantic films include The Notebook, Love Jones, Blue Valentine, and Love & Basketball, and we agree that romance-movie soundtracks are just not as good as they used to be.
It turns out Majors does know a thing or two about his effect on people, which comes through when he talks about how he might use movies and music to end a relationship or seal the deal. For a surefire way to fall in love in 48 hours: "Send a text message with a song. My song of choice would be 'Come Over,' by Aaliyah. Then only wear sweatpants. You then have to watch Love Jones–slash–Love & Basketball. After that, the song you should be playing is 'Whenever Wherever Whatever,' by Maxwell. The next day, send them another song by Maxwell with 'I thought you'd like this.' And it works both ways. If a woman did that to me, I'd lose my mind." For a foolproof breakup: "First, play 'Creep,' by TLC, on repeat, then hum it in the morning, then watch Blue Valentine with your partner and your cat. Then play 'No Scrubs,' at which point you would've completely ended your relationship."
Majors, still attempting to conceal his smuggled-in mug, encourages me to gulp the rest of my latte. One of the staffers clocks us and asks if we had any idea about the rules, to which we feign innocence.
Before the end of our museum date, Majors makes a bet. There's a painting by Hopper that we're looking for — one of his most famous works, Nighthawks — but we can't find it. If the painting is here, Majors promises to send me flowers. I suggest we get lunch together instead, because who wouldn't want to spend more time with Jonathan Majors?
We ask a museum staffer about Nighthawks, and to my chagrin, I won't be breaking bread with my crush. The Whitney didn't borrow it from the Art Institute of Chicago for this exhibition. But because Majors can't resist being a chivalrous rom-com character come to life, he takes me to lunch anyway.