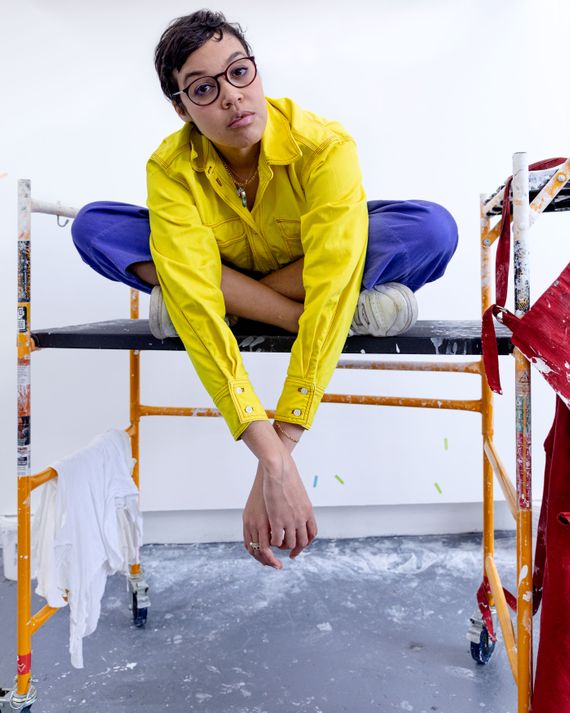 Photo: Elliott Jerome Brown Jr.
In the fall, Jordan Casteel was finishing the paintings for her solo show "There Is a Season," a series of portraits, still lifes, and landscapes at the Massimo De Carlo gallery in London. Casteel, who lives in New York, is one of the most vibrant and exciting artists working today, known for her bold use of color, her arresting portraiture, and her massive canvases that demand space. In the U.S., her career had been on a steep upward climb: Her shows were selling out almost immediately, and museums and collectors were clamoring for her work. "There Is a Season" would be her first solo show abroad.
A few weeks before her flight to London, Casteel received a call from an unknown number. "I didn't understand what was happening," she says. "They were saying my name. And then the woman says, 'Someone important from Chicago wants to speak to you.' And I was like, Who's in Chicago? I got a cousin there, but he ain't that important." The call, it turned out, was from the MacArthur Foundation: Casteel had won one of its coveted "genius" grants. It's the kind of thing most creative people don't even dare dream of receiving, let alone at the age of 32. "I shat myself, basically. I felt like a balloon floating in the sky, like I was being lost to the world," she says. She'd already been struggling with the visibility of her career, feeling oversaturated with attention and the existential questions that such attention brings: "I'm young and that scared me. If you reach a pinnacle, if you reach the top of the mountain, then what? The only place is down."
Upon arriving in London, Casteel headed to her show along with her husband, the photographer David Schulze, and her father. She wasn't sure what to expect. It was a foreign art landscape, populated by curators and institutions and collectors she didn't recognize. And as a Black woman in the U.S. who paints Black people in the U.S., she was not sure how British audiences would engage with the work. When they walked into the gallery, they were confronted with the familiar sight of her paintings, which offer glimpses of everyday life and the people who inhabit New York. A young man on a subway bench, napping, a hard hat on the seat next to him. A handsome bearded man sitting on a fence before a snowy urban backdrop. An image of a windowsill, against which is propped a framed family photo and a copy of the Black newspaper New York Amsterdam News with Obama as president-elect on the cover. The room, however, was empty.
That night, Casteel lay in bed a bit panicked. "That was weird," she said to Schulze. She was used to her show openings in New York, which felt like celebrations, gatherings attended by her supporters and everybody she'd ever painted. But when she woke up the next morning, she thought, Fuck yeah. I'm glad there's a space for me to still feel this. "Because I shouldn't feel like I conquered it all, not at 32," she says. "This trip showed me how naïve I am. I haven't conquered anything at all."
"Was that a useful feeling?" I ask.
"Yes," she says. "Profoundly."
Casteel's studio is located on a quiet street of warehouses in the Bronx. When I visit her on a Tuesday in December, the room is light and airy and filled with blank canvases, stretched and primed and waiting. She is dressed comfortably in a pastel sweatshirt and joggers, her hair cropped short in a pixie cut. Near one wall is a rolling whiteboard holding two calendars full of obligations and deadlines.
Casteel is not new to this. Throughout her childhood in Denver, she was a maker, drawn to arts and crafts and creative expression, and she was always looking for a space of her own where she could make things, away from the youthful intrusions of her brothers. She grew up in a family of distinguished civil-rights activists: Her grandfather, Whitney Moore Young Jr., served as the executive director of the National Urban League for nearly a decade. Her mother is Lauren Young Casteel, an activist and the president and CEO of the Women's Foundation of Colorado, the first Black woman to assume that role. Casteel attended a small women's liberal-arts college in Decatur, Georgia, where she majored in anthropology and sociology. During a semester abroad in Italy, she began to study art more formally. Upon graduation, she Googled "best M.F.A. program" and showed up to Yale with three paintbrushes and no idea how to properly stretch a canvas.
After Yale, Casteel moved to Harlem. There, she began roaming the neighborhood, camera in hand, seeking out people to sit for her portraits — a family running a restaurant, street vendors, a woman working at a nail salon. She would photograph each person in their natural space, taking as many as a hundred frames, which she'd then interpret in oil on canvases that sometimes stretched from floor to ceiling. From the beginning, Casteel sought to form relationships with her sitters that lasted years beyond their fleeting interactions on the street. She'd ask to stay in touch, inviting them to shows and even traveling with them to see their portrait when it was on view. Occasionally, a sitter would decline. "I remember there was this young man, Stanley, I photographed in front of a barbershop. He was like, 'I'll do this, but you don't need to stay in touch. It's fine.' And I said, 'Okay, bet,' " Casteel recalls. "I made that painting, and he's sitting in the shadow. I painted him black and white because I felt like he created this boundary line that only let me get so far."
That respect permeates all her figurative paintings. In 2014, for her first solo exhibition, "Visible Man," Casteel painted portraits of Black men in the nude in their homes. Each image is hyperrealistic, the background rendered with the same care and attention to detail as the foreground. In Elijah, a man sits on his bed, and at the periphery of the image, we see a desk holding a glass of water and a prayer candle. In another painting from the same period, Devan, a man sits sideways on a green chair, his skin interpreted in shades of brown, purple, dark red. Behind him, a baseball cap is flung onto a radiator; at his feet are a pair of shoes and a stuffed animal.
Embedded in each portrait is a deep understanding of people and the spaces they inhabit. "There is inherent to Jordan's work a profound idea of community," says Thelma Golden, the director of the Studio Museum, who became familiar with the artist's work when she was an M.F.A. student. "It's evident not only in how she depicts her subjects but the way in which she exists in community with her subjects." After "Visible Man," Casteel continued to make figurative paintings but also turned her eye to still lifes and landscapes, which shared the same visual voice — the sumptuous canvases textured with layers of paint; the earnest, unself-conscious brushstrokes. In her 2017 painting Memorial, a discarded funeral wreath hovers above an overflowing trash can at a Harlem intersection, strangely poignant in its stillness. In 2019, she began a series of subway paintings, unexpected images of people sharing public spaces — three pairs of legs dangling from a subway bench, the reflection of a rider in the window.
Casteel pushed herself to become intimately involved in the business side of being an artist, even before anybody knew who she was. "I remember feeling like I had to insert myself into the system and figure out how it works because they're not necessarily going to welcome me," she says. She took copious notes throughout her interactions with curators and institutions, and she created a detailed log of information about every collector ever mentioned to her and why they were interested in her work. "I want to know what the gallery's thinking: Why are you placing the work with such and such? Why are you choosing them over this person you told me about last week? You said they were important last week; why aren't they important this week?" she says. "I don't want things to happen that I don't understand."
This inclination became higher stakes as her name soared to prominence in the U.S. Starting in 2018, Casteel began showing her work at prestigious institutions across the country, from the Cantor Center for Visual Arts at Stanford University to the Museum of Contemporary Art in Los Angeles to the Denver Art Museum. Then, at the start of 2020, she staged a major solo show at the New Museum, where she exhibited nearly 40 paintings spanning her career. The month the show opened, her 2013 painting Mom sold at auction for a record $666,734. Last year, her painting Medinilla, Wanda, and Annelise — a portrait of an undergraduate art student she taught at Rutgers University–Newark sitting with her mother and sister — entered the Metropolitan Museum of Art's permanent collection.
Her explosion collided with a strange moment in the American art world. As the industry grappled with the same inequities that plague almost every aspect of our lives, there grew a rather frenzied interest in African American figuration, with works by Black artists fetching unprecedented prices and shows quickly selling out. Some of this acquisition may appear mindless, with collectors not seeming to care much about the artist or their practice, because any Black artist will do. In part because she produces only a handful of paintings a year, Casteel tries to be deliberate about where she places her work, looking for collectors interested in developing a relationship with her, not "just purchasing because they heard that it's hot or because they have a collection of African American artists and they want to add to it," she says. Her primary goal is for the work to be seen, rather than hidden away in a storage facility or sold for a large return on the secondary market.
Still, she acknowledges, there is a price to scaling so quickly, and a price to participating so fully in the business of making it happen. "I've inserted myself so much that when I'm making paintings, my relationship to the painting has changed," she says. "And there are times — it's most of the time these days — there's a sense of loss in my relationship to this object." It's a peculiar tax to pay, particularly because this was always her dream. And it's a lonely problem, too, often impossible to express to those close to her. Frequently, her parents call and ask, " 'Are you having fun, baby? Are you enjoying it?' And I'll say, 'I'm just thinking about a deadline, and I have a ton to do, and I'm only getting this much of the painting done, and I haven't slept, and blah, blah, blah,' " Casteel says. "They'll ask, 'But are you feeling grounded?' And I don't always think that answer is 'yes.' "
These days, Casteel is splitting her time between an apartment in Harlem she shares with Schulze and a home upstate, a small farmhouse that sits on three acres of land. She is building a new studio and tending to a verdant garden. She is channeling her love of making into gardening and baking, activities in which her hands are active but the stakes don't feel so high. She is investing in herself.
Her primary ambition today is to reset other people's and maybe her own expectations about how much work she can produce and why. Toward the center of her studio is a worktable with a note that lists five questions she must answer when considering professional opportunities, the most important of which is, "Will I enjoy it?" If she cannot answer "yes" to three of those five questions, she declines. She is making the time to nurture her personal relationships: "For the past few years, I've been the friend you call and say, 'Oh, I'm surprised you picked up.' I don't want to hear that. I don't want to feel that." What she's looking for now is longevity: "a career that can sustain itself so that I don't have to necessarily break my back forever. At what point can I rest? What does that look like? Is there such a thing as rest as things grow?"
She is also beginning to think about her next show, scheduled for September at New York's Casey Kaplan Gallery. "I was squiggling some notes this morning," she tells me. She needs to consider which subjects she'd like to paint. But she's also asking, "How many paintings are we talking? What's actually realistic? What does it mean to look at my calendar for 2022 and put in vacations to look forward to?" For the first time in her career, Casteel believes her pace of work is something she can maintain.
Last year, Casteel was in the thick of finishing "There Is a Season," contending with the pressure of deadlines and feeling miserable. Schulze said to her, "You need to paint something you're enjoying in life right now." At the time, that enjoyable thing was her garden. But she fought against the idea: She wasn't sure how a painting of her garden would fit into the show she was making, or how it'd fit into the expectations that others had for her as an artist. Finally, on a canvas she had originally planned as a subway painting, Casteel painted Nasturtium, a vivid explosion of purple and green with splashes of red and orange. The painting, she says, "evoked a certain freedom that I didn't want to lose in the way that I tell stories." It ended up serving as the headliner of the show. She was so pleased with the result that she chose to keep the painting, wanting to hold on to it a bit longer.
More From 2022 spring fashion issue
See All