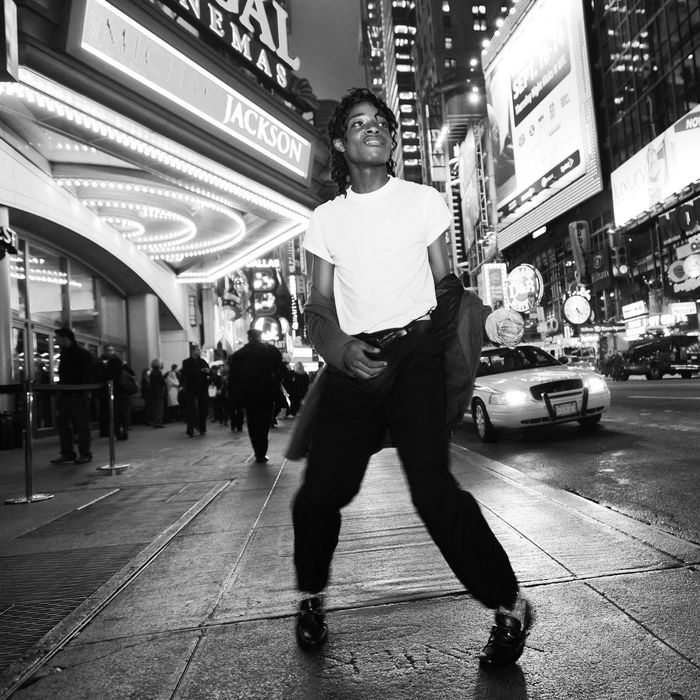 Jordan Neely doing his Michael Jackson impersonation outside a theater.
Photo: Andrew Savulich/NY Daily News Archive via Getty Images
On May 1, a white man riding the F train in Manhattan put a Black passenger in a choke hold. The latter had been screaming about how he didn't have anything to eat or drink, according to a witness who spoke with multiple media outlets and who said there was no physical provocation prior to the incident. That witness also filmed a nearly-four-minute video that shows the Black man flailing his arms and legs before he eventually goes still and another person turns his limp body on its side. Police say officers who arrived at the Broadway–Lafayette Street subway station were unable to revive the man, and doctors pronounced him dead at a hospital in Greenwich Village.
The video sparked immediate outrage online, where people shared photos of the dead man, identified as 30-year-old Jordan Neely, and decried the violent response to someone who appeared to be in crisis. Eleven days later, 24-year-old Daniel Penny, the former marine who choked Neely, was charged with second-degree manslaughter. Penny has since spoken out in an interview with the New York Post, insisting the killing had "nothing to do with race." Here, everything we know about the incident so far.
Footage shows Neely struggling for his life.
Bystanders said Neely was acting in a "hostile and erratic manner" on the subway, according to the New York Times. Sources also told the Post that Neely threw his jacket to the ground and passengers began moving away. "He started screaming in an aggressive manner," a witness told the Post. "He said he had no food, he had no drink, that he was tired and doesn't care if he goes to jail." But it doesn't appear that he physically threatened or assaulted anyone before the former marine grabbed him from behind and the situation escalated.
The video, shot by freelance journalist Juan Alberto Vázquez, shows Neely trying to escape the choke hold for at least two minutes before his body stops moving. Two other subway riders appear to hold Neely down for another full minute while one onlooker can be heard saying, "You're gonna kill him now." One of the men shown holding on to Neely says, "He's not squeezing no more," and shortly after turns Neely on his back. He then moves Neely's limp body on its side after another bystander says, "He might choke on his own spit."
"He moved his arms, but he couldn't express anything," Vázquez told the Post. "Then suddenly he just stopped moving. He was out of strength." On Facebook, Vázquez said the choke hold lasted 15 minutes and that the situation reminded him of George Floyd's murder.
Neely was a subway busker and struggled with his mental health.
Neely at one point busked in the subway as a Michael Jackson impersonator. In one video shared on Twitter, he wears a gold embroidered leather jacket and moonwalks to "Billie Jean." When reached by the New York Daily News, Neely's father remembered showing him the Jackson 5 on TV and said his son was "great" at emulating the singer. A neighbor agreed, telling the Daily News, "Hell, yeah he was good! He had the moves. The moonwalk. He was always happy doing it." The neighbor said performing gave Neely confidence and likely helped him cope with mental-health issues. "He wasn't violent," the neighbor continued. "He was more a don't-look-at-me-type of person. Anxiety."
Neely was unhoused and had a history of mental illness, according to tabloid reports. He reportedly has a criminal record that includes 40 arrests and an active assault charge.
Neely also experienced tragedy at a young age. When he was 14, his mother was found dead on the side of a highway in the Bronx. A former boyfriend was later convicted of strangling her, and Neely testified at the trial that the couple often fought, according to the Daily News. In the interview, Neely's father expressed shock that his son met a similar fate. "His mom died — she got killed too," he told the newspaper. "And now him? By somebody else? I don't know what to say."
Neely's death quickly became a flash point on social media.
Many social-media users were outraged by the fact that nobody intervened in the killing. Others lambasted early media coverage that demonized Neely. The Post, for example, referred to Neely as a "vagrant" and an "unhinged man" while calling the former marine a "straphanger." One lawyer tweeted that the media is making it seem as if Neely "just passively died and this 24-year-old hero had been restraining him and saving people from having to deal with the crazy man."
In a city where crime and a housing crisis have become lightning-rod issues, Neely's death was bound to be politicized. While some New Yorkers want a bigger police presence in the subways, others pointed fingers at a city that doesn't take care of its most vulnerable. Rather than beef up social services, Mayor Eric Adams has dismantled homeless encampments and launched a program to involuntarily hospitalize people struggling with mental illness.
Adams released an initial statement acknowledging the mental-health issues at play in Neely's death while touting his administration's "record investments in providing care to those who need it and getting people off the streets and the subways, and out of dangerous situations." "Any loss of life is tragic," he said in the statement. "There's a lot we don't know about what happened here, so I'm going to refrain from commenting further." Nearly a week later, he issued a sharper condemnation. "One of our own is dead," he said in a press conference. "A Black man, Black like me. A man named Jordan, a name I gave my son." He added, "One thing we know for sure, Jordan Neely did not deserve to die."
Other politicians weighed in, like Representative Alexandria Ocasio-Cortez, who tweeted, "Jordan Neely was murdered. But bc Jordan was houseless and crying for food in a time when the city is raising rents and stripping services to militarize itself while many in power demonize the poor, the murderer gets protected w/ passive headlines + no charges. It's disgusting." Governor Kathy Hochul got blowback for making an ambiguous statement that some say appeared to blame Neely for his death: "People who are homeless in our subways, many of them in the throes of mental-health episodes, and that's what I believe were some of the factors involved here. There's consequences for behavior. I will look at it more closely to find out whether the state has a role."
Many New Yorkers were angry and in mourning. The day after Neely was killed, roughly 50 protesters chanted his name at the subway station where he died. There were flowers on the pavement, and someone had scrawled "Who killed Jordan Neely?" on the tiled wall. Protests continued that weekend, with demonstrators marching through Manhattan and, at one point, blocking the subway tracks at the Lexington Avenue–63rd Street subway station. At least three protesters were arrested.
Penny was charged with manslaughter.
Media reports say Penny served in the Marine Corps from 2017 to 2021, rising from infantryman to sergeant, and is from West Islip, Long Island. Most recently, he worked in customer service at a surf shop and was looking for bartending jobs in New York.
Officers questioned and released him shortly after the incident without any charges. The city medical examiner later ruled the death a homicide, and the Manhattan DA's office subsequently charged Penny with manslaughter. On May 12, Penny arrived at the courthouse wearing a dark-gray suit and did not enter a plea. He was released on a $100,000 bond and will next again in court on July 17. The charges will next go before a grand jury.
A former prosecutor previously told CBS that self-defense could be a tough legal argument if Neely wasn't threatening other people's lives: "Was there another way to subdue this person besides getting him into a choke hold?"
A lawyer for Neely's family said Penny should face a more serious charge. "Is that enough for someone who choked somebody out on the train and took their life?" Lennon Edwards asked outside a Manhattan police station at a news conference. "We believe that the conviction should be for murder because that's intentional."
Penny hired attorney Thomas Kenniff, who lost the race for Manhattan DA in 2021, to defend him. Kenniff did not respond to the Cut's request for comment, but his firm released a statement on behalf of his client. "Mr. Neely had a documented history of violent and erratic behavior, the apparent result of ongoing and untreated mental illness," the statement read. "When Mr. Neely began aggressively threatening Daniel Penny and the other passengers, Daniel, with the help of others, acted to protect themselves, until help arrived. Daniel never intended to harm Mr. Neely and could not have foreseen his untimely death."
A few days later, lawyers for Neely's family issued a damning response. "Daniel Penny's press release is not an apology nor an expression of regret," the statement read. "It is character assassination, and a clear example of why he believed he was entitled to take Jordan's life." They add that Penny acted with indifference and "never attempted to help" Neely at all. The statement ends with a direct appeal to the city's mayor: "Mayor Eric Adams please give us a call. The family wants you to know that Jordan matters. You seem to think others are more important than him. You cannot 'assist' someone with a chokehold."
Penny defended himself in an interview with the New York Post.
In his first interview since Neely's death, Penny said the incident "had nothing to do with race. I judge a person based on their character," he told the Post. "I'm not a white supremacist." He said that any accusations that he was racist are "a little bit comical," because he says he loves "all cultures" and "was actually planning a road trip through Africa before this happened."
Penny told the Post he couldn't discuss the specifics around his decision to put Neely in a choke hold, since the case is ongoing. But he said that, while he is "deeply saddened by the loss of life," he had nothing to be ashamed of. In fact, Penny said he would take similar action again "if there was a threat and danger."
Much of the Post interview dwells on Penny's "relatively happy childhood," his time with the Marines, and his love of travel. Four paragraphs are devoted to a trip he took to Mexico and a realization he said he had while traveling in Guatemala, that he "suddenly felt overwhelmingly at home." Penny's lawyer also reiterated to the newspaper that he believes Neely was a danger to passengers on the subway. "I can tell you that the threats, the menacing, the terror that Jordan Neely introduced to that train has already been well documented," he told the Post. "I don't think it's going to even be controverted." If the case goes to trial, a jury will decide whether or not a man who by all accounts was in desperate need of food, water, and shelter was indeed a life-threatening presence.