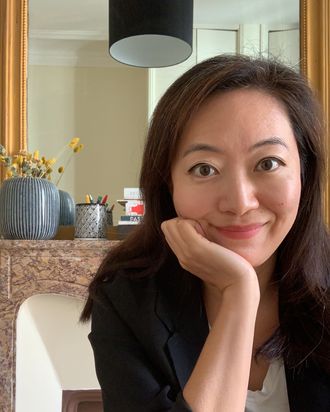 Photo: Courtesy of Ju Rhyu
Founding Hero Cosmetics was a happy accident for Ju Rhyu. A native New Yorker, she was living in Seoul, South Korea, and working for Samsung when she noticed people wearing small patches on their faces. After some quick digging, she learned they were meant to help clear up acne, a problem she'd been dealing with regularly. "I tried some for myself and was blown away by how effective they were. I immediately started wondering why they weren't more available in the United States," she remembers. Fast-forward seven years, and a box of her brand's Mighty Patch ultrathin acne stickers sells every 30 seconds.
Rhyu's beauty routine is inspired by her international experiences — she now splits her time between New York and Paris, where she's been living since the COVID-19 pandemic began. "Korean women have way more involved skin-care routines and idealize different things — it's a trend-focused society where products can go viral very quickly and become big cultural trends," she says. "French women love the sun and the concept of a sun-kissed glow, which is totally different from Koreans. The French don't wear a lot of makeup and instead go for the natural, effortless look with a little red lip and very little eye makeup." Whereas she thinks American beauty culture is about trying everything: "American women love new products, the new, new thing, and trying indie brands," she says. "American makeup is more 'done' than the French, or even Korean, way — perfectly groomed eyebrows, strong foundation, contouring, and highlighting."
All of this adds up to a beauty approach that's heavy on skin care, light on makeup, and open to experimentation. Below, a look at Rhyu's current routine for her dry, sensitive skin, including a device that really helped reduce the appearance of her fine lines and a fast-absorbing moisturizer with great packaging.
The Double Cleanse
"I think about double-cleansing as a pivotal moment in my skin-care journey. There's before the double cleanse and after. It's been that transformative in my routine. If you're not familiar with the double cleanse, you start with an oil-based cleanser to remove makeup, oil-based impurities, and SPF. Then you follow up with a regular foaming cleanser to get everything else.
Before double-cleansing, I would break out a lot more along my chin and forehead. After double-cleansing, I dramatically reduced my breakouts and realized that I must have been sleeping with skin that wasn't thoroughly cleansed (dare I say dirty?). I love Shu Uemura cleansing oils because they're the OG in this category, and the liquid format is much easier and less messy to apply than a solid balm."
"The AmorePacific Treatment Cleansing Foam has a great lather to it and little beads that help exfoliate. Also, it washes off with no residue, making my dry skin feel clean but not squeaky clean. It also leaves me feeling pretty hydrated, which is great for a foaming cleanser."
The Toner
"Toner is one of those steps that you think is superfluous and unnecessary, and it's kind of annoying to apply. Usually, it helps reset the pH of your skin because foaming cleansers make your skin more alkaline. It also helps keep your skin damp and hydrated so it can better absorb the rest of your skin-care routine. Most toners are applied with either cotton pads (but that creates more waste) or your hands (but that can get messy). But this Caudalíe Beauty Elixir comes in a spray format! It's so easy, no mess, and the peppermint oil is so refreshing I actually look forward to it."
The Two-in-One Essence and Oil
"I have dry skin, and so an oil product is essential in my routine all year long. I love the texture of this oil essence (it's called that because it's a bit lighter than a regular oil but heavier than an essence). My skin drinks it up, and it's light enough that I can still layer on my moisturizer on top."
The Serums
"Since I have dry skin, hydration is key for me. I like the Inkey List Polyglutamic Acid, since it's similar to hyaluronic acid but with even more hydration power and anti-aging benefits. It's a singularly focused product with pretty high levels of polyglutamic acid, so I know it's going to help with my dry skin."
"On a daily basis, I also use the Clinique Fresh Pressed drops and mix them in with my Drunk Elephant Protini Polypeptide Cream [below]. I have some dark spots I'm trying to fade, and I love that this packaging keeps the vitamin C fresh until you break open the seal. As you probably know, vitamin C is very unstable, so I like the idea of using it when it's at its most potent and freshest for maximum impact."
The Moisturizer
"This moisturizer has a great gel-cream texture and no fragrance, which is always a plus to me. It absorbs quickly, and I like the packaging because it keeps the cream hygienic. I don't love creams that are in jars where you have to dip your finger into it to apply it. Tubes, pumps, or packaging like this one give me a sense of security when I'm applying the cream."
The Sunscreen
"I'm partial to Asian sunscreens, since I find they have the best texture and less white cast than others. Currently, I'm using the Anessa Perfect UV Sunscreen, which I got when I was last in Korea. It has a nice fluid-y, milky texture and blends in quickly. However, this is a chemical sunscreen, and I'm currently looking for my holy-grail physical sunscreen. If anyone has suggestions, I'm all ears!"
The Microneedling Treatment
"Every other day, I use my GloPro and then use the Bioderma Matricium drops [below] to help regenerate my skin. I'm really into what I call performance skin care. I want products that make a real difference, and from what I've seen so far, the GloPro does just that. I was focused on some fine lines around my left eye, and after using my GloPro for 30 days every other day, I noticed they had been reduced. The microneedles create small microtears in the skin, which promote skin regeneration. It also creates small channels in the skin, helping the products you apply after absorb faster and deeper. That's why I pair my GloPro with other performance-skin-care products like vitamin C or my Bioderma Matricium drops.
It's not painful per se, but also not pain free, if that makes sense. My skin does turn red after because of the microtears. I use it on dry skin all over my face after cleansing and toning. Then, I pay extra attention to areas I want to work on, like around my eyes."
"I discovered Bioderma's Matricium serum drops from Paris-based cosmetic acupuncturist Elaine Huntzinger. She recommended them for dry skin and for traveling, which is perfect for me since I have and do both. They're only sold in France, and while it's a serum, it's technically considered a medical device, as the drops focus on repairing and healing skin after treatments like laser. I use this after I use my GloPro to amp up skin regeneration and to promote collagen health. They're great for travel since they're housed in little pipettes."
The Gua Sha
"I also use my Mount Lai jade roller after the GloPro to help cool and calm down my skin. After the GloPro, my skin is usually a bit red, so the cool jade stone from the roller helps to settle things back down. It feels so nice to roll the coolness on my face after microneedling."
The Acne Stickers
"I've been using our Hero Cosmetics Micropoint for Dark Spots. It's similar to the GloPro in that it has tiny microneedles that go into your skin under the epidermis, but these needles are made of hyaluronic acid, so they dissolve, getting the vitamin C, tranexamic acid, and niacinamide where topicals can't reach. They don't hurt, but you can feel the tiny microneedles going into your skin, which is kind of a cool sensation."