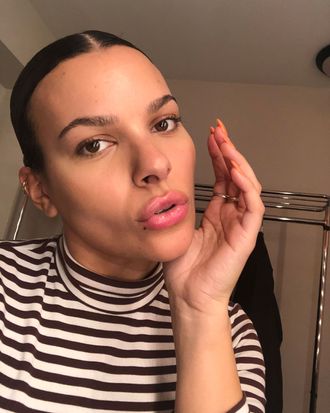 Photo: Courtesy of Rudi Salmon
Want more skin care? Join our Facebook Group, the Beauty of It All.
"This year alone, I've spent more time on airplanes than in my own bed," says Rudi Salmon, singer for the British band Jungle. Salmon first performed with the band on her 21st birthday, back in 2013, and she's been on tour more or less ever since. She tells the Cut that she loves the unpredictability of her time on the road, but she can't say the same for her skin.
"My skin-care routine used to consist of washing my face with water and using a cleansing wipe to take off makeup," she says. Now it's a lot more complicated, but she tries to keep things easy and consistent, since there's only so much you can take with you on tour: "I tend to decant a lot of products so I can travel as light as possible." She's also learned to stick with products that she can buy worldwide, so she can replace them while on tour.
Below, a look at the best alcohol-free toner she's tried (and she's tried a lot), the eye cream she relies on for dark circles, and her favorite $3 sheet mask.
The Micellar Water
"On a shoot, a makeup artist recommended this to me, and I haven't looked back. Bioderma is the perfect rinse-free make up remover and can also be used instead of cleanser if you're feeling lazy. It doesn't sting your eyes and gets rid off literally all your makeup, even lip stain. It also comes in a cute travel size, which I always take with me on the road."
The Cleanser
"I love this cleanser. It contains salicylic acid, which is great for tackling blemishes, and it's oil-free and natural, which I prefer for my oily-combination skin. I use this night and day and put a teaspoon size on my hand, rub it all over my face in a circular motion for about a minute, rinse off with tepid water, and pat dry."
The Face Mask
"When I'm on tour, I'm practically always around air conditioners, whether it be on long-haul flights or in dressing rooms, and they really dry out my skin. I found this great mask by Aesop, which I use weekly. It really hydrates my skin and gives it a lovely glow. You can leave it on for up to 30 minutes, and wash it off with water. If I'm feeling lazy or don't have access to a sink, I remove it with a cotton pad and toner instead."
The Sheet Mask
"I'm really into this sheet mask by Simple. It's supercheap so I tend to buy lots and use them every few days, especially whilst on tour. It's non-rinse, which is handy as I often use them on flights, and airplane sinks aren't the most sanitary. Simple products never contain any harsh chemicals or perfumes, and this mask leaves your skin feeling soft and refreshed."
The Toner
"This is the best toner I've ever used, and I've tried lots. It's alcohol-free so it doesn't dry out your skin. It has calendula flower extracts so it smells great. It really helps remove all the excess oil and dirt from your face and is perfect for oily-combination skin like mine. Just be careful not to leave bits of flowers on your face!"
The Serum
"I prefer to use serums instead of heavy moisturizers to prevent my face from becoming too oily. This Aesop oil-free serum is perfect. It gives just the right amount of moisture. I apply a few drops to my face morning and night, rub it in, and leave it to absorb into my skin for a few minutes before applying any other products on top."
The Moisturizer
"I never used to use eye cream, but as I've gotten older, I've noticed darker circles and a some new wrinkles under my eye so I thought it was time to start. One of my friends recommended this eye cream. It's amazing: so creamy and a little definitely goes a long way. It makes your under eyes glow. I have seen a difference in puffiness and darkness, so I will be using this forever."
The Primer
"I'm always on the lookout for a good primer. One of the makeup artists at MAC, my favorite makeup brand, advised me to try this. You only need to use a tiny bit, and I only apply it onto my oily T-zone. Most primers for oily skin are super-matte but that makes my skin feel dry, and foundation applies patchy on top. The MAC Oil Control lotion does a great job of controlling the oil and making my foundation last all day. Even after a sweat, my face is no longer super-shiny."
The 2-in-1 SPF and Moisturizer
"When I am somewhere sunny, I use this Kiehl's sunscreen as the last step of my skin-care routine. Sunscreens usually leave my skin feeling very greasy, and I can usually see my reflection in my forehead. When I discovered this cream, I was very happy, as it's superlight and absorbs into your skin quickly. Make sure to reapply every few hours, as it isn't all-day protection."