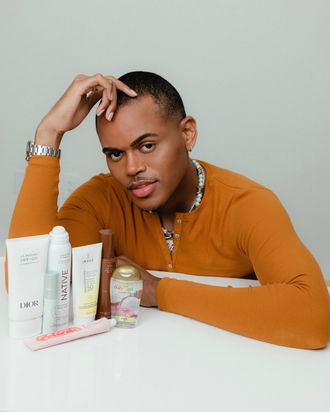 Celebrity hairstylist Kahh Spence's Instagram bio says everything you need to know about the type of person he is: "Your Unapologetic BFF." When he's not creating eye-catching hair looks for industry "It" girls like artists Jhené Aiko and Latto, you can catch the Brooklyn native sharing his equal-parts hilarious and expert-driven red-carpet commentary in his social-media series, Hair Me Out. "I love making people feel beautiful. I love seeing the smile on their faces after I'm done," he says. "I also love building community and being able to bridge the gap between other people."
After Spence graduated from SUNY, he got his start in the hair industry at a local natural-hair school in New York. "I still take classes occasionally, when I can," he says. But going after his dreams came down to finding confidence within himself. "I've learned it's important to stay true to who I am. That can be hard in a world where people are so judgmental," he says. "Being a Black gay man, it always felt like the odds were stacked against me. But I'm grateful to say that now I feel very confident in myself, my craft, and my abilities."
Now based in Los Angeles, R&R is a top priority for him in between busy seasons with his clients. While work is always nonstop for Spence, this looks like daily prayer, eye patches, and stretching. "It's really important to find those pockets of time where you can, to really sit down and do whatever makes you feel good."
.

Here, Spence's a.m. routine:
7:00 a.m. When I wake up, I try my best not to check my phone because I don't want to get bombarded with work right away. I start the morning with prayer and meditation for at least ten minutes.
7:10 a.m. Then I'll stretch and do my version of yoga. And then I'll check my phone to see if there are any new emails.
7:45 a.m. After that, I start my skin-care routine. I start with the One Love Beauty oil cleanser. I use this to get rid of any sort of dirt on my face. Then I go in with the Image Skincare cleanser. I really like it because it's very clean and I have sensitive skin.
7:49 a.m. For toner, I use Naturopathica's Oat and Calendula toner mist — I also love to use this at any second of the day on top of my skin care I already have on because it feels really good. I follow up with La Roche Posay's hyaluronic acid serum and the Image Skincare Balancing Antioxidant Serum.
7:56 a.m. I also love doing gua sha daily. It really helps with sculpting the face. My face is really chiseled and I love it.
7:59 a.m. I use the Dieux eye gel with the reusable eye patches. While those are on, I pause and brush my teeth and use my tongue scraper.
8:05 a.m. Then I remove the patches and apply the Naturopathica Gotu Balm. It's very heavy but it gets the job done and keeps my face moisturized throughout the whole day. I top it off with Image Skincare's SPF 50, which gives me a nice glowy finish. I finish with the Laneige lip mask. I treat it as an all-day mask that's not just for nighttime because it's so moisturizing.
.

Spence's p.m. routine:
9:00 p.m. I use the Dior OFF/ON Cleanser. It really breaks down the oil and dirt. Then I go in with Paula's Choice BHA Toner. Sometimes I'll also put it on a Q-tip and apply it to any blemishes. I follow up with the same hyaluronic acid and calendula cream. Then I apply the Topicals Faded cream to get rid of any dark spots and it works really well.
9:10 p.m. Next I use the eye patches again with the eye gel. Afterward, I apply the same balm and lip mask.
9:15 p.m. Lastly, I apply Jane Carter Solutions' hair and body balm to my hair before putting my durag on.
9:17 p.m. I like to end the night with an episode of Wu Tang: An American Saga. I think the men on that show are so fine. It's a great storyline and it's shot beautifully. But also … the men!
.

On what he's proud of in the industry:
I'm really proud that brands have been trying to be inclusive, whether it's bringing on Black talent to come in and consult and figure out how to market properly, or makeup brands that are adding in additional shades for more skin tones.
.

On what he hopes to see change:
I definitely want to see more men in the beauty space at the forefront. Black men, especially!
.

On the types of products he gravitate toward:
I lean toward the cleaner side of things. I try to stay away from anything that's heavily fragranced because I'm very sensitive. I love anything that's hydrating and boosts collagen. With haircare, I try to avoid anything with a lot of alcohol in it.
.

On the beauty services he swears by:
I really love getting my nails done. My nail tech comes to my house every two weeks and so does my barber. I also just started getting the most natural pair of lashes done. I also get facials, lymphatic drainage massages, and laser treatments. Lastly, I really love therapy once a week. It's been a game-changer. It's allowed me to be more calm and sit with my thoughts. I feel like stress impacts so many things, from our skin to our hair and more. Therapy has allowed me to really release stress and hone in on who I am and what I want to accomplish.