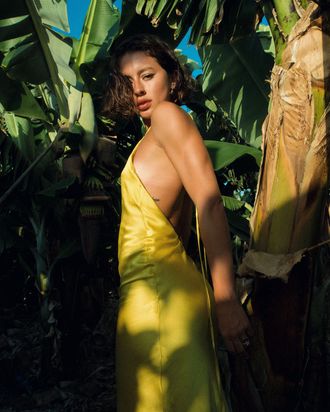 Photo: Courtesy of Karla Deras
"I think beauty starts first by sleeping well, eating well, drinking lots of water, which I'm not very good at, and exercising. The next step is to find skin care that works for you — what works for some, may not work for others," says Karla Deras Chambers. For the creative director, who helms The Line by K, keeping her routine as simple as possible lends the best results.
From start to finish, Chambers's current morning rotation caps out at five products. And while you might assume that the routine's simplicity is a result of great genes, the opposite is actually true. "I was having really bad breakouts a few years back, and I took a saliva test and found out that I had extremely high levels of testosterone and low levels of estrogen," she shares. Balancing out her hormones meant taking a holistic approach: Becoming a vegan, adding soy products to increase estrogen levels, doing acupuncture, and taking herbal supplements. "It took a couple years to fix the problem, but it definitely worked."
Suffice it to say, the products in her routine are a result of a "few years of trial and error." "I avoid anything that could possibly cause a breakout, products with lots of chemicals and parabens. I look for products that won't dry my skin out, products that lock in moisture, and most importantly, products that are organic, natural, and minimally processed." Below, Chambers shares her mainstays.
The Cleanser
"I discovered [Acure] while browsing the beauty section at Whole Foods. I love it because it's really light, removes all oil and makeup, and doesn't dry out my skin. I have pretty dry skin, but I don't like using milky cleaners or cleansers that don't foam because I feel like it's not taking all the makeup and dirt off. The problem with using foamy cleansers though is that they tend to dry out my already dry skin. That's why I love this particular cleansing gel — it doesn't dry me out at all, but leaves my skin feeling clean."
The Mist
"I bought this on a whim and to be honest, I like using it because it smells good, and I am addicted to any kind of facial mist or rosewater spray. It simply makes me feel refreshed. I heard facial mist after washing your face helps balance skin. I also use it after I do my makeup to set my CC cream or foundation. I use it throughout the day whenever I want to freshen up my skin or whenever it feels dry. Just a few sprays does the trick!"
The Serum
"Vitamin C products really give my skin a nice healthy glow and also minimize the size of my pores. My friend Rachel gifted me this serum before my wedding and I loved it so much I ended up buying it on my own."
The Face Oil
"My friend told me about rosehip seed oil and how it helped with her hyperpigmentation. I am very much obsessed with it. I get mine on Amazon. It minimizes redness and hyperpigmentation and helps with acne scars. I also love how my skin just soaks it right up. I use this every season and in the winter I like to mix the oil with Golden Hour Recovery Cream by Ursa because my skin gets so dry."
The Sunscreen
"Yet another product I found at Whole Foods. I've been using this for several years now — it doesn't leave you looking greasy and also works as a light foundation. I definitely avoid full-coverage foundations, which make me feel like I am wearing a mask. I always opt for lighter coverage — day and night. When I go out, I use a super light foundation by Mineral Fusion."
If you buy something through our links, New York may earn an affiliate commission.