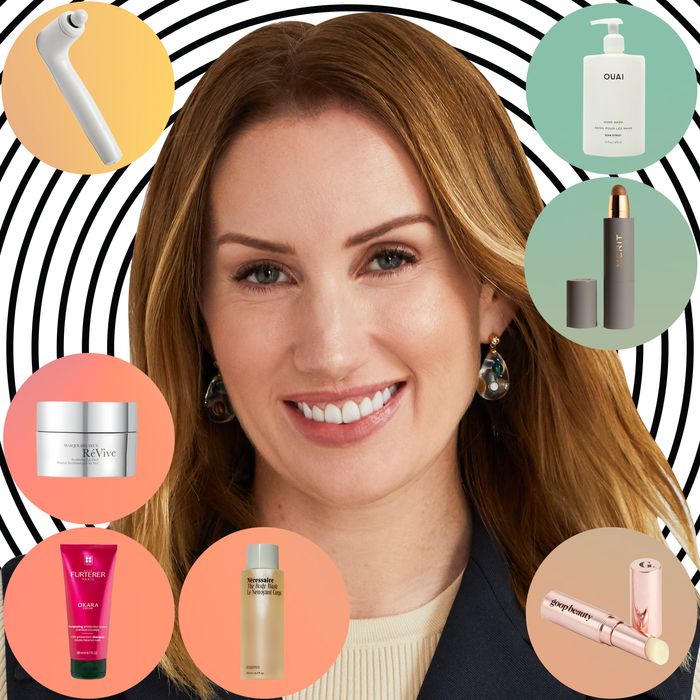 Photo-Illustration: by The Cut; Photos: Courtesy of Katherine Power, Retailers
On the Beauty Group, a Facebook community co-founded by the Cut and the Strategist, people chat all day long about the products they love — the ones so good they'll make you hit that little "auto-refill" box at checkout. Below, we asked one of our favorite beauty pros to share her own selections.
There's a long list of women whose impressive résumés often make me wonder how they can, as we say at the Cut, get it all done, and Katherine Power has long been at the top. She's the chief executive officer of Who What Wear (the fashion site she co-founded with Hillary Kerr in 2006 and expanded to Clique Brands), the co-founder of Avaline (the organic wine company she co-founded with Cameron Diaz), and the founder of Versed (her "clean" upgrade of drugstore skin care). And in January, after working on the brand for over four years, Power launched Merit, a line of clean makeup essentials centered on the idea that less is more.
"I just honestly want to look like myself but better," says Power. "This pandemic and recession has showed us that we really don't need much. I stopped getting eyelash extensions. I got used to my natural hair texture. I have my bare nails. All of the upkeep that I was doing sort of went away, but I'm still on Zoom, and I'm still interacting with my pod, and I want to look healthy, glowy, and polished."
Most of the products on her vanity are clean, too. Power began the switch after becoming pregnant with her son. "I went to use my normal lipstick or tinted lip balm, or whatever it was, and I became nauseous instantly," she remembers. "It didn't matter if it was scented or not scented; it was stuff I'd been wearing for years, and my body just had a reaction to it." She acknowledges that while there isn't a legal definition for "clean," she tries to approach her purchases from a holistic approach: "Is it safe for my body, or are there possible hormone disruptors? Is it safe for my skin, or is it going to cause inflammation or clog my pores? Is it safe for the planet?"
Read on for Power's essentials, including the complexion stick that replaced both her concealer and foundation, the lip balm she keeps in her purse, and the overnight face mask she also uses on her hands.
The Brow Gel
"I can't live without my brow pomade. I came of age in the '90s and overplucked my brows like so many others, so this buildable brow pomade is a game-changer. It gives you credit for every single little baby hair that you have and contains vitamin B5, which means it actually leaves your skin better after using it."
The Sculpting Wand
"Shani Darden is a master in all things brightening and tightening, and I've become obsessed with using her facial sculpting wand. I keep it by my bed and use it (almost) every night while I watch TV. To mimic what Shani does in person, I try to massage my face for ten minutes and will definitely notice a slight tightening."
The Face Mask
"I sleep in this refreshing mask sometimes and use it on my hands as well. I have dry, sensitive skin and this combination of vitamin C, chestnut extract, and niacinamide helps keep it balanced. I love that it has no overwhelming scent."
The Hair Mask
"Rich in natural ingredients, this is a wonderful go-to for damaged hair. I use it about once a week, whenever my hair is feeling dry or tangled. It also doubles as a conditioner and isn't heavy like other masks I've tried. I keep it in for 5 minutes while I'm in the shower, but if my ends are super dry, I'll put on a shower cap and leave it on for 20."
The Concealer
"I've always prioritized a minimalist beauty routine. With Merit, the idea was to create a line where people feel like they look like themselves but better, and that's exactly what The Minimalist does. It's not a concealer and it's not a foundation, but it will replace both in your makeup routine. It's a complexion stick that blends seamlessly into the skin so that you can't see where the makeup stops and you begin. It's meant to be applied only where you need it and not where you don't. It comes in 20 shades, and it took almost three years to perfect."
The Hand Wash
"Jen Atkin is a genius when it comes to anticipating what her customers want next, and this hand wash came at the perfect time. It looks chic on the sink and the smell is divine, with a robust rose and cedar scent."
The Peel
"I go through this product faster than anything else in my cabinet. I use it at least three times per week to resurface and brighten my complexion. We launched it two years ago, and it was created to give retinol-like effect without the irritation. Key ingredients include lactic acid, glycolic acid, vitamin A, rose hip seed oil, and vitamin E."
The Body Wash
"I've recently traded in my drugstore body wash for this eucalyptus version from Nécessaire. It works really well for my sensitive skin, and I love the scent and ingredient list."
The Lip Balm
"I keep one in my purse and one in my desk — it's my favorite lip balm. I'm a bit of a germaphobe and love that it's a stick versus having a pot that you dip your fingers into."
The Shampoo
"I've tried so many different shampoos, but I always go back to this one because it maintains my color so well and doesn't cause any scalp irritation or breakouts. I appreciate that all of Rene Furterer's products are really clinically proven but also luxurious."
The Eye Mask
"This eye mask is expensive, but worth it. I noticed visible results in reducing fine lines after just one use and am now using it about every other night (alternating with eye cream)."