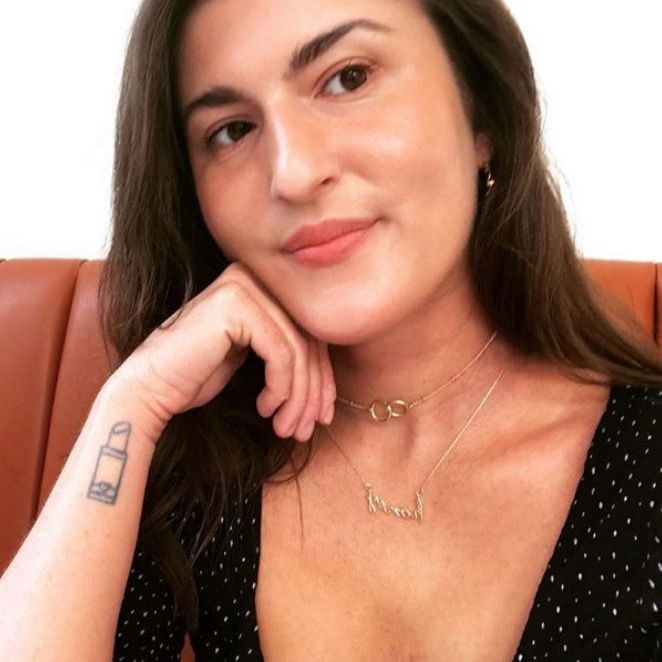 Photo: Courtesy of Kaleigh Fasanella
Want more skin care? Join our Facebook Group, the Beauty of It All.
Kaleigh Fasanella has had a dermatologist since she was a baby. Born with Netherton Syndrome, a rare genetic skin condition that affects 1 in 200,000 newborns, the beauty writer and editor has dealt with sensitive, dry, and red skin her whole life. "The skin condition I was born with makes it so that my skin is super, super finicky and fragile," she explains. "It can freak out (see: get really red and blotchy) for no real reason at all." Her skin condition is the reason she chose to work in the beauty industry in the first place.
She developed a full-on routine when she was 11. She remembers using a Clarisonic when she was a teen to exfoliate every single day, sometimes twice a day, because her "skin turns over at a hyper-rapid rate and needs to be removed or else I'll get super flaky."
When it comes to her products, Fasanella struggles to find effective ones that are also safe for sensitive skin. Read on for the sunscreen that makes her skin look better, the oil that feels like butter, and the exfoliator that replaced her Clarisonic.
"I was gifted 'the Zoe' on a deskside while I was full-time at Allure. I had never tried a sonic cleansing device before, despite seeing them everywhere. For whatever reason, I thought it wouldn't do a great job at exfoliating. My face acquires quite a bit of dead skin over the course of the day, so I always need to do a pretty thorough cleanse in order to get a smooth canvas. I've used washcloths in the past, but I low-key hate how I feel like they're always swimming in bacteria, though I'm aware how dramatic that sounds. I like using a brush — and a silicone brush specifically — because the bristles are made of medical-grade, antimicrobial silicone that doesn't allow bacteria to cling to it like washcloths. I also think having the different speed settings is a nice feature because it lets you customize how gentle or aggressive you want your exfoliation to be. Other exfoliators like scrubs have been too irritating for my skin, so I think a brush could be a great option for anyone with sensitive or acne-prone skin.
"Anyway, this guy ended up being an amazing alternative after all. I've been using it for roughly a year now every day, and it never irritates my skin. It does a really solid job of buffing away dead skin and leaving my complexion with that whole clean-but-not-stripped feeling. "
"It sounds weird, but I can actually smell the kale in this cleanser. Even though I don't love eating it, I like the scent. This past year, I've come to the realization that gel cleansers are ideal for my skin type because they can be deep-cleaning and gentle. I've been testing this one for a few months now, and so far, so good. It always leaves my skin feeling squeaky clean and soft, but doesn't dry it out or make my redness worse. I also love that it's really lightweight and that it comes in a massive bottle with a pump. I love me a good pump. In addition to this one, I've gotta shoutout iS Clinical's Cleansing Complex and Reneé Rouleau's Moisture Protecting Cleanser, both of which are also gels and excellent at soothing sensitive skin."
"Recently, after cleansing, I've been slathering on a few pumps of this serum, which feels really lovely and cooling on the skin. It contains alguronic acid, which I'd never heard of before but is supposed to help smooth fine lines and wrinkles, as well as niacinamide, and an antioxidant called phloretin. If my skin is ever red or inflamed after washing my face, this calms it down and minimizes the irritation almost instantly. I've also noticed my skin has felt more hydrated since I started using it."
"This honey-colored facial oil is nothing like actual honey. It's silky, lightweight, and glides onto the skin like butter, but not in a gross way. I've tried too many oils to count in the past year, and I can safely say this one falls under my Top Five. I also specifically love this one for the summertime because as far as oils go, it's on the thinner, slightly serum-y side, so it never makes my skin feel suffocated when it's really humid out."
"I pretty much use a thick moisturizer year-round since my skin is so parched and needs all the hydration it can get. In the winter, Weleda's Skin Food is my everything and I go through tubes of it like water, so Weleda, if you're reading this, don't even think about discontinuing it or I'll be so sad.
For summer, Lala is fabulous because it's still rich and creamy but not quite as thick and aggressive (in a good way) as Skin Food. It seals everything in with a blend of ceramides and oils, and I like to think that it makes the rest of my skin care work even better."
"My friend and former co-worker Devon Abelman (hi, Dev!) knows everything there is to know about K-beauty, and she kindly recommended this sunscreen to me after visiting South Korea earlier this year. I'm into it because it's really hydrating and feels like a lightweight lotion rather than a thick messy cream that reeks of SPF. It even adds a nice sheen to my skin, tames any lingering redness, and has a mild cooling effect that I appreciate in this heat. It also never leaves a white cast. Other than this one, which I've been using for a few months now, I'm super partial to Supergoop's Superscreen Daily Moisturizer Broad Spectrum SPF 40 and La Roche-Posay's Anthelios 50 AOX Daily Antioxidant Face Serum SPF 50. I'd definitely give these guys a shot if you have dry and sensitive skin like me."
If you buy something through our links, New York may earn an affiliate commission.