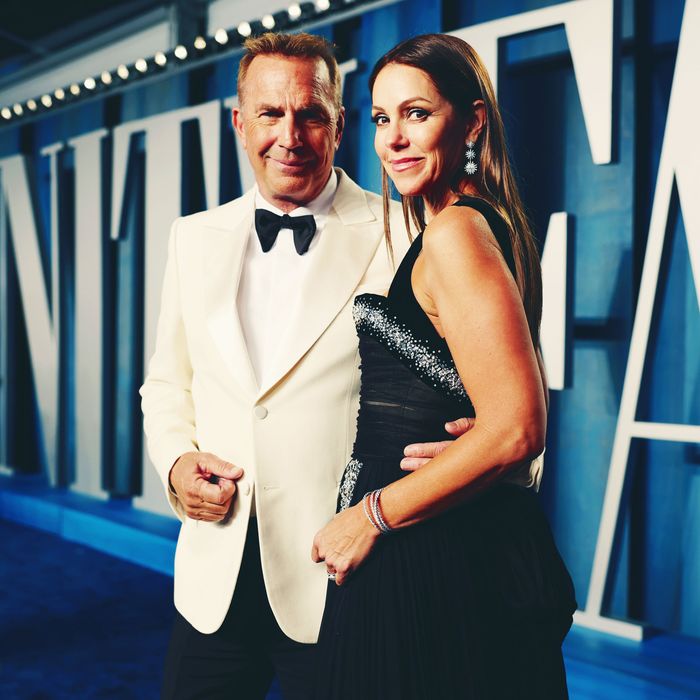 Photo: Rich Fury/VF22/Getty Images for Vanity Fair
Nearly six months after Kevin Costner's soon-to-be ex-wife, Christine Baumgartner, filed for divorce from the actor, their drawn-out legal battle is finally coming to an end. The contentious back-and-forth, which stretched from the beginning of May to mid-September, involved ongoing disagreements about property, plates, child support, and legal fees. According to TMZ, Baumgartner signed a three-page settlement letter over the weekend, the terms of which the tabloid didn't disclose. It did suggest she walked away with a larger sum than stipulated in the prenup, but whether or not that's true, the agreement was hard-won.
Throughout the dispute, one primary point of contention was the couple's home. In June, TMZ reported that Baumgartner wouldn't leave the $145 million California estate where she and Costner lived for nearly two decades. According to the Daily Mail , Costner bought the house in 1988, 16 years before he married Baumgartner. He contended that when she filed for divorce on May 1, she had 30 days to vacate the Santa Barbara home under the terms of the prenup. Costner claimed that Baumgartner refused to move out, despite his cash incentives to do so: an advance of $10,000 to cover her moving costs and $30,000 a month for a rental property, on top of the $1.45 million he paid her in line with their prenup, according to court documents reviewed by TMZ.
Baumgartner, however, reportedly countered in court filings that Costner made the million-dollar payment without her consent or knowledge — an attempt to "force my concession that the spousal support limitation is valid by virtue of my 'acceptance' of these funds," she said. She accused the actor of using "public attacks" to try and pressure her to move out, knowing she didn't have enough money to maintain the family's current lifestyle. In a court filing from mid-June, Baumgartner's attorneys said Costner's request had no legal basis and alleged that he was trying to "kick Christine and their three children out of the house that the children have lived in for their entire lives." Baumgartner's lawyers argued that, because of the high cost of rentals in Santa Barbara, she needed more time to find a place to live. But according to ET, a judge rejected her petition on July 5, ruling that she had to vacate the property by the end of July.
Initially, Baumgartner moved into a smaller building on the estate, but not before her ex accused her of trying to loot the family home. Baumgartner claimed his concerns that she would "strip the house bare" were unfounded, given that she submitted a PDF with photos to his lawyers, cataloguing the things she planned to remove — "family heirlooms, clothing, her Peloton bike, various keepsakes and gifts from friends," according to ET, plus pots, pans, some office furniture, etc. — before she packed them into a storage unit. But Costner's attorneys reportedly complained that her inventory was too "vague" for their taste. "For instance, Petitioner lists 'Plates and bowls/silverware' without specifying which plates, which bowls and which silverware," the documents said, per ET. "She lists 'Christine's family heirlooms and/or gifts to her' but does not specify which items she believes were gifted to her (as opposed to both parties or the children)."
On July 14, a judge limited Baumgartner's personal items to clothing, jewelry, handbags, and toiletries. And over Labor Day weekend, she reportedly moved into a $40,000-per-month rental in Montecito, which boasts "a pool, jacuzzi and manicured gardens," according to "Page Six." Still, the tabloid suggests the new spot isn't quite up to Baumgartner's standards, noting that she complained in court about potential pool-house guests having "to come in [to the main house] to use the shower."
Child support has proved another area of friction for the couple. Costner and Baumgartner are both seeking joint custody of their three kids, who are 12, 14, and 15 years old. During the July 5 hearing, Baumgartner's lawyers accused Costner of lowballing their client with an offer of $68,000 per month in child support — a fraction of the monthly $248,000 she wanted, according to Insider. In July, the judge tentatively ruled that Costner should pay Baumgartner $129,755 per month, but in late August, she asked for an increase to $175,057.
According to Us Weekly, when asking for the $46,000 raise, Baumgartner's attorneys claimed it would be necessary to keep up the lifestyle to which the kids are accustomed. "Because the children fly on private aircraft to go on luxury vacations when they are with their father, the Family Code dictates that Kevin should pay sufficient child support to Christine so that the children can go on comparable vacations when they are with her," they wrote in court documents, possibly gesturing to Baumgartner's July trip to a Hawaii Four Seasons with her kids and (per "Page Six") one of Costner's best friends. "This is true even if the child support payments also improve Christine's lifestyle."
The judge didn't quite agree and ruled on September 1 that Costner has to pay Baumgartner $63,209 per month. That's on top of the $200,000 in attorneys' fees and $100,000 in forensic costs the judge previously ordered Costner to pay his ex, according to court documents first reported on by Fox News. Baumgartner had also asked that Costner pay for full private-school tuition for the children, their extracurricular activities and sports, as well as their health-care expenses, per People. But ultimately, the New York Post reports, they'll be splitting those 50-50.
There's also the matter of the legal battle itself, which has cost both parties millions of dollars. Earlier this month, Baumgartner reportedly asked for an additional $885,000 to cover the legal fees she'd incurred while challenging part of their prenup, which a judge had already deemed enforceable. Costner's lawyer called the sum "inflated" and "unconscionable," with TMZ noting that Baumgartner's previous battles had so far left her with less money than she would have gotten by settling in the first place. Had she decided to dispute the prenup, she reportedly would have owed Costner $1 million plus attorneys' fees. The details of their settlement remain unclear.
While TMZ suggests Costner won't be required to fulfill his ex-wife's attorney-reimbursement request, the details of the settlement are still unclear.
This post has been updated.