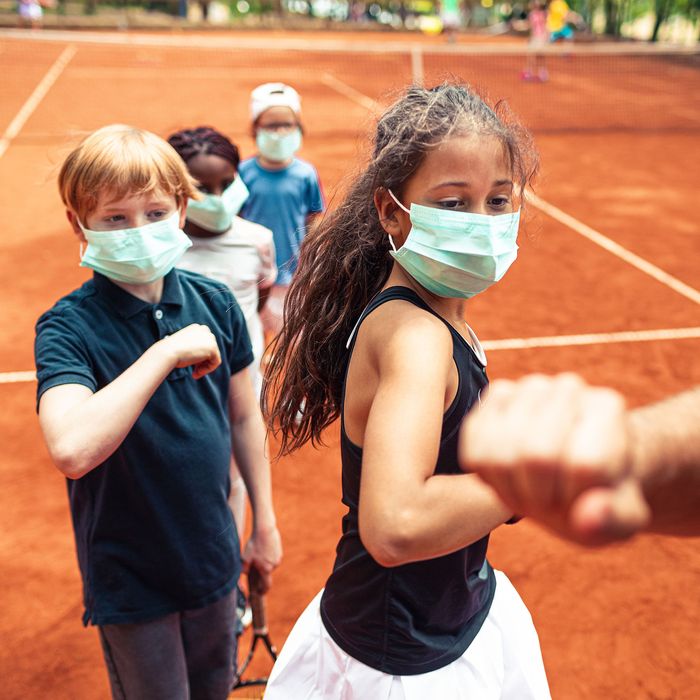 Photo: Marko Geber/Getty Images
When the coronavirus outbreak first hit the U.S. in March, the vast majority of schools canceled in-person classes for the foreseeable future. Now, figuring out how to safely reopen schools — which, in normal times, bring hundreds of students and staff together indoors every day — is among the biggest challenges of the pandemic.
At this point, it's been well established that kids tend to have mild cases of COVID-19, but the question of whether they're also less likely to spread the disease to others — including more vulnerable adults — is more complicated. Here's what we know about kids and coronavirus, and what it means for school reopenings.
Kids seem less likely to get infected.
"One surprising aspect of this pandemic is that children appear to be infected by SARS CoV-2, the virus that causes COVID-19, far less frequently than adults," write the authors of a recent article on children and COVID-19 transmission published in the medical journal Pediatrics. According to the New York Times, children make up 24 percent of the American population, but account for only 9 percent of the nation's COVID-19 cases to date.
Of course, since children seem more likely to be asymptomatic even if they are infected, it's possible that they are less likely to get tested, and could be infected without knowing it. Unfortunately, data from random testing samples is still hard to come by, though there are a few studies that suggest children are indeed less likely than adults to contract the virus.
In Iceland, researchers tested 13,000 random people, including 848 kids. They found that about one percent of people tested positive — but among children under 10, there were no positive cases. Data from the Netherlands found that among people who visited the doctor with flu-like symptoms, 6.5 percent tested positive; however, there were no confirmed cases of COVID-19 in patients under 20. Additionally, a new study published in Nature estimates that people under 20 are half as susceptible to infection as adults over 20.
However, while children do seem less likely to be infected than adults, they can still contract the virus — and, as cases have surged throughout the country, the number of kids with the virus has skyrocketed. According to a new report from the American Academy of Pediatrics, the U.S. recorded 179,990 new cases in children between July 9 and August 6 — a 90 percent increase in four weeks.
Even if they are infected, most kids don't get very sick.
Six months into the pandemic, there is widespread consensus around the fact that even if kids do get infected, they tend to have mild cases.
An early study from China found that of approximately 2,000 children with the virus, 94 percent of cases were asymptomatic, mild, or moderate. In the U.S., the current hospitalization rate for children with COVID-19 is around 2 percent.
It's true that in rare cases, children have become severely ill from coronavirus, including from an illness doctors are calling multisystem inflammatory syndrome, which may be linked to the virus. Data from Chicago found that in a sample of approximately 6,000 confirmed cases, 64 were in children 17 and under. Of these cases, ten resulted in hospitalization, all of which involved children with underlying health issues.
According to the CDC, between February 1 and June 6, 42 children under the age of 15 died from the virus. As the website COVID Explained notes, to put this number in context, there were 24,869 total deaths for this age group during that time, including 198 deaths from seasonal influenza.
But if kids are infected, can they spread it?
Yes. While kids seem less likely to get infected than adults, evidence shows that if they do get infected, they can still spread the virus. A number of studies have found that children have similar viral loads as other age groups.
However, based on the available evidence, the authors of the Pediatrics article on coronavirus transmission among children conclude that "children are not significant drivers of the COVID-19 pandemic." While research is still limited, the authors point to a number of findings that suggest that children seem less likely to transmit the virus than adults. For example, in an analysis of 39 households with COVID-19 infections in Geneva, Switzerland, in only three cases (8 percent) was a child the suspected "index case," or the first person infected in the household. Similarly, a study in China found that of 68 children who were hospitalized with COVID-19, 95 percent had household contact with previously infected adults.
The few studies that have looked at transmission in school settings are also encouraging. In France, a 9-year-old boy with COVID-19 symptoms exposed over 80 classmates at three schools, yet none of these contacts became infected. In another study of 15 schools in New South Wales, Australia, 18 students and staff members infected with the virus had contact with nearly 900 other students and staff. However, only two secondary infections were identified: one primary-school student, and one high-school student.
The authors of the Pediatrics article conclude that "based on these data, SARS-Co-V-2 transmission in schools may be less important in community transmission than initially feared," adding that "while two reports are far from definitive, they provide early reassurance that school based transmission could be a manageable problem and school closures may not have to be a forgone conclusion, particularly for elementary school aged children who appear to be at lowest risk of infection."
That said, research increasingly suggests that though younger children may be less likely to spread the virus than adults, that's not the case for older children. A recent study from South Korea found that while children under 10 were about half as likely to spread the virus as adults, children between the ages of 10 and 19 spread the virus at least as much as adults, if not more (and it's been well documented that adults are capable of spreading the virus widely, especially in crowded indoor settings). Researchers say that it's still unclear why younger kids would be less likely to transmit the virus, but speculate that it may be because they are often asymptomatic, and less likely to cough and spread infectious droplets. It also seems likely that younger kids are spreading the virus less often simply because they are infected less often.
Have there been outbreaks in places where schools have already reopened?
Advocates of reopening schools have noted that several European countries, including Austria, Denmark, Germany, and Norway, resumed in-person classes in April and May, and have not seen significant increases in new cases. While public-health experts are cautiously optimistic about what they've seen, they hesitate to draw any broad conclusions, noting that these countries reopened schools with very low levels of infections in the community. (For context, Germany, a country of about 83 million, is currently reporting an average of around 1,000 new cases a day, while the U.S., which has 328 million residents, is seeing nearly 53,000 new infections daily.)
And there have been some outbreaks in schools that have reopened. Two weeks after Israel reopened schools in May, they were forced to close more than 40 schools after 244 students and school staff tested positive for the virus, including 116 students at one middle and high school.
In the U.S., many of the child-care facilities that have remained open during the pandemic have successfully avoided outbreaks. NPR reports that the YMCA and New York City's Department of Education cared for tens of thousands of children this spring with "no records of having more than one case at a site."
Experts argue that this shows it's possible to resume in-person education safely, but that doesn't mean that there isn't any risk. Texas, which has seen record numbers of new coronavirus cases in recent weeks, reported in July that at least 1,335 infections — including 894 staff members and 441 children — had been linked to child-care facilities in the state, and California has seen nearly 1,000 cases linked to day cares. Earlier this summer, a Missouri summer camp for teens had to close after more than 80 campers and staff tested positive, and a sleepaway camp in Georgia closed after 260 campers and teen staffers contracted the virus.
Adults work in schools, too. What about the risks reopening poses to them?
In their June 25 recommendation that schools prioritize having students physically present in the fall, the AAP wrote that based on the available evidence that kids are less likely to become infected and less likely to spread the virus, the harm of keeping schools closed outweighs the risk.
That said, many have pointed out that school reopenings likely pose a greater risk to the adults who work there. "Given what is known about transmission dynamics, adults and adult staff within schools should attempt to maintain a distance of 6 feet from other persons as much as possible, particularly around other adult staff," the AAP writes. They recommend limiting close physical contact between adults in school settings, including parents, as much as possible, such as by staggering drop-off and pickup times and holding all staff meetings virtually. Others have emphasized that teachers and staff should have the option to teach remotely if they or a family member has a health risk; the Times reports that one in five New York teachers is likely to receive a medical exemption to teach virtually this fall.
"Finally, policy makers should acknowledge that COVID-19 policies are intended to mitigate, not eliminate, risk," the AAP writes. "No single action or set of actions will completely eliminate the risk of SARS-CoV-2 transmission, but implementation of several coordinated interventions can greatly reduce that risk."