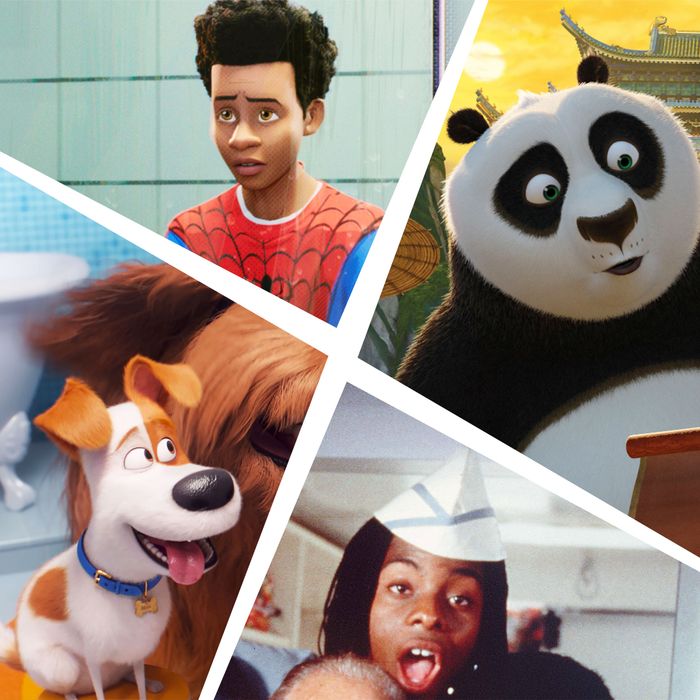 Photo: Shutterstock, Everett Collection
If there were ever any actual shame in putting your kids in front of a movie with the hope of getting a small bit of relative peace, there is no longer. Social distancing has made it a necessary tool in a parent's toolbox. Luckily, there are a bunch of great options on Netflix right now that will both entertain your kids and not leave you wanting to tear your hair out at the mere sound of them. We've rounded up the 15 best, and we wish you good luck.
1. The Secret Life of Pets 2 (2019)
Perfect for the animal-obsessed, The Secret Life of Pets 2 follows Max, the Jack Russell Terrier (voiced by Patton Oswalt), as he adjusts to new additions to his family, and takes a trip to the countryside, where he meets Rooster, a barnyard dog voiced by Harrison Ford. Jenny Slate, Kevin Hart, and Tiffany Haddish also lend their voices, making the kid-favorite even somewhat amusing for adults.
2. Spider-Man: Into the Spider-Verse (2018)
Spider-Man: Into the Spider-Verse is one of those superhero movies, with beautiful visuals and strong message, that would even placate the ordinarily non-superhero obsessed. After being bitten by a radioactive spider in the subway, Miles Morales turns into — you may have guessed it — Spider-Man, and discovers there are many others out there who share his talents.
3. Ralph Breaks the Internet (2018)
A movie about the internet might not seem like anything you want to watch at the moment, or ever, but trust us that Ralph Breaks the Internet is truly a touching, genuinely funny story about the sacrifices we sometimes have to make for friendship, and tackling your insecurities. And also the internet.
4. Incredibles 2 (2018)
Your kids are likely already very into Pixar's Incredibles 2. You can only reinvent so many wheels, why not give this great one a spin again?
5. Space Jam (1996)
"Here's your chance, do your dance, at the Space Jam!" Remember the theme from Space Jam? You will, and you will not be able to forget it ever again, after you share the '90s classic — featuring aliens, basketball, Danny DeVito, Looney Toons, and Michael Jordan — with your children. Space Jam also doubles as a perfect entrée into ESPN's new ten-part Michael Jordan documentary series The Last Dance, just kidding. Unless you think your kids might like that? We don't know them.
6. Stuart Little (1999)
Did you know that M. Night Shyamalan wrote the screenplay to Stuart Little? It's true. But the only "twist" here is how much your children are going to love Stuart Little's tiny mouse face, and his story about overcoming feeling different in his new and strange surroundings. Stuart Little also features Hugh Laurie and Geena Davis as Stewart Little's adoptive parents, and they are just as delightful as the mouse himself.
7. Chitty Chitty Bang Bang (1968)
Speaking of songs that will be in your head for likely many days, it might be time to introduce your children to the classic Chitty Chitty Bang Bang. What can be more captivating than a loud, magical, flying car, with Dick Van Dyke inside?
8. The Croods (2013)
The Croods follows a neanderthal family living together in a cave. While their patriarch wants to keep everyone safe in the dark shelter of their home, he can't contain his curious daughter, who ventures off and finds an outsider who warns the family that their world is under threat, by something known only as "The End." When their home is destroyed, they have to decide whether to venture into the unknown. Sounds pretty good, right? I bet you didn't think The Croods would sound that good.
9. Hugo (2011)
This Martin Scorsese film, based on the YA novel The Invention of Hugo Cabret, is something to put on when you feel like you need a break from the usual kiddy, non-award-winning fare. It was released to critical acclaim and was nominated for 11 Academy Awards (including Best Picture!), receiving five (not Best Picture).
10. Hop (2011)
E.B. (the fellow in the image, voiced by Russell Brand) is next in line to be Easter Bunny, but he has no desire to take on the role. Instead, he wants to be a drummer, and runs away to Los Angeles hoping to accomplish his goal. Hop is beloved for its dash of "edgy," grown-up-oriented humor, but it can also be something to watch out for if you attempt to avoid that sort of thing.
11. Hook (1991)
Oh my gosh, aren't you just so excited to watch Hook with your kids? Again? I assume you've already shown it to them, yes? The Robin Williams classic? Steven Spielberg? Julia Roberts? Rufio? Put it on right now!
12. The Angry Birds Movie 2 (2019)
It's nice that we don't have to make movies for children, because I'm not sure that we would have ever come up with this. I'm not sure how they do it, really. Regardless, kids love the Angry Birds franchise so much there is already an Angry Birds Movie 2, and luckily for you it is already on Netflix.
13. Good Burger (1997)
"Welcome to Good Burger, home of the Good Burger, can I take your order?" I imagine your kids will be saying this after settling down to watch this incredible '90s All That comedy. They might also say: "When you mess with Kurt — you go in the grinder!" For real: There are a lot of good quotes.
14. Leap (2016)
Leap is a perfect, beautiful little film for all of those would-be and might-be and will-be ballerinas, prancing around the house, never giving you a moment's peace.
15. Kung Fu Panda 2 (2011)
In the second installment in the wildly popular Kung Fu Panda franchise, Po (Jack Black) is now the Dragon Warrior. He and his friends, the Furious Five, are living in peace — until a new enemy surfaces. Will they be able to defeat the enemy in a way that also teaches them something about their own strength? Only you and your children can find out.